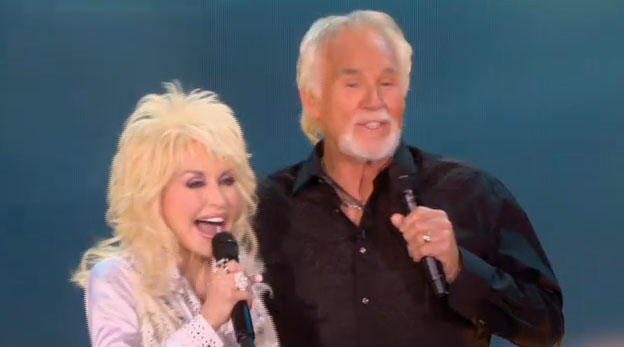 Dolly Parton was on Oprah last Friday and while she looked like a comic book version of herself I have to say that she was awesome. Dolly has such a wonderful view of life, and of herself. She was promoting the 25th anniversary of Dollywood and Oprah did a whole piece on Dolly's evolution through the years. You could see Dolly gradually getting more plastic over the years, but she's always had that great big heart that kind of shines through all that Barbie-like dazzle. Dolly told a funny story about how she entered a real life Dolly Parton drag queen lookalike contest unbeknownst to the judges – and lost! She also talked about her marriage of 44 years. She said it works because she has an agreement with her husband that he can stay out of the spotlight as long as he wants to. As for the rumors that she has an open marriage, she did say that once but claims it's about letting her husband pursue his own interests and that she'd kill him if that involved another woman:
On her "open marriage"
Dolly and her husband, Carl, have been married 44 years."I met him the day I got to Nashville back in 1964," she says. "I wasn't a star then, so I've never had to worry that he loves me because I'm a star and I've got money or make money or whatever. I know he loves me for me, and that means a lot to me."

It's been rumored that Dolly and Carl have an open marriage, but Dolly says statements she's made in the past have been taken out of context. "That just means we let each other be who we are and how we are. But I'd kill him if I knew he was with somebody," she jokes. "We love people. He knows I'm a flirt and a tease, but it's harmless. I've never met the man that would take his place."

Dolly says respect for her husband's character is the reason Carl lives his life out of the spotlight. "Early on in my career, I'd won [Song of the Year] in 1966, and I asked him to go with me. … He was so uncomfortable," she says. "He said: 'Now I want you to do everything you want to do. I want you to enjoy every minute of your life. But don't you ever ask me to go to another one of these things. Because I am not going.'"

Dolly says she never asked him to make another public appearance. "He's proud of me. He's just basically shy about things like that. He doesn't like crowds," she says. "And I respect his privacy. I respect the fact that he loves to be out of the limelight. That's one of the reasons I think we've lasted so long."

On losing a Dolly Parton lookalike contest
Dolly admits she once lost a Dolly Parton lookalike contest in Santa Monica. "Lots of drag queens dress up on Halloween like Dolly, and that was back when everybody was dressing like Cher or like me. So I thought how fun would this be?" she says. "I just kind of over-exaggerated everything I am—bigger hair, bigger beauty mark, bigger boobs, if you can imagine."

Standing just over 5 feet without heels, Dolly says she was the smallest contestant there. "Here all these big drag queens are at least 6 feet tall with their high heels," she says. "I was kind of lost in the shuffle. They didn't take me serious at all."

Dolly ended up coming in second place. "I did it just for fun," she says. "It was just fun to tell the story."
[From Oprah.com]
There are videos on Oprah's website of Dolly and Kenny Rogers singing The Gambler with Oprah. Oprah is a huge fan, who knew? Dolly and Kenny also sing Islands in The Stream. In another video, Dolly shows us inside her fabulous tour bus complete with her giant pink bed, a tiny bathroom with a separate shower, a vanity, and a closet full of wigs. Dolly also explained that she even cooks on the bus and is currently on a low-carb diet during the week and eats what she wants on the weekends. I love Dolly!
Photos are screenshots from videos available on Oprah.com, and of Dolly out to dinner at Madeo in Hollywood on 4/23/10. Credit: Fame Pictures