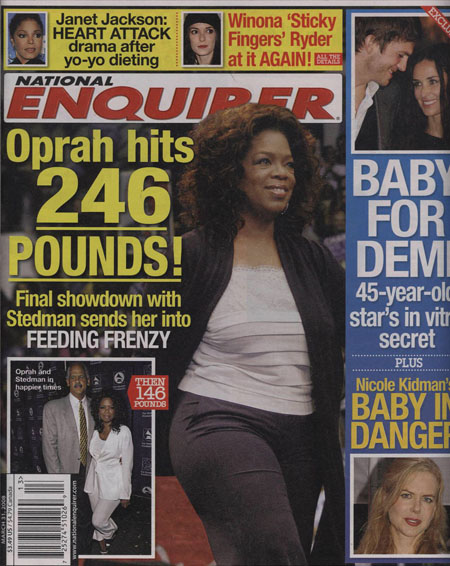 The National Enquirer has a cover story this week claiming that the ubiquitous talk show host weighs 246 pounds. There's some debate over whether that number is accurate and whether the Enquirer Photoshopped Oprah to look fatter on the cover, but you can see that she's gained weight recently.
Their back story has her eating fried food while on the road with Obama and drowning her sorrows in carbs after Stedman broke up with her. Stedman supposedly told Oprah that he's never really loved her and has always thought of her as a friend. That's probably all made up, but we're not above printing it:
"Oprah and Stedman had a late night heart-to-heart talk a few months ago and Stedman admitted that their long romance has been a sham," said a longtime friend.

"The could had been in counseling, and during one of the sessions Oprah admitted that she was falling out of love with Stedman. But she wanted to give it another chance – so Stedman hung in there."

"But in the end, it was Stedman who made a heartbreaking confession: He never really loved her.

"Stedman kept hoping their friendship would turn to love, but it never did."

Stedman told Oprah that if they had really been in love, they would have gotten married years ago, continued the friend.

"There were tears and a lot of hurt, but in the end, they both knew that admitting the truth is better than living a lie…"

Oprah, 54, has tried to keep her mind off Stedman by working and supporting the presidential campaign of Sen. Barack Obama. But while she's been out on the road with Obama, she regularly eats greasy fast foods and deep-friend meals, an insider revealed – and she gained 26 pounds in two months.
[From The National Enquirer, print edition, March 31, 2008]
Oprah is also said to mindlessly snack a lot while she's working and they say she plans to get in shape again after the election.
I don't really like Oprah and think she's full of shit most of the time, but whether she gains weight or not I don't really care. People want to point at her for what's perceived as a personal problem because she's self-important and richer than most of the world combined, and that's totally understandable.
Oprah was ranked the 562nd richest person in the world on Forbes Magazine's rich list in 2006 and was said to be worth $1.4 billion at that time. She does charity but she largely contributes in Africa, and while that's admirable and all she also dissed American kids by saying that they didn't want nice schools and would rather have iPods and status symbol clothing. First of all, who is she to talk about someone wanting expensive things when she glorifies consumption with those "favorite things" episodes? Also, when she founded that girls' school and specified the details down to the color of the building she sounded more like she wanted to create little mini-Oprahs rather than help young girls in Africa. At least she's doing charity and people are benefiting.
Here's a funny clip from the first episode of Louis Black's new show on Comedy Central, "The Root of All Evil," in which comedians debate topics over who is more evil with Louis Black presiding. In this case it was Oprah vs. The Catholic Church. Comedian Paul F Thomkins went to an inner city school and asked kids if they would rather have a new iPod or a new school. One girl's reaction when she learned that Oprah dissed American kids is priceless.
If you would like to watch the whole first episode of Lewis Black's "Root of All Evil: Oprah vs. The Catholic Church" I clipped it for my husband and it's in four parts. It's funny as anything and also features comedian Greg Giraldo. (I know this is only tangentially related, but Oprah is involved.)
Lewis Black's "The Root of All Evil: Oprah Vs. Catholic Church" Part 1
Lewis Black's "The Root of All Evil: Oprah Vs. Catholic Church" Part 2
Lewis Black's "The Root of All Evil: Oprah Vs. Catholic Church" Part 3
Lewis Black's "The Root of All Evil: Oprah Vs. Catholic Church" Part 4