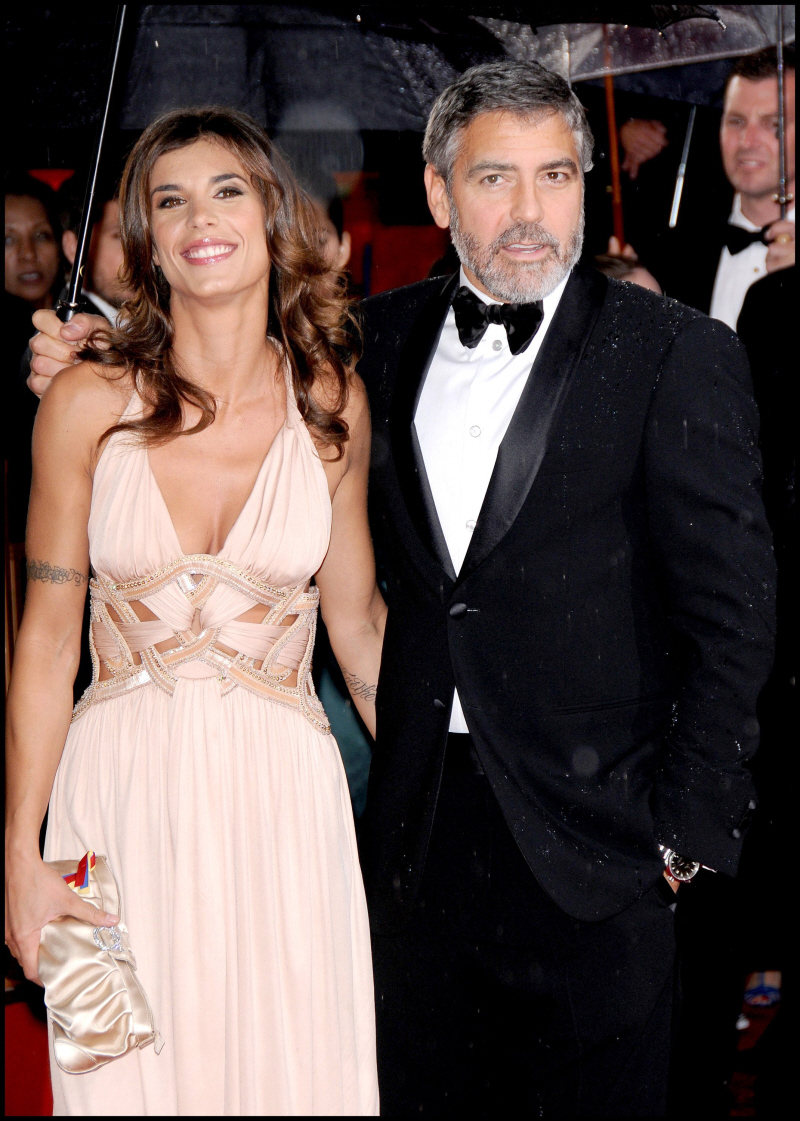 LaineyGossip has been following Elisabetta Canalis's comings and goings for a while now, even when most of us (me) were pretty sure that Canalis was on the way out. After her seemingly disastrous appearance with George Clooney at this year's Oscars, I thought she would be long gone. But she's still with him, and she's doesn't give a sh-t if he hates stuff like Facebook and Twitter and any sort of media that would put out a less-than-whitewashed image. Canalis has a Twitter account! It's kind of unbelievable, but LaineyGossip confirmed it. Here's Ely's Twitter feed. It's mostly in Italian, which I don't speak, unfortunately.
Anyway, apparently Ely spent her Memorial Day reading magazines and tweeting. Sounds like Lindsay Lohan, actually. But Ely is a bitch, and she's actually pretty funny, if Lainey's translation of one particular tweet is accurate. Allegedly, Ely tweeted: "I'm flipping through the new Rolling Stone. Iggy Pop on the cover is the double of Jennifer Aniston." Oh, GOD. Here's the original tweet in Italian: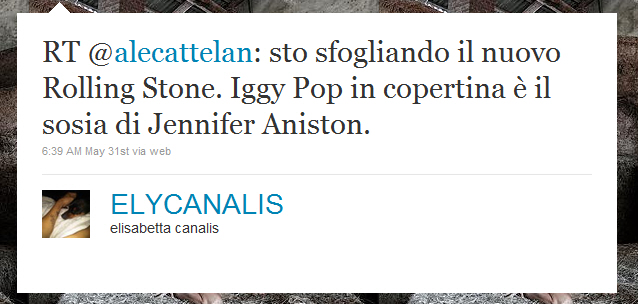 [From Ely Canalis's Twitter]
Is that an accurate translation? Anyone who speaks Italian, please confirm it or correct it. Now, as to what she said and why she might have said it – well, Ely has met Angelina Jolie. Could it be that Canalis is just a bloodthirsty Team Jolie fangirl? Or that Canalis has had some kind of run-in with Jennifer Aniston and didn't care for her? Or maybe it's a larger statement about Iggy Pop and his face? It's up for interpretation. Actually, not so much. No matter how you look at it, it was pretty bitchy!
Header: Elisabetta Canalis with Clooney on January 17, 2010. Credit: WENN.