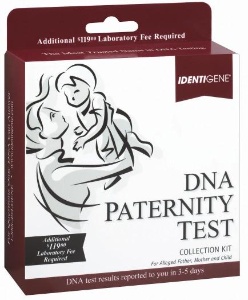 Rite Aid has started selling DNA paternity tests over the counter. For just $29.99 plus a $119 lab fee, US dads can figure out if that kid they've emotionally invested in and raised for years is actually theirs.
All it requires is a cheek swab from the mother, the man, and the child. You send it in and 3-5 days later your family could be torn apart.
The results are not admissible in court, so in order to nail that deadbeat dad for child support he won't pay anyway you'll need to follow up with a traditional expensive DNA test:
Identigene, which runs a DNA testing laboratory, said its DNA Paternity Test Collection Kit went on sale at the 4,363 Rite Aid drug stores throughout the United States, except New York.

The swab in the kit is used to collect a saliva sample, to be mailed to the Identigene laboratory for an analysis that costs additional 119 dollars.

It takes three to five business days to get the test results, which are delivered by mail, email, or online through a secured Web service.

The paternity test kit is already a hit in California, Washington and Oregon states, where they have been selling on a trial basis since November, Identigene said.

"Demand has been very strong, store sales are brisk and Identigene has been inundated with questions regarding the product's availability," it said in a statement…

Sold without prescription, the paternity kits are not allowed as evidence in court, where more precise and costly DNA tests are required.
[From AFP]
The implications for a widely available and relatively inexpensive DNA test are wide sweeping. Maury Povich's show will have to change focus for one. This also might change human behavior over time in that men might not be so quick to deny that a baby is theirs and women might not try to pin an unexpected pregnancy on whichever hapless guy is around. And just maybe it will result in increased use of birth control.
Baby photo from Morguefile © P.Winberg