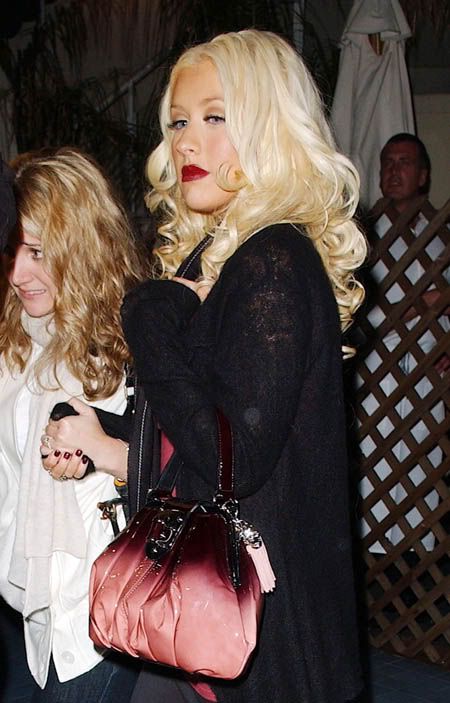 New parenthood means late nights, but usually those nights are spent changing diapers, cleaning spit-up off your clothes, and waking up every few hours to feed a screaming baby. Not at the Aguilera-Bratman household, though: the couple has been making quite a racket recently with their skinny-dippin' sex sessions.
Having a new baby at home hasn't extinguished the sparks between Christina Aguilera and Jordan Bratman!

The new parents are so determined to keep their two-year marriage red-hot that they've taken to skinny-dipping by moonlight. The couple, who welcomed son Max into the family on Jan. 12, can be heard loudly frolicking in the pool of their $11.5 million Beverly Hills mansion around midnight.

"They don't just splash around — they laugh, scream, swear and make sexy noises," says a source. "We're happy that they're happy, but we wish they'd keep it down a bit. There are a lot of old people who live around here, and they don't like noise after the dinner hour."

Still, the 27-year-old pop singer and her record producer husband, 30, are preferable to the house's former owner, Ozzy Osbourne, adds the source. Ozzy — who sold the Mediterranean villa after wrapping up his MTV show, The Osbournes — would blast "horrific, ear-splitting rock music."
I dunno, if I paid $11 million for my house, I'd be as loud as I pleased every damn minute of the day. Old people are mostly deaf anyway- if they don't like it, they can just turn up the volume on "Murder, She Wrote," and drift off to sleep. They're probably just jealous that these two young people can still actually enjoy themselves. Besides, they should be used to the screaming and the swearing from the Osbourne family. This story is funny and would even be kind of hot if Christina's husband weren't a troll.
Note by Celebitchy: I remember watching The Osbournes and seeing them throwing shit over the fence at the neighbors, whom Sharon hated. I don't remember what kind of feud they had going on but it sounds like these same neighbors are talking to the tabloids about Aguilera. Christina told Ellen that a lot of tour buses stopped by her house due to the popularity of the Osbournes' show, but that the back, with it's waterfall and pool, was completely secluded and made it feel like she was on vacation. Maybe she should have watched the show more carefully to see what assholes the neighbors were.
Christina Aguilera and Jordan Bratman and friends are shown outside a sushi restaurant on 3/16/08, thanks to WENN.