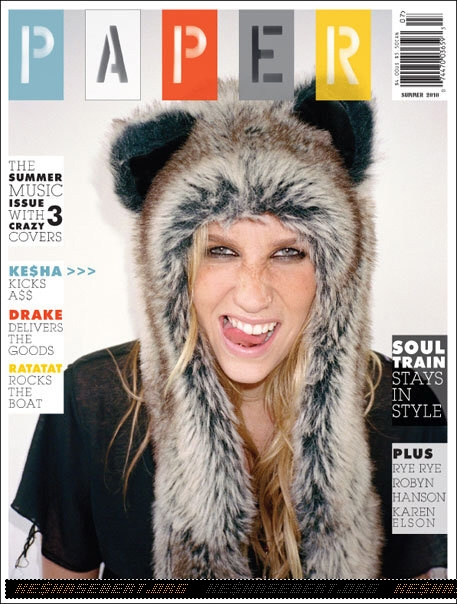 This is Ke$ha for the new issue of Paper Magazine. She looks drunk, per usual. Has anyone else noticed that she usually looks dirty too? I'm not a freckle-hater or anything, but is that it? Are Kesha's freckles giving her that Lohan-esque unclean look? Anyway, I can't find any excerpts from Kesha's Paper interview but I did find some bits and pieces of press Kesha has been doing over the past week. This girl… I just don't know. After I read the interview she did in Rolling Stone last month, I got to the point where I didn't hate her anymore. True, she's not awesome or anything, but she's not a terrible person either. Eh. You decide from this array of quotes:
On her single 'Your Love Is My Drug': "It's a song about how when you're in love with someone, and you start acting like a total idiot psycho…You know, just like stalking. Chain calling. Calling from other numbers." And when asked if she herself acts in that way, the 23-year-old 'Tik Tok' hit maker added: "Yeah… but not from my phone."

Kesha on her young self: Ke$ha admits that she was a "math gee" and a "band nerd" at school.

On people who have wronged her: "You know what, sometimes I'll walk my dogs and full bags of massive dog s**t. Then I'll wrap them as Christmas presents and give them to people."

She writes music to get back at people too: "The record is therapy. This b*tch stole my car, so I wrote a song about it called 'Backstabber'. When I see thousands of people singing along to it I'm like, 'Jeanie f**k you. You f**ked with the wrong b*tch."

Kesha's fashion sense: "If I'm in Los Angeles and I find a pile of clothes lying on the side of the street that someone plans to throw out, I'll take it. I'm like a pirate on a treasure hunt. I think it's way more creative. I love used clothes because they have a story to them."
Does the girl have rage issues? Not really. She strikes me as someone who is all talk, no action. These stories seem like an attempt to be cool or hardcore, when really she's probably some totally normal girl who just spends her time getting wasted. Of course, I could be wrong. Maybe she is wrapping up dogsh-t and wearing clothes she finds on the street. Do you think she even washes those clothes? Ugh.