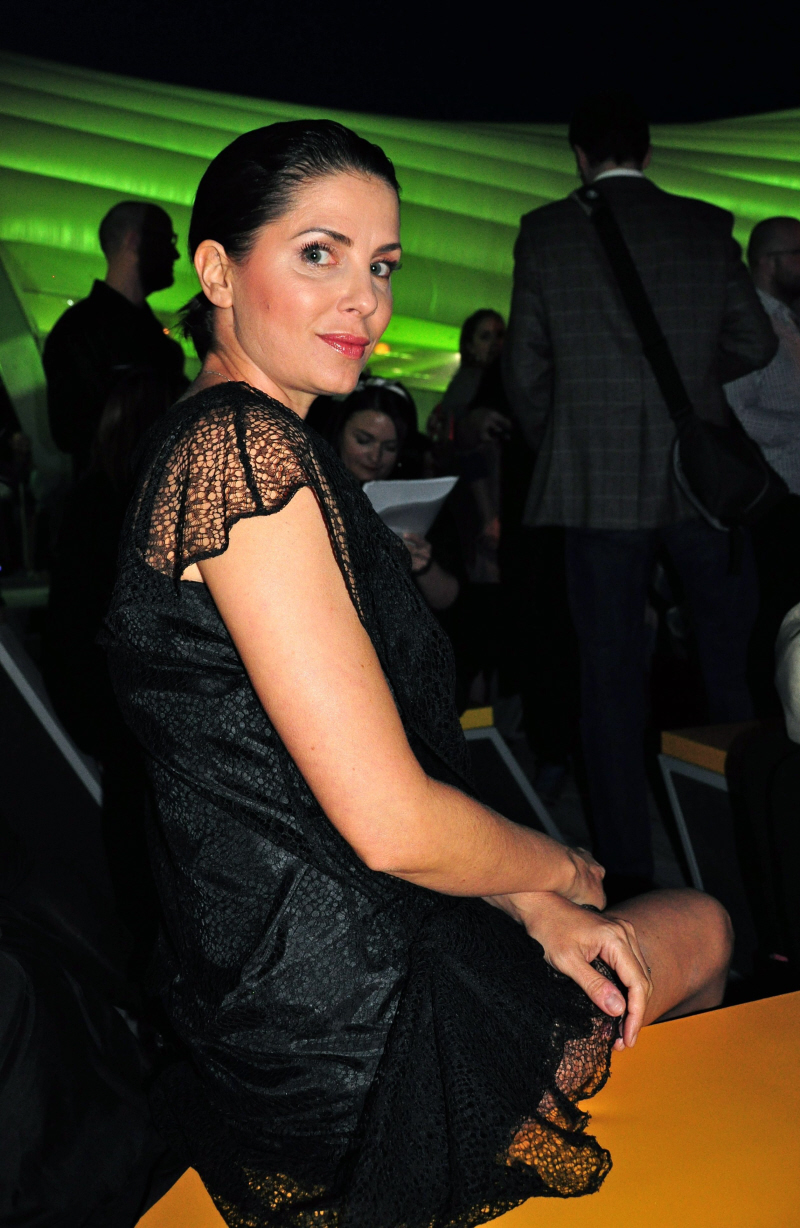 There's a strange follow-up to last week's story about the new bitch fight between Sadie Frost and Sienna Miller. According to last week's reports, Sadie got really pissed at Sienna when Sienna took Sadie and Jude Law's daughter Iris to the salon for a haircut. Sadie was so pissed she even tweeted about it, writing, "I think ya should get ya own child and then cut their hair!" Unfortunately, after that tweet, Sadie took down her Twitter. But the war continues – according to the Daily Mail, Sadie is banning Sienna from all activities involving the kids. Oh, and maybe Sienna didn't have Iris's hair cut, maybe it was Rudy's hair? Weird. Also, something about Sienna and Jude getting married and wanting the kids there, and that is pissing off Sadie even more.
They have never exactly been the best of friends, but the Cold War between Sadie Frost and Sienna Miller has intensified ahead of Miss Miller's summer wedding to Jude Law. Miss Miller, 28, left Miss Frost furious after taking her young son Rudy, seven, to the hairdresser, where all his golden curls were cut off.

And Miss Frost, 45 – who has three children by her former husband Law – has now hit back by banning Miss Miller from attending her nine-year-old daughter Iris's ballet recital next week.

Iris is due perform alongside her best friend Kate Moss's little girl Lila Grace next week, but a source told the Daily Mail: 'Jude was bringing Sienna to the recital to support Iris, but Sadie has had enough and put her foot down and said she could not come. Sadie is a great mum, she's just had enough of someone else playing mum with her children.'

The move comes after Miss Miller played the doting stepmother with the children last week as she enjoyed a sun-filled break with Law, 37, in Vaudelnay in the Loire Valley, where his parents live. Despite being reunited just eight months ago, the couple are now making plans for a summer wedding in France, which includes having Iris as a bridesmaid and sons Rafferty, 13, and Rudy as best man and page boy.

A source close to mother-of-four Miss Frost, who also has a 19-year-old son called Finlay by her first husband Gary Kemp, said: 'There are many things that Sadie is cross about at the moment. Sienna is making all these plans for Sadie's children to be part of the wedding party. Jude asked Sadie if she could have an informal meeting with Sienna to smooth over their relationship for the sake of the children – but that was before Sienna took Rudy to have his haircut.'

Miss Frost, an actress and designer, left her children with Law and Miss Miller while she went to the Isle of Wight festival earlier this month. However, she devastated when she saw Rudy's haircut and attacked the blonde actress on Twitter.

She wrote: 'I think ya should get ya own child and then cut their hair!'

A source said: 'Sienna took her wedding file with her, which is filled with all her plans, to discuss everything in detail with Jude's parents, Peter and Maggie. After all this time and such a long and rocky history together, they want a low-key wedding. Jude and his parents really want the wedding to be held in the French countryside, so that is what is being discussed at the moment. Jude and Sienna just want to be married and start their life together.'

Law, 37, has even been talking to Miss Miller's favourite jeweler, Stephen Webster – who counts Madonna among his celebrity fans – about designing his fiancee's wedding ring.
[From The Daily Mail]
I don't even know where to start. I guess I'll just say that I don't have a dog in this hunt – to me, it seems like Sadie is completely overreacting, AND that Sienna is now and has always been a narcissist who doesn't care if she's stepping over the line of propriety. Jude seems like he's trying to be the peacemaker, but I'm not sure if I buy all this stuff about a wedding. They just got back together over the winter, and I don't think Jude is eager to jump into marriage with Sienna. Now, if my scenario is the case, where Jude and Sienna's relationship status is still in transition, then perhaps that should be good enough reason for Sadie to not want Sienna participating in events for the kids – because after all, Sienna might not be sticking around. But if Sienna and Jude are engaged, then perhaps Sadie should grow up a little and accept that Sienna is trying to be an active step-mum. Plus, Sadie has had several boyfriends since she and Jude split, and Jude has been supportive of her and her relationships, and I guarantee those dudes have spent time with the kids.
Here's an old photo of Jude and Sadie when they were married:
And here are some pics of Jude, Sienna and the kids. The boy is Rudy, before the haircut I guess: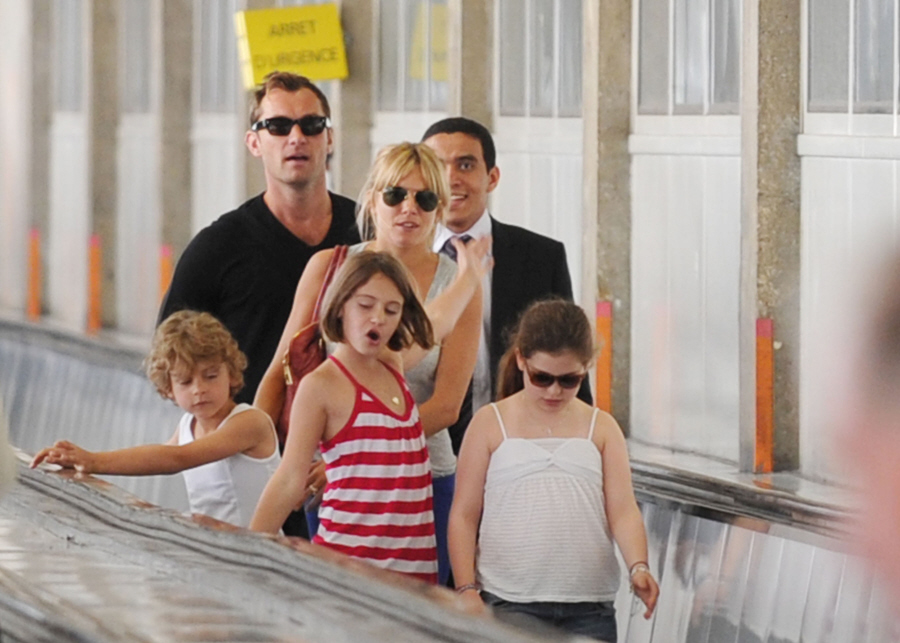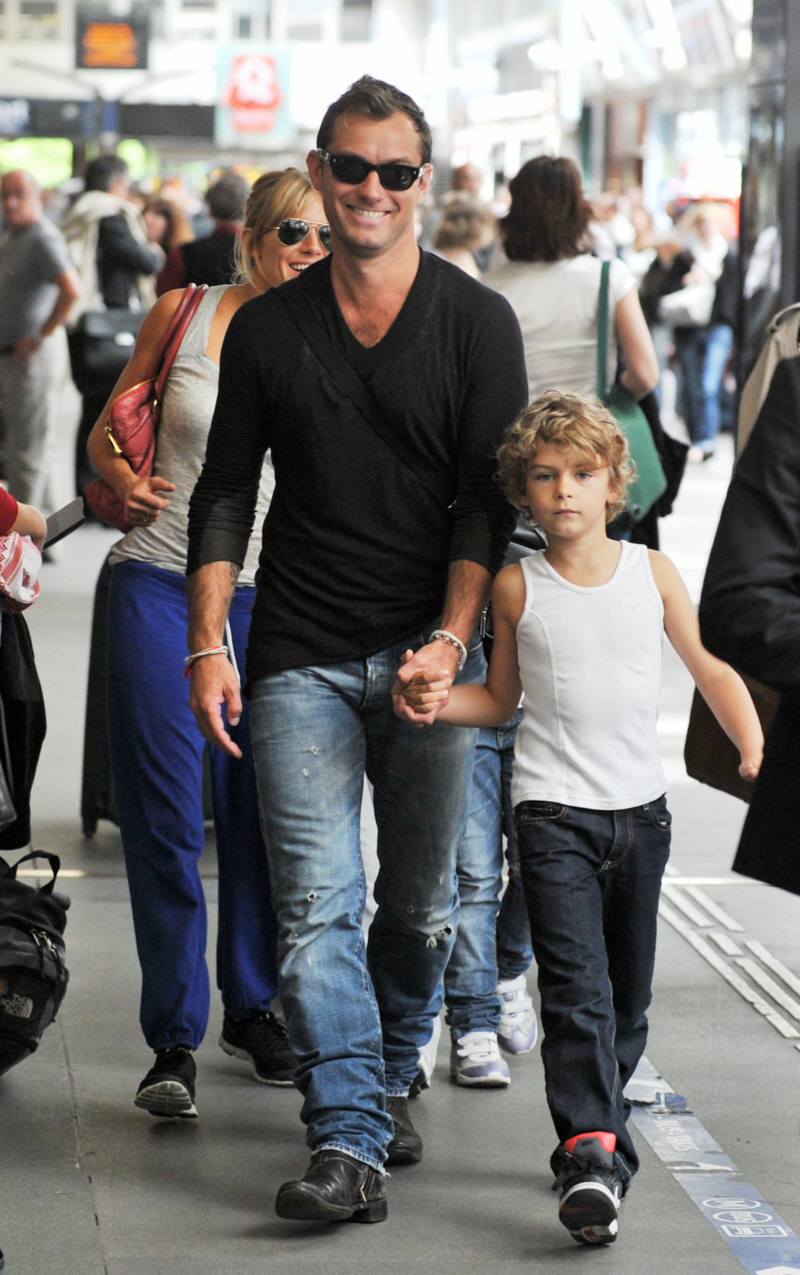 Header: Sadie on April 29, 2010. Credit: WENN. Also, Jude, Sienna and the kids on June 11, 2010. Credit: Bauer-Griffin.