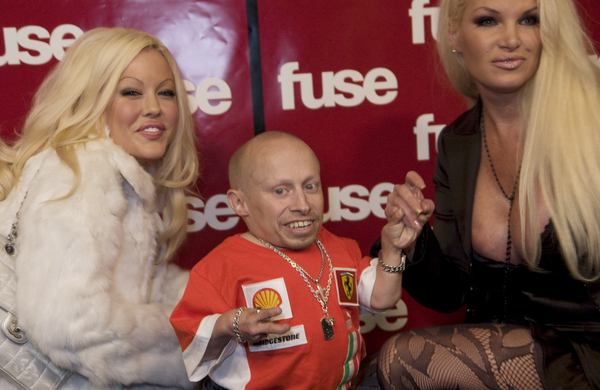 Verne Troyer, best known as "Mini-Me" in the Austin Powers movies, has been hospitalized. The diminutive actor, who is currently cast in Terry Gilliam's new movie "The Imaginarium of Doctor Parnassus," which co-starred the late Heath Ledge and now features both Johnny Depp and Colin Ferrell, was battling flu symptoms on the set and was hospitalized for dehydration.
Actor Verne Troyer, best known for his role as "Mini Me" in Austin Powers, was rushed to the hospital today, Usmagazine.com has learned.

A source close to Troyer, 39, says the actor was experiencing "flu-like symptoms" while shooting The Imaginarium of Doctor Parnassus (Heath Ledger's last movie) in Burnaby, British Columbia.

Adds the source, "He's been working really hard on the film. They just wanted to hydrate him."

A rep for Troyer denied that he was treated for a drug-related problem.

"Verne is fine and doing well and is back to work," the rep tells Us.

Troyer checked into rehab for alcoholism in 2006.
My question: what the hell kind of weird-ass movie is this, that stars Johnny Depp, Tom Waits, Christoper Plummer…. and Mini-Me? I do hope Verne is feeling better soon, and whatever he's dealing with goes away. Every time I see him, I can't help but think of when he appeared on the reality show "The Surreal Life," and would get blackout drunk to the point that Peter Brady would have to carry him around like a baby and put him to bed.
Note by Celebitchy: Heath Ledger fell ill while shooting that same movie, and the star Terry Gilliam said of Heath's illness before his death that "We all caught colds because we were shooting outside on horrible, damp nights. But Heath's went on and I don't think he dealt with it immediately, even when he was taking antibiotics. I think what he had was the walking pneumonia."
Now that two actors have fallen ill, do you think they might improve working conditions?
Verne Troyer is shown with "actresses" Tina Holloway and Tiffany Jordan at the Fuse TV Party for the Grammy Awards on 2/7/08, thanks to PRPhotos.