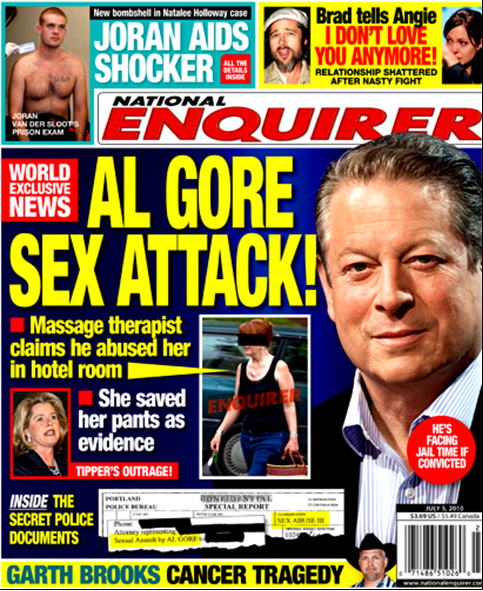 The National Enquirer and Star Magazine seem hellbent on giving Al Gore some kind of sexy scandal in the wake of his split from Tipper. First, the Enquirer ran a blow-by-blow (ha) account of all of the women Al might have been boning throughout the years, including some massage therapist in Washington, D.C. Then Star Magazine openly theorized that Al was boning Laurie David, Larry David's ex-wife. Laurie later denied that sh-t, and I kind of believe her, just because she seems like a hottie living it up with younger, hotter men. Anyway, this week's Enquirer cover story is once again devoted to trying to make a Gore sex scandal happen – and this time they allegedly have proof that Al "sexually attacked" a masseuse in Portland, Oregon:
ENQUIRER WORLD EXCLUSIVE: AL GORE has been accused of sexually attacking a masseuse in Portland, Oregon – and is named in the official police report about the alleged assault, The ENQUIRER has learned exclusively!

The bombshell story will appear in the new issue of The ENQUIRER and will include the secret police documents, a photo of the woman making the stunning charges and will reveal the shocking details about the pants she saved as evidence!

Our investigative team uncovered the amazing story just weeks after the former Vice President announced that he and wife TIPPER were ending their 40-year marriage – amidst reports she suspected her husband was involved with "a gorgeous massage therapist."

We have verified the 62-year-old former VP was in Portland at the time of the alleged incident – Oct. 24, 2006 – and we saw the $540 massage bill.

No criminal charges were brought against Gore, but the Portland police prepared a document marked "Confidential Special Report" – which records the explosive allegations of "unwanted sexual contact" by Al Gore "at a local upscale hotel."

The ENQUIRER is withholding the name of the 54-year-old woman making the stunning accusations because she is potentially a sex-crime victim.
[From The National Enquirer]
It's not funny, at all. I know that. But I did chuckle involuntarily at "the shocking details about the pants she saved as evidence!" Bad Kaiser. Bad, bad, bad. Now, if there was a police report and it's for real and everything, there could totally be something there. But the story about the massage therapist that the Enquirer did a few weeks ago was about a woman in Washington, and Al was allegedly going to her repeatedly, and it was a consistent affair, allegedly. Something like that. So this sounds like something totally different. Also, if this happened in 2006, why are we only hearing about it now? And what the hell did Al do to this poor woman's pants?