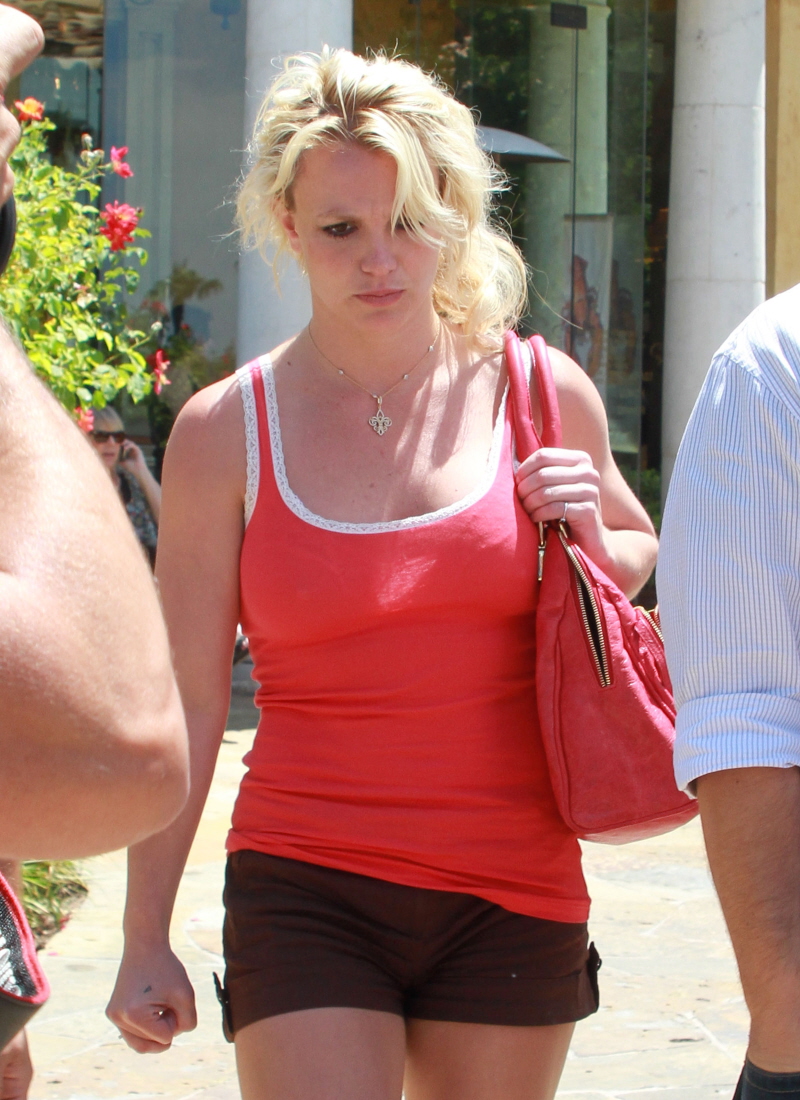 Let's go through the praise for Britney Spears first. Okay, her budget weave doesn't look jacked and dirty, it actually looks pretty clean. In fact, Britney herself looks pretty clean, almost like she's fresh out of the shower. Also, she isn't wearing a face full of hideous makeup, and the clothing kind of works, although I wouldn't have picked this out for her. And, as The Sun points out, Jamie Spears' loose-nipple fatwa is still in effect – Britney's got her bra on, and her boobs are looking good. You know, supported and not flying all over the place. Of course, she looks "cold". But overall, a vast improvement.
Not so great? In this one photo grouping, I swear to God that Britney changed from one personality to another like five times. It was some When Rabbit Howls sh-t. In one part she looks like she's about to cry, in other she's about to punch something, in another she's smiling and so happy. All in one walk from the restaurant to the car. Seriously.
In the new issue of Us Weekly, there's an article claiming that Britney has been back in contact with former paparazzo and active sketchball Adnan Ghalib. Ghalib is described as "currently unemployed" and apparently Britney has to sneak around behind her dad and Jason Trawick's backs to make the calls. Us Weekly's source (via Jezebel) says that Britney thinks her life is "worse than being in prison — at least in prison you know when your time is up… What 28-year-old wants to be legally controlled by her father?" Then take your meds, Britney! I know, I know, getting Britney to dial down the crazy is a lot harder than it looks. But still, prison? If prisons were fabulous LA mansions with unlimited Cheetos, perhaps California would have an even bigger jail problem.
One more thing… Fame Pictures put up this side-by-side of Jason Trawick to show how he's started to look like hell because he's with Britney. I don't know – I don't even think he looks that bad in the "after" photo: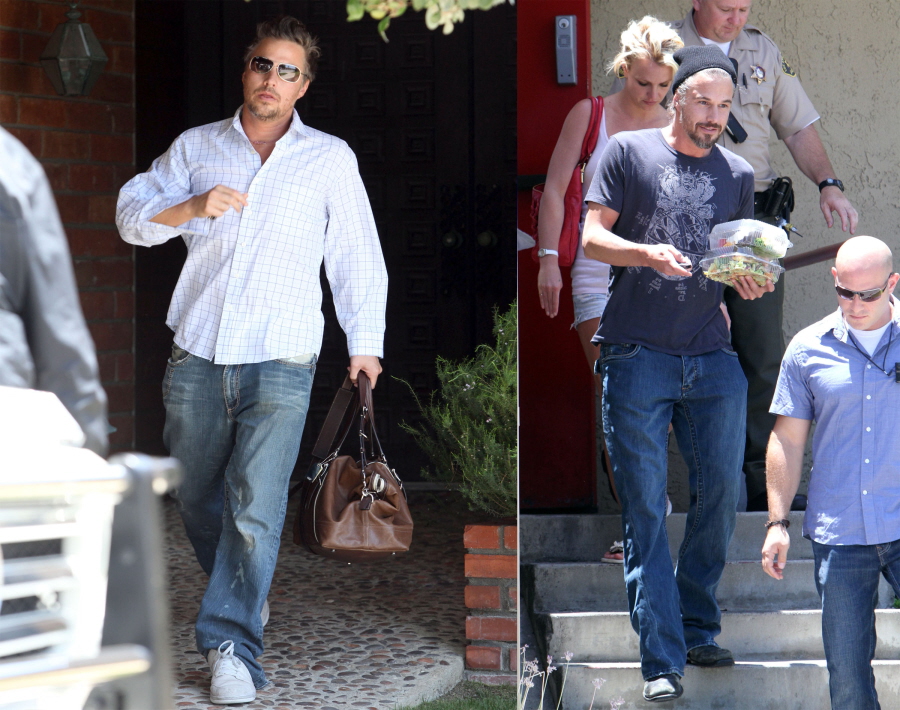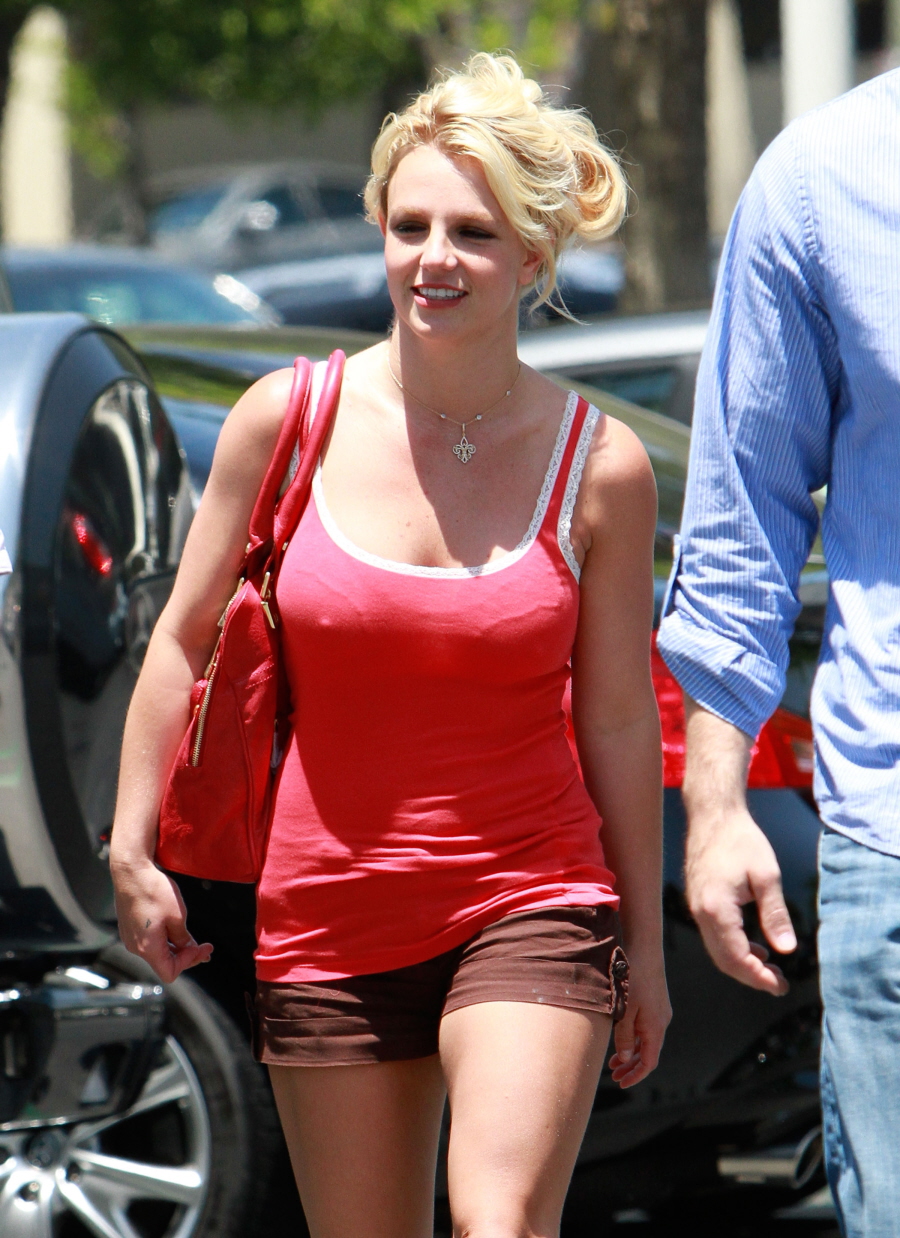 Britney on June 22, 2010. Additional side-by-side of Jason Trawick, all photo credits: Fame.