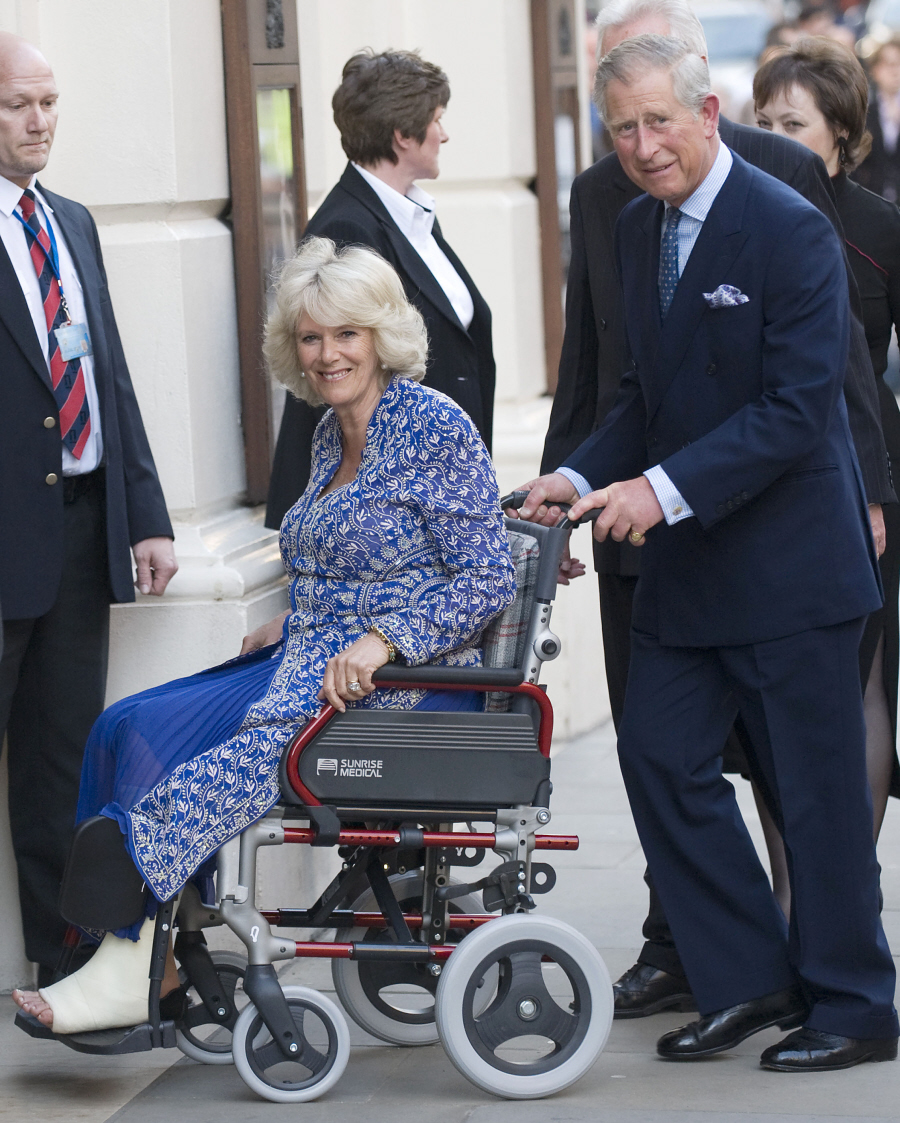 Of course this could totally be crap, but it's really slow today, and I found this story very interesting. Back in 2005, Prince Charles finally bought the cow (horse?) and married Camilla Parker-Bowles after decades of getting the milk for free. Camilla was remade into the Duchess of Cornwall, and they lived happily ever after. Right? Not so much. I've read various rumors here and there over the years which basically claimed that Camilla hated being royal and that she and Charles didn't really have their "happily ever after" after all. Now The Daily Mail is laying it all out, and saying they are living "separate lives." The full piece is very long (here) but these are some of the juiciest highlights:
When the Duchess of Cornwall left Scotland and travelled south with a broken leg in plaster the other week, she chose to recuperate not at Highgrove, the marital home she shares with the Prince of Wales, but at Raymill House, her own home 17 miles away.

Three years ago, when she left hospital after a hysterectomy, she did exactly the same thing. Most married women will find it very strange that a wife should eschew the warmth and helping hand of her husband at such a difficult time, but then, this is a very strange marriage.

We are not talking about a constitutional crisis, or a split or separation between Charles and Camilla.

This is a story of two people whose relationship was idyllic while they were lovers for more than 30 years, but who have found things to be not the same since being advised to make what amounted to a marriage of convenience, as we shall explain later. Friends on both sides knew the risks each was taking when they married in 2005, because each was so set in their ways — and very different ways at that. No one, however, expected the impatience and frustration that each is known to cause the other around the house to be such a problem. Even the staff are said to be 'bickering' — a sure sign that all is not well at the top. One chauffeur working for another senior royal finds the atmosphere at Highgrove 'so unpleasant' that he refuses to stay overnight in the servants' quarters.

When Mrs Parker Bowles became the Duchess five years ago, she already knew she would need to get away — and get away often — from the starchy formality of the Prince's world at Highgrove. (How ironic that Princess Diana used to refer to Charles's Gloucestershire mansion with its six bedrooms, scrupulously maintained gardens and 350 farmed acres as 'another woman's house'. She meant Camilla, of course.)

Camilla had known for decades about Charles's obsessional neatness around the house, especially over where and how certain objects are placed, and that this had grown worse as he got older: he is now 61, she 63 in July. For his part, Charles, as a regular caller at Camilla's home at Raymill, was familiar with her renowned domestic untidiness. But the problems go deeper than that.

'When a woman's been a man's mistress for 30 years and then marries him, the relationship is bound to change,' says one aged dowager who has known Camilla all her life. 'They still love each other, I have no doubt of that, but life as a married couple is difficult for two such independent spirits, who have always enjoyed the physical aspects of life. There's a certain electricity about sex between lovers which is bound to dissipate after several years of marriage.'

Friends of the duchess say she is finding it 'hard to relax', but they insist this is largely caused by the inconvenience of the leg she fractured when she stepped into a rabbit hole at Birkhall, their Scottish retreat, though it is now out of plaster.

'Charles was brilliant with her at first, but he's never been very good at looking after others,' says a friend. 'A friend of mine asked "How is Camilla?" the other week and had to listen to him whingeing on and on about how inconvenient it was that she was in plaster and had to use a wheelchair because she couldn't go with him to this and that, and how it was making everything so difficult for him. My friend had to bite their tongue not to say that it couldn't have been very convenient for Camilla either.'

What no one expected was for the duchess effectively to decamp from Highgrove to Raymill, where, when not on official duties either alone or with Charles — two weeks ago they were at the Royal Cornwall Show and this week they are together in Wales — she reverts to the informality of her former life, pottering in the garden, seeing friends and, these days, being a busy granny to her five grandchildren. She has even had the builders in to create a nursery wing on the top floor of the six-bedroom house. It is playing host to her daughter Laura's three children, Eliza, two, and six-month-old twins Gus and Louis, and her son Tom's daughter Lola, two, and baby Freddy.

There have been no such domestic or structural changes to accommodate small children at Highgrove, the tranquillity of which must remain undisturbed for the Prince of Wales. The duchess's daughter Laura in particular, who is married to former male model Harry Lopes, has been relying a great deal on her mother at Raymill since the birth of the twins in January.

'Having three so young is a bit of a strain on Laura, and it's wonderful that her mother is available to help out,' says a close family friend. 'While the children are so tiny they are actually living at Raymill and Camilla loves it.'

The grandchildren are said to be an important additional factor in why Camilla and Charles spend so much of their time living in different houses. In fact, these days Camilla is said to come up to London to stay at Clarence House as little as possible.

'Camilla absolutely adores having her grandchildren around her and is always talking about them, but Charles simply cannot stand the noise and mess that small children make,' shrugs a seasoned royal aide. Some close observers, however, believe that Camilla is using the grandchildren as an excuse not to be at Highgrove.

'She finds the formality there rather claustrophobic, especially with all the servants,' says a friend. 'There are so many of them (Charles's total staff in the past five years has risen from 94 to 125), and it's all so polished that it's rather like living in a museum.'

Her claustrophobia, however, doesn't run to avoiding the excellent food produced by the chefs in the Highgrove kitchens. While at Raymill, and especially when her family are visiting, the duchess has food delivered from the Prince's house. There are also said to be 'tensions' among Charles's senior aides over the vexatious issue of Camilla's relatively inactive official life before she broke her leg. The Duchess has never got over being labelled unkindly as 'the laziest woman to have been born in England in the 20th century' by a former senior aide to the Prince of Wales.

'The way Camilla should have responded was to have raised her game and done a lot more work,' says a retired courtier, 'but she has failed to do so.'

'Camilla is brilliant at all the military stuff because she so admires the armed services and is really quite knowledgeable about them – don't forget Andrew Parker Bowles was in the Blues and Royals, and Charles commanded a Navy mine sweeper… But the fact is, she hates most royal duties and doesn't like the family gatherings because they are like three-line whips, though these are few and far between. Charles does get annoyed with her over this, but he is so tetchy anyway, these days.'

Most of the prince's friends accept that after his marriage to Diana failed, he would have been quite content to continue on his way through life with Camilla as his informal consort. But worries about the succession forced the prince to ask a group of senior courtiers to look into it. They reported only one real problem: the Camilla factor.

They advised that, although the Queen was in excellent health, it was unwise not to plan for the unexpected, and the possibility of the prince finding himself King with a woman at his side who was not his wife. So it was that they ended up getting married at the Guildhall in Windsor in April of 2005. More than five years later, Camilla has never really settled into the idea of being 'royal'. As one friend says: 'It makes her feel quite gloomy sometimes that she can't be herself.'

'She is petrified of what she will have to live up to when Charles becomes King,' says one of her oldest friends. 'As his virtual Queen in all but name, how could she disappear for days at a time to Raymill?'

Some – notably friends of the late Princess Diana – would say that if Camilla is not entirely content with life as the future Princess Consort, she only has herself to blame. So this unusual couple have gone back almost to the days before they were married, when they were part of each other's lives, saw each other when they wished, and did not live in each other's pockets. For now, theirs is not a marriage in actual 'difficulties', because it is an arrangement that both appear to be content with.

And yet – who would ever have imagined that the older woman for whom a crown prince dumped a young and beautiful wife now chooses to spend so much time away from him in a world of her own?
[From The Daily Mail]
Okay, so that was a really long piece, I'm sorry. I found it fascinating, and I bet that there are deeper problems than even this article is alluding to. I had never heard that quote about Camilla being lazy, but I have been wondering why she does so few events. She's just lazy! And, you know, she didn't want this sh-t. She just wanted Charles to keep her on as his mistress and pay her bills and she could have her own life. I've read many (too many) Princess Diana books, and one of them theorized that while Charles romanticized his relationship with Camilla, thinking that Camilla was his soulmate, she had never felt that way about him – her true love, the theory went, was her first husband, Andrew Parker-Bowles.
I'm not saying Charles and Camilla are done, by the way. I'm just saying that their marriage is having problems, and that they both deserve it.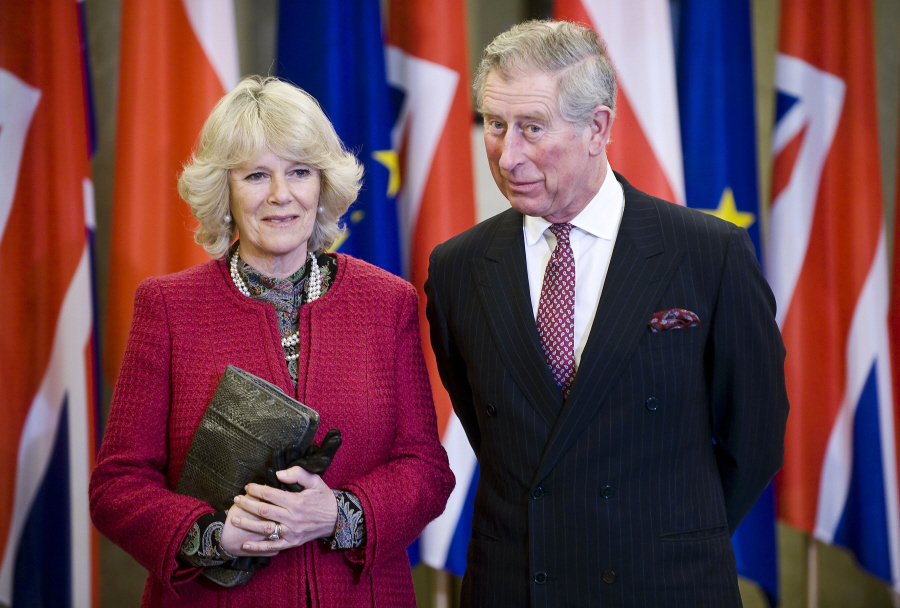 Header: Charles and Camilla on 3/15 & April 27, 2010. Credit: WENN.