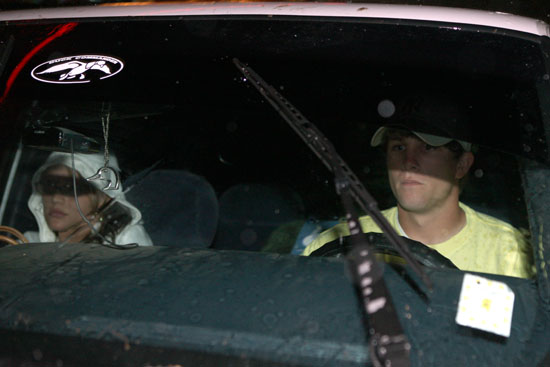 A paparazzo who was following Jamie Lynn Spears and her boyfriend, Casey Aldridge, while they were riding a 4-wheel ATV, claims that Aldridge flashed a gun at him and told him to get lost. TMZ has video of the confrontation and has highlighted an object in the ATV in the video, saying it's a gun.
Jamie Lynn Spears is packin' baby, but her man is packin' too, and he's pointing his piece at a photog! Casey Aldridge was pissed at a pap who allegedly shot this video on private property — Jamie says it was private, the pap says it wasn't. Anywho, watch closely as Casey takes the gun from his lap and kinda points it in the direction of the pap, telling him to get the hell on a public road. Yessir!
I looked at the video several times and couldn't see this gun they are pointing at in big red letters, but that doesn't mean it's not there. The thing that struck me most about this video is that Jamie Lynn's boyfriend is a bona fide hillbilly: Riding around in a 4-wheeler with a dog and a cooler in the back- and that accent is straight out of "Deliverance." If Jamie-Lynn marries this kid, she can forget about her acting career– instead, I see NASCAR Sundays, Coors Light party balls, and domestic disturbance calls to the trailer park in her future. Jesus H. Christ, the Spears girls have abominable taste in men, don't they?
Jamie Lynn and Casey are shown out on her 17th birthday on 4/4/08, thanks to Splash News.