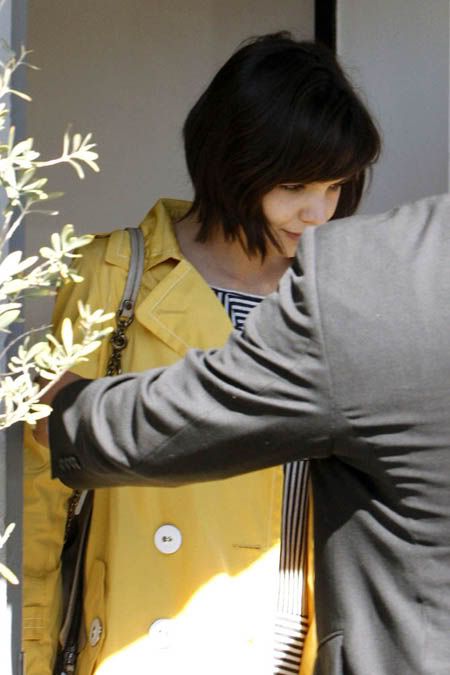 Star magazine is claiming that Katie Holmes wants a trial separation of sorts from Tom Cruise. And really, could you blame the poor dear? By Star's account, Katie has finally had it with Tom and his maniacally controlling ways. I'm guessing her shopping budget just isn't enough to compensate for being married to a crazy person anymore. Star is still claiming that Katie is in final negotiations to star in All My Sons on Broadway, and wants to move to Manhattan as part of a trial separation. Tom has told her it's fine if she goes – but he's coming with her.
Star also says that part of the reason Katie wants a separation is that she and Tom have been locked in a power struggle over how to raise Suri. Tom wants to make all the rules –which doesn't sound like any big surprise.
… According to our sources, Katie, who was offered a role on Broadway, is trying to break away from her controlled life under the watchful eyes of her husband and move to Manhattan in what will be a sort of trial separation.

"She desperately needs to be on her own for a while, but there's no way Tom is going to let her take Suri away," an insider tells Star. "There's no way he'll allow it. He just doesn't want Katie — or Suri — out of his sight for long. He told her that if she goes to New York, fine, but he goes with her."
[From Star]
As much as I'd love this to be true, it sounds like complete B.S. Celebitchy pointed out that the tabloids are always quick to write a "marriage in trouble" story whenever a couple so much as takes a vacation apart. Star is one of the worst offenders. The Daily News noted today that although Tom and Katie are staying in different states right now, everything seems to be fine with the couple.
Tom Cruise and wife Katie Holmes have been living apart, we hear, but not because of any marital discord. Sources say the renovation at their L.A. manse has given Holmes and daughter Suri an excuse to visit the couple's Telluride villa. Cruise, who has to stay in town for work, is said to be decamped to his luxe quarters at the Church of Scientology's Celebrity Centre.
[From Rush & Molloy]
So the more reliable parties are saying everything is fine and dandy in TomKat land. I had my hopes up, but really, thinking wifebot Katie Holmes would grow a pair and leave Tom Cruise is probably too much to hope for.
Here's Katie Holmes leaving Joan's on Third after lunch on March 16th. Images thanks to WENN.