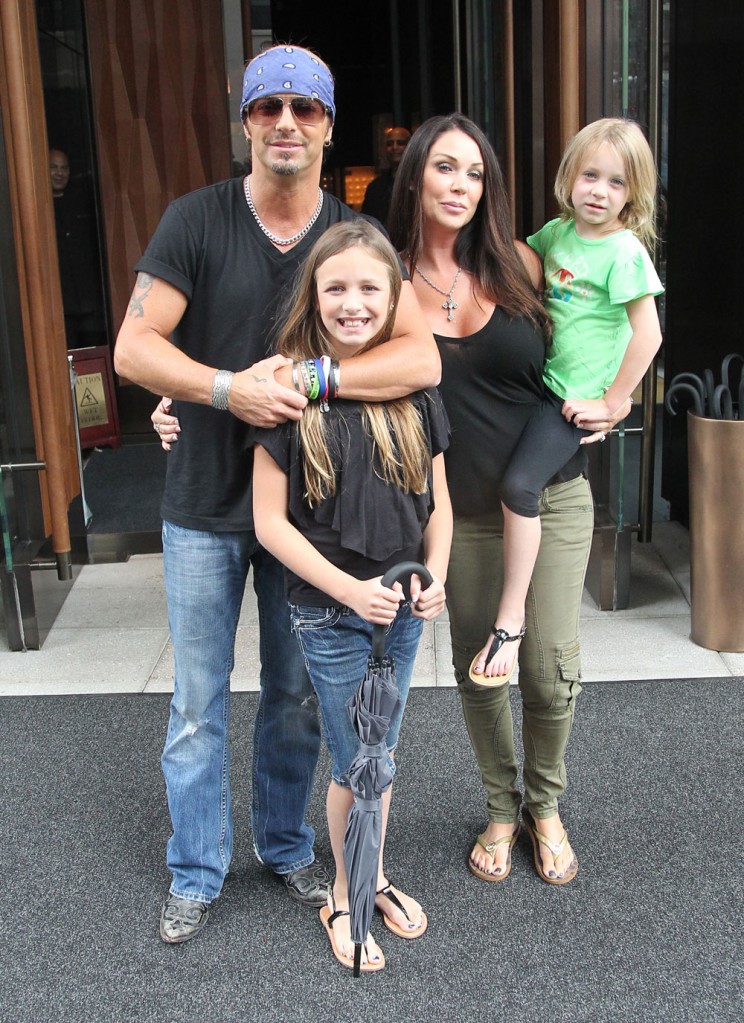 US Weekly has an interview with musician and reality star Bret Michaels, 47, this week. Michaels confirms that he's back with Kristi Gibson, 39, who is the mother of his two daughters Raine, 10, and Jorja, 5. He's not engaged as has been rumored, but is recommitted to Kristi (in his way) and acknowledges that he gave her a promise ring. When Michaels describes what fidelity means to him, that's when it starts to get funny. You can tell he's not joking, either:
What about the rumors that you and Kristie are now engaged?
I gave her a promise ring on Christmas Day. There's no date for a marriage, but we love and respect each other, and one day I will make an honest woman out of her. [laughs]. We've been on and off since the mid 90s, and the great thing about Kristi is that she never said "If you don't marry me, I'm leaving." She went into this relationship with her eyes wide open. When we were broken up, I did Rock of Love – which was a train wreck of a show, and probably not the best way to find true love. But that made me appreciate her even more!

How has your recent health setback changed your life?
I'm on medication for the hemorrhage [Soma, to control back and neck cramps due to irritation from the hemorrhage] and twice a day, I give myself injections of Lovenox, which thins the blood and prevents clots. And I do four daily shots of insulin, plus six finger pricks to check my blood sugar. I've become Bret Michaels, human pincushion [laughs]. In January, I'm going to have an operation to close the hole in my heart. The doctors know it caused my stroke, but they still don't know what caused the hemorrhage…

Is touring the same?
The only change is that I can't drink alcohol! And now that I'm in a relationship, I can still have a great time with women. You just don't go all the way. The party stays in the front of the bus, not the back.
[From US Weekly, print edition, August 2, 2010]
Doesn't it sound like Michaels is using "back of the bus" as a metaphor? How reassuring it must sound to his girlfriend that he's still going to have a "great time" but just won't "go all the way." Would you put up with that explanation from your boyfriend/husband/fiance?
As for whether he's endangering his health by touring, Michaels says that it's helping him to live life to the fullest and have something to look forward to. "I was lying on my back and TV in a depressing ICU for 12 days! I needed to get out. Now I get to give 1,000 percent for my fans and throw great parties on the bus. Look, I fought really hard to live and I'm not going to go out on the road and do something crazy to die." If he does die, though, Michaels has plans for a rocking funeral that he describes as a "megaparty" to include fireworks.
You can tell that Michaels isn't letting a massive health scare or a pre-engagement slow him down. He's still rocking and getting into trouble. Late last week, cops in northeast Indiana searched his tour bus on some vague pretense and found marijuana and other "unspecified drugs." Michaels' rep told People that he "allowed an open search of the buses and everything was handled in a professional manner."
If you're ever pulled over by police in the US, you have the right not to consent to a search of your vehicle. (Please also remember your right to remain silent when questioned.) I'm repeating this because when researching Michaels' response to police I found a lot of important information.
Bret Michaels, Kristi Lynn Gibson and their daughters Raine Elizabeth Sychak and Jorja Bleu Sychak are shown outside their hotel in NY on 7/13/10. Credit: Fame Pictures. Last two photos below are from 7/12/10 outside the Late Show. Credit: JDH/JCP/WENN.com