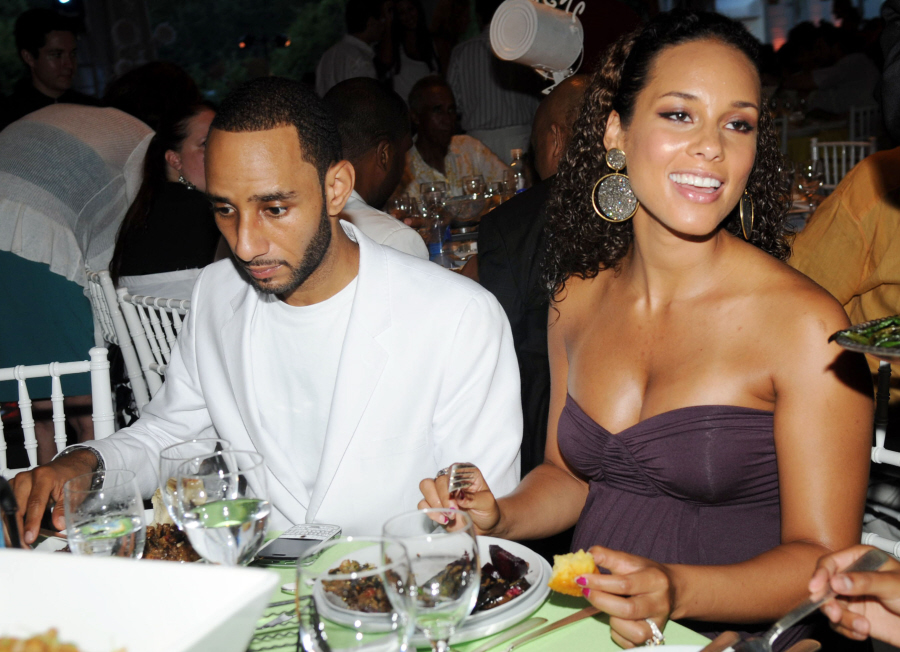 This was the weekend that Alicia Keys and her fiancée Swizz Beatz were supposed to be married, according to random gossip. But it didn't happen. Instead, they attended Russell Simmons' Art for Life benefit in the Hamptons, and they looked miserable, right? Well, Alicia didn't look bad, but Swizz looks like he's already checked out. Maybe he was just having an off night. Or maybe he's not trilled with the prospect of setting up house with Alicia and a baby. The NYDN points out that one of Swizz's kids came to the event with them – and that Alicia was "very maternal" with 10-year-old Prince Nasir. Interesting. Alicia is really trying to make this thing work, and Swizz is just phoning it in? Maybe I'm being too harsh, because Swizz actually gushed about Alicia in an interview last week:
Yes, Alicia Keys and rapper Swizz Beatz are getting married and having a baby – but don't believe rumors that they'll tie the knot this weekend.

"The wedding is not this week," Kasseem "Swizz Beatz" Dean told PEOPLE at the New Music Seminar in New York City Wednesday night.

Shooting down online reports of a lavish ceremony to be held on a yacht, the rapper says, "People are very creative [with gossip], but it's cool. We have fun with this stuff. [The rumors are that] we're taking a boat to do this and we're like, 'Man, who's paying for that?'" he jokes.

Swizz Beatz also debunks reports that he'll manage Keys, who recently parted ways with her longtime manager Jeff Robinson. "I am one trillion percent not managing my fiancée. I'm not a manager," he says.

But rumors aside, the two musicians are focused on the impending birth of their first child together. "Alicia is definitely one of those great parents-to-be. I'm definitely one of those great parents as well," says Swizz Beatz, who has two sons, Kasseem Jr., 3, and Prince Nasir, 9, from previous relationships.

So, will a son or daughter be joining the bunch? "We don't know. We're just going to let that be magical. Whatever we're blessed with, boy, girl, twins, that baby is being born to blessed parents," he said.

They may not know the gender of the baby – or babies – yet, but if Dean's parenting is any indication, the child will grow up appreciating art like the rest of the family.

"[My sons] pick up things you least expect. You ask my 3-year-old, he'll tell you [about Takashi] Murakami and [Jean-Michel] Basquiat. My oldest son Nasir is into all types of artists and he likes to write movies," he says.

He adds: "My youngest son picked up Basquiat just because I have a video playing in my art studio. I did a portrait of him and I have photos. One day he pointed to a tattoo on my arm and goes, 'Oh yeah, you have Basquiat on your arm,' and I asked, 'How do you know that?' He's like, 'Duh! He's only everywhere.' "

As for how Keys is preparing for her new role as mommy, Swizz Beatz says, "She's super ready. Super calm. Super glowing. Super positive. Super happy."
[From People]
Eh. Do we want to take bets on Alicia and Swizz's relationship, or is that too rude? My guess is that Alicia will get Swizz down the aisle, and they'll be together for the birth and for the first few months with the baby, but it will go downhill very fast.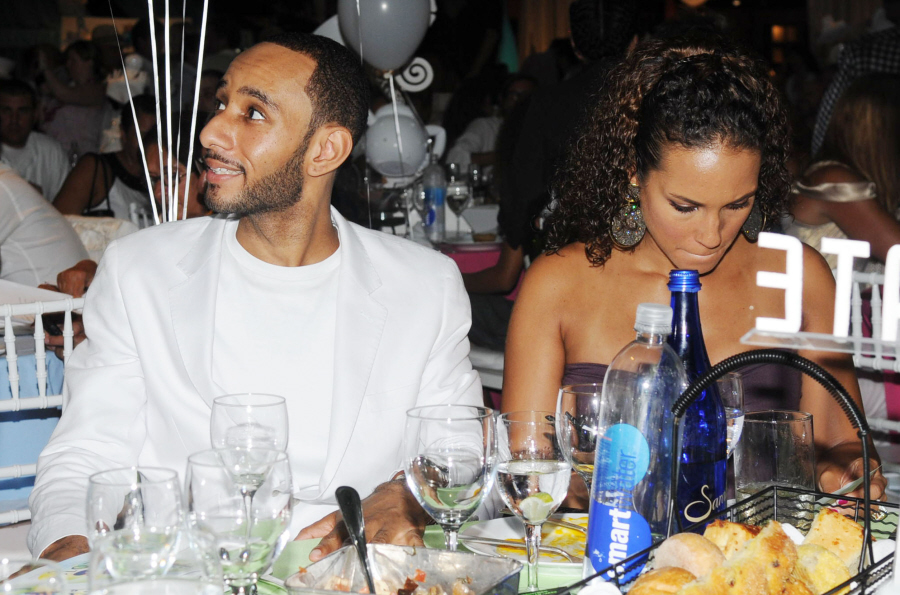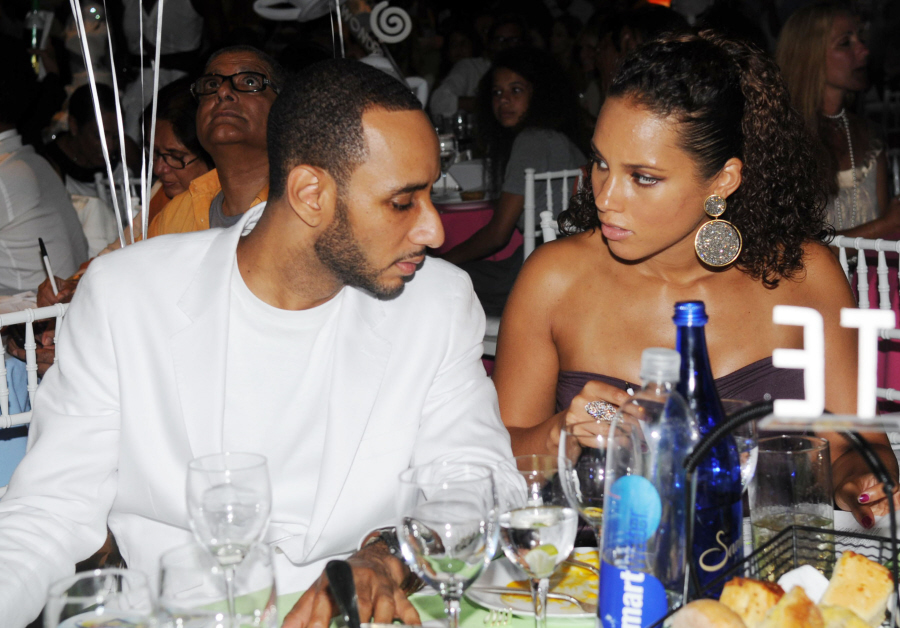 Alicia & Swizz on July 24, 2010. Credit: WENN.