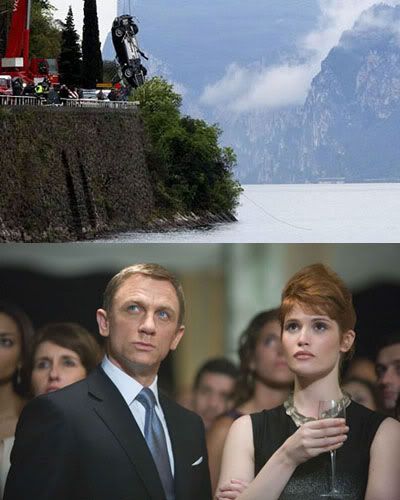 A stunt driver delivering a rare Aston Marton to the set of the latest James Bond film, Quantum of Solace, is in good condition after the $240,000 car slipped off the bend of a steep road. The driver was treated at the hospital and released with a heavily bruised ego and minor superficial bruises. Fireman came to his aid after the car slipped and plunged 55m to the bottom of Garda in Italy. The car was the only one of its kind available for the film, and it's unknown how producers will replace it.
The last James Bond film was plagued by stories questioning the new blond Bond Daniel Craig's fitness for the part. He had two of his teeth knocked out while filming his first fight scene for Casino Royale, he suffered prickly heat on set, he said he hated speedboats and guns, and he was so clueless at playing cards that he couldn't even fake his way through the poker scenes at first. (A rumor that he couldn't even drive stick shift turned out to be false.) Craig proved no matter how much people might make fun of him he was more than capable of turning in a solid, kick ass performance. The same could not be said for his first Bond girl, Eva Green, who I found annoying and unable to act. At least her character won't exist for the next installment.
Quantum of Solace is due out later this year. Olga Kurylenko plays Bond girl Camille, a Russian-Bolivian agent, and Gemma Arterton stars as MI6 Agent Fields.
Here are stills from the film, thanks to AllMoviePhoto. Craig and his co-stars Olga Kurylenko and Gemma Arterto are also shown at a press conference.
[Crash details from Telegraph.co.uk and News.com.au]