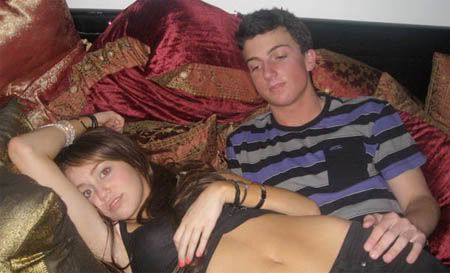 I pretty much ignored the other two sets of semi-scandalous Miley Cyrus leaked pictures, because I figured she's just 15 and is goofing around like kids her age do. Miley was seen lifting up her shirt and pouting for the camera as well as sharing a piece of candy with a female friend at a slumber party. Miley defended her candy-sharing photo, saying the criticism hurt her at first when the photos were leaked, but that it "was not even a big deal" and that she felt sorry for the friend that was pictured with her because she's not used to negative attention like Miley is.
New photos of Miley have come out that show the teen sensation lifting up her shirt as she's sprawled on a couch. An unidentified guy puts his hand tentatively on her hip and he looks like he's trying to get a glimpse of her bra. In another photo she's laying across the guy's chest, looking cosy.
It's possible that he's just a friend and that Miley is posing all flirty with him because she likes him. The way he looks like he's really trying to get a peek at her chest makes it seem like he's trying to take advantage of the moment when it presented itself. Miley could just be hamming it up for the camera like she's so successfully done all her life.
We didn't have digital cameras or the Internet when I was a kid. I know I did this sort of thing, it just wasn't as well documented as it is for this generation. Now excuse me while I go take my fiber pill.

Miley says she won't get married because she doesn't want to share a bathroom
Miley has a new goofy interview with Life & Style in which she says she'll never get married – because she never wants to share a bathroom. Miley is rich enough at this point in her life to retire and never have to share a bathroom even on the road if she doesn't want to. She's so adverse to sharing a bathroom because she had to share one on her tour bus with "three boys, including [her] dad." She said her brother has a "ridiculous mullet" and that he uses her hairbrush and that he also used her toothbrush to comb his eyebrows. Miley said "I'm never getting married because I cannot take sharing a bathroom."
As for her relationships with guys, Miley says "I'm too much to handle right now," and "I can't be quiet and ladylike and cute for boys for too long – I have to be a bit crazy. There are guys who I like to hang out with, but I like to be the girl who no one can get. I think that's always hotter."
Maybe she's playing hard to get here. It doesn't look like it, but either way that guy is probably thrilled and trying to play it cool.
Photos found at OceanUP via GossipRocks.