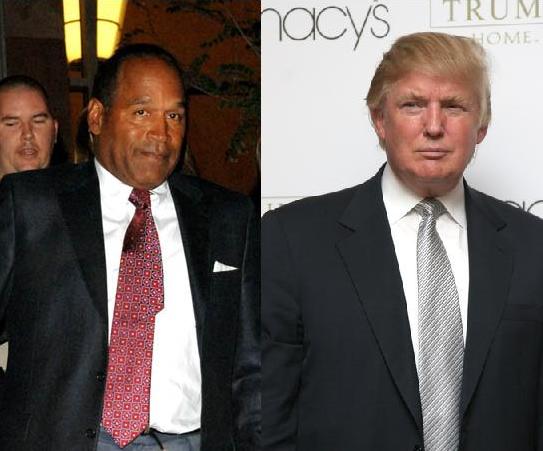 There are all different levels of bad ideas. There's obvious ones like walking into traffic, and less obvious ones, like spending the day with Mel Gibson – it could go either way. But pretty much anything having to do with OJ Simpson is guaranteed to be a bad idea. It could even be spending a day with OJ Simpson petting kittens, and I assure you, something really, really bad will come of it. According to Page Six, OJ has expressed his desire to appear on Celebrity Apprentice – and Donald Trump and NBC are vaguely considering it.
It looks like there could be "killer" ratings in store for TV's "The Celebrity Apprentice" if OJ Simpson gets his way. Page Six has learned the creepy double-murder acquittee has asked Donald Trump to allow him to appear on the top-rated NBC show next season. "Simpson really wants to do it. Trump and NBC are thinking about it, but are being very cautious," our source said. "There's a certain amount of heat associated with Simpson."
[From the New York Post]
A certain amount of heat? That's the understatement of the year. Yeah there's generally some heat associated with murderers. Especially when you put them on reality shows. I wonder in what capacity Simpson would like to appear? Does he want to be one of the contestants, or is he hoping to appear in one of the challenges? Here's an idea for a challenge: spend three hours in a room with OJ and try not to suffer a panic attack resulting from the absolute assurance that you will wind up with a slashed throat. That was somehow your fault.
Everyone knows Donald Trump loves attention, and any kind of publicity is alright with him. And I pick on Donald a lot. But if he has the basic class to pass on this and not give OJ Simpson any more attention, I promise to make fun of him one less time a month. Or at least I'll do my best.