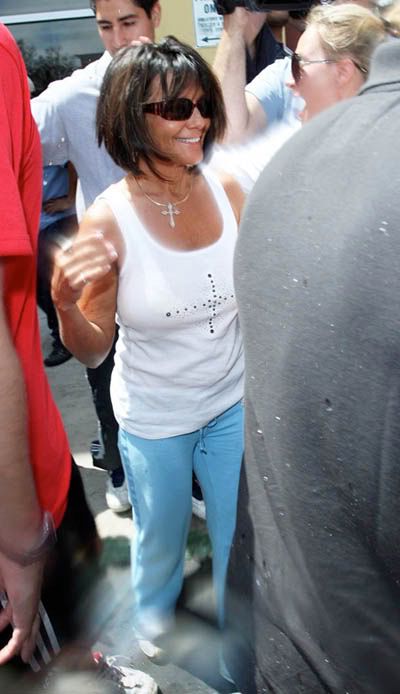 Lynne Spears is featured as an inset story on the cover of Life & Style this week, where they say they have an exclusive interview with her. The interview was so brief I wondered if she had been cornered in a car park, or if the quotes comes from a "source," but Life & Style presents it as if Lynne is speaking for herself.
She says, "I'm a bit disappointed that my youngest daughter got pregnant at such an early age. All I can do is turn to God for answers."

But Lynne has no doubts that Jamie Lynn is going to be a "wonderful mother."

She explains, "She really has a way with children – she's a natural. I just wish she had waited a bit."

And for her eldest daughter, Lynne only has prayers for the troubled mother of two. "I pray for Britney every day to be a better mother."

"She's gone through a lot of trauma, but she seems to be coming out of it – and it's showing in her relationship with the boys. They're really bonding."
Life & Style via AHN
Turns out, they didn't exactly have an interview, her rep denies Lynne ever spoke to the magazine.
Her spokesperson tells OK!: "When Lynne Spears is ready to give an interview I can assure you it will be a true account without speculation as to whether or not she participated."
However, OK! magazine has, according to reports, paid $1 million for the exclusive on Jamie Lynn's pregnancy and baby pictures, so is it possible Lynne talked but is now backtracking to protect her investment with OK! Magazine.
The things she said are probably what you'd expect Lynne to say, and it's a pretty big call for Life & Style to claim that she spoke to them. They could have attributed the quotes to a friend, particularly since there's nothing particularly salacious in her statements. Why bother to fake such a dull interview?
Anyway, Jamie Lynn Spears seems to be doing okay, her mother is in LA right now with Britney, but hopefully the plan is to settle things with Britney so when new baby Spears is born Lynne can give her full attention to her youngest daughter. While Britney needs some help, you would think Lynne would never want to be more than a few minutes away from her teen daughter and her newborn.
Picture note by Celebitchy: Lynne Spears is shown on 4/18/08 outside of Bally Total Fitness, where she squirted water on the photographers waiting for her and her daughter. Thanks to WENN.