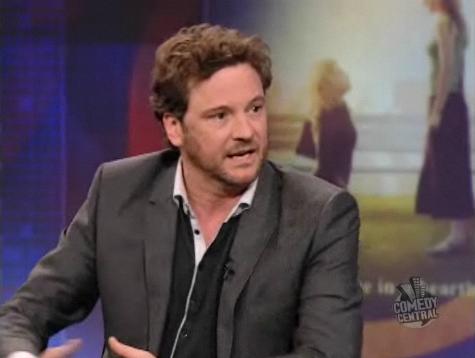 Yesterday Colin Firth was on The Daily Show last night to promote his upcoming movie with Helen Hunt, Then She Found Me. Firth talked about his experiences filming in New York City – mentioning that he'd done all the usual NYC things – "I'm always here for brief periods. I've taken in the sights, seen the shows, had my penis photographed…" Jon Stewart makes him go back a bit and relate what happened.
According to Firth, he was in the bathroom at a Broadway show, and while at the urinal noticed a man was taking pictures of him. He asked the man what he was doing, and he responded gruffly (and almost angrily) that he wasn't taking pictures of him. However he clearly was taking pictures not just of Colin Firth using the urinal but of his penis.
Colin said he tried to push the camera away (which means the guy must have been pretty damn close and pretty damn obvious) – with what he admitted was a slightly girly push. When he started to think he should confront the guy or do something more, he admitted he couldn't decide what to do, noting, "It's hard to do when you're not entirely in your pants." Touché.
He joked that if you Google "Colin Firth Penis" you'll probably find the picture out there – and while that doesn't appear to be the case (yet), there are lots of people referencing his appearance and asking for the picture. Oh and by the way, I only Googled that for research and to see what other people were saying. Not looking. And now I'm uncomfortable.
Here's the clip from The Daily Show.