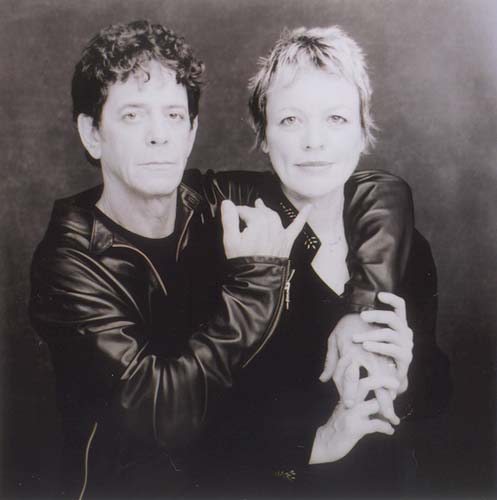 Who would have thought that two of the most unorthodox icons in avant garde music, longtime live-in couple Lou Reed and Laurie Anderson, would ever get married? People reports that the unconventional pair have tied the knot after decades of living together in a private ceremony.
Legendary musician Lou Reed has gotten hitched.

The Velvet Underground singer-guitarist, 66, and his longtime love, performance artist Laurie Anderson, 60, wed in a "small, non-denominational ceremony in Boulder, Colorado, April 12," his manager tells Usmagazine.com.

Only two friends served as witnesses, as it was a "private and intimate ceremony," the manager says.

The New York Post reported that they celebrated recently in the Big Apple with The Diving Bell and Butterfly director Julian Schnabel and his wife, Olatz, limbo king Mike Quashie and Law & Order's Richard Belzer.
Now, this is one celebrity wedding that I would have paid top dollar to see covered in the pages of OK! or People. I am fascinated by this couple and I have so many questions regarding this ceremony. What made them decide to do the deed after being together for so long? Were the guests treated to such wedding traditions as "The Chicken Dance?" Did the bride and groom have a cake fight? Who was the best man?
Header image from Sorokko.com by Timothy Greenfield-Sanders. Footer image from NY Social Diary.