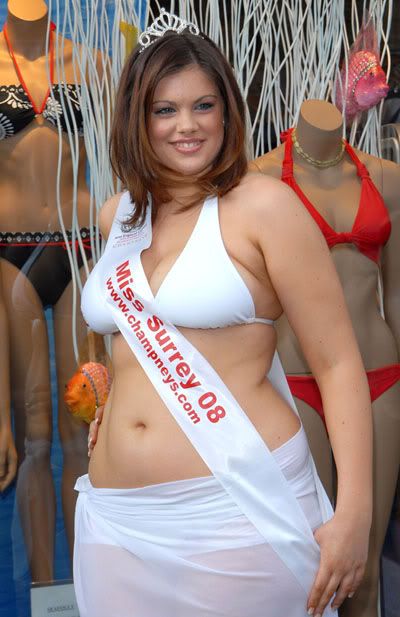 17 year-old Chloe Marshall is the first plus-sized finalist vying for the title of Miss England. At a reported 176 pounds and 5′ 10″ tall she's a US Size 12 and isn't your typical beauty contestant.
Chloe was on Good Morning America today in a brief segment which Barbara Walters obnoxiously introduced while gnawing on a roll. Chloe says she works out 4 days a week at the gym but that if she wants a chocolate bar she won't deprive herself. She says Beyonce is her idol, because she's curvy and proud.
Cloe wants to serve as a role model and says "I'm showing girls curvy is beautiful and this is what I am. Love me or hate me at the end of the day." As for her size, she admits girls made fun of her in school but claims "I'm having the last laugh."
Here's the video from Good Morning America:

And here's Chloe and her fellow Miss England finalists in a photo shoot on 4/4/08. Notice that the plus-sized contestant is the only one wearing a cover-up.
I admire this girl's stance, but the snarky part of me thinks she must weigh over 176 pounds since that's just a barely overweight BMI for her height. Good for Miss England for acknowledging her, although they could just be doing it for the publicity too.
Thanks to WENN for these photos.