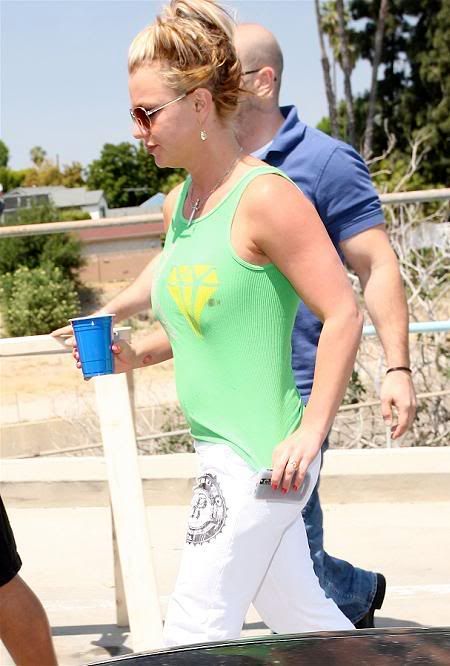 Even though her life is slowly coming back together, it's been pretty clear that Britney Spears has done a lot of damage over the last year or so. You know, since the crazy set in. A lot has been made of her money issues, and her extravagant spending. Honestly I didn't think it could possibly be that bad – I mean she has a lot of dough. And aside from a few nice cars, Britney always looked so trashy and ate so much fast food that I assumed she wasn't spending a lot of cash on designer clothes and gourmet meals. Turns out you can blow a lot of money on Taco Bell and Mercedes. Like $61 million.
When Britney Spears' father, Jamie, was named her co-conservator on February 1, he took over her financial affairs. But after going through her books, Jamie must have learned just how much of a toll Britney's crazy behavior, which started in February 2007 when she shaved her head, has had on her bank account — she's lost nearly $61 million. "It's staggering how much money has been used up," a family friend says.

In addition to the enormous tab for legal bills, rehab and psychiatric care, Britney's inability to work has cost her a fortune. "By not touring for her last album [Blackout], she lost out on $50 million," estimates Robert Bianchi, an LA-based CPA who isn't an accountant for Britney. Jamie hired his own accountants to sort out the money mess and bring an end to the 26-year-old's excessive spending. "It's been quite a challenge getting things under control," the insider says. Luckily, as Britney's mental health improves, so does her bottom line. "She's spending about a fifth of what she used to," the insider adds.
[From In Touch]
That is an insane amount of money. I don't even know how it's possible to spend that on useful stuff like a few houses or something. But I doubt Britney has much of anything to show for that $61 million. She does have a home or two, but those are arguably investments, and didn't cost her anywhere near $61 million. They say all the little stuff adds up – but really, how many Frappuccinos can a girl drink?
Brit's legal bills are pretty extensive, so it makes sense that that's probably a significant chunk. Hopefully she'll continue to get her act in gear and go on tour soon. If she can really pull things together, she can make that money back.
Here's Britney wearing sweats, on her way to a Bally's gym in Ventura, California on April 25th. That joker smile always scares the crap out of me. Images thanks to WENN.