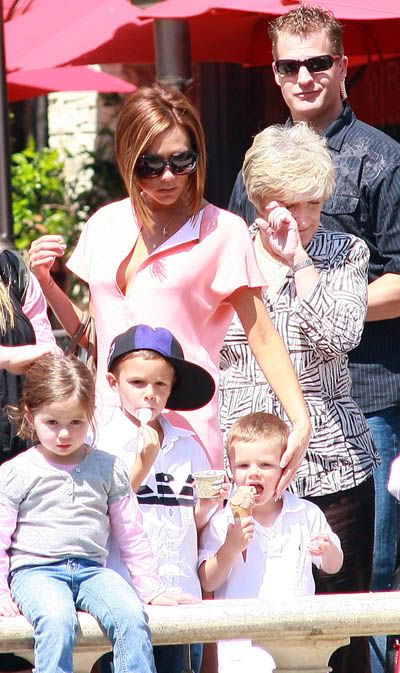 Heidi Klum's birthday present to Victoria Beckham was either meant for her three boys and husband, or was a not-so-subtle encouragement for Posh to gain some much-needed weight. Since it's Klum we're talking about, I would bet that she meant it as more of a family gift. After she handled the minor controversy with Iman so well, I don't consider her capable of sending cupcakes to Posh to try and tempt the stick-thin paparazzi target into eating something.
Klum had a dozen cupcakes from celebrity favorite elite bakery Sprinkles sent to Posh for her 34th birthday with a note that said "Happy Birthday – expect a dozen every Friday! Love, Heidi."
In Touch reported this news in their latest issue, and said that it will probably cost around $2,000 for the weekly cupcake delivery service.
The Sprinkles website is well designed and makes me want to stuff one of those overpriced delectables into my mouth. A gift box of just a dozen costs a whopping $46, so if Heidi sent a year's worth it's around $2,400 not including delivery costs.
Tom Cruise and Katie Holmes are also cupcake aficionados, and Tom told Oprah that Katie won his kids over by bringing cupcakes the first time he met her. Cupcakes were on the table in the kitchen when Oprah came over, with Tom calling their home "the sugar house."
It's not like "Kate" eats even one of those a day, and they're more for the kids. In Touch reminds us that Victoria Beckham said "no" when Barbara Walters asked her if she would ever eat a cookie, as if we needed to hear from her that she doesn't eat bakery items.
Cupcakes must be the new Hollywood decoration. They're so colorful, fluffy and completely off limits. Kind of like those glass candies that grandmothers keep in a bowl. Although in this case the pain of eating them is purely psychological.
Victoria Beckham is shown with her two younger sons Romeo and Cruz Beckham going out for ice cream at The Grove with her mother in law Sandra Beckham, on 4/22/08, thanks to WENN.