Details of Mariah Carey's wedding – white roses, pink bows, lobster & champagne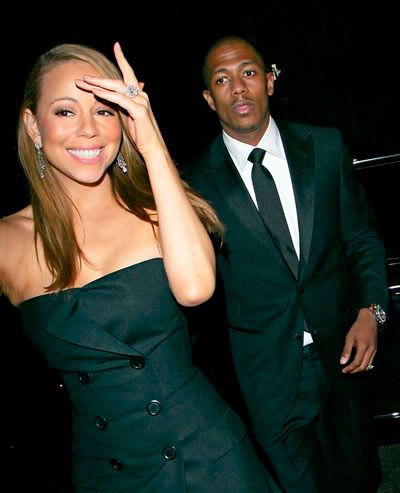 Nick Cannon and Mariah Carey were predictably photographed outside the Waverly Inn in NY last night. The Waverly is the Ivy of the East Coast, and celebrities go there to get their picture taken and be noticed. The newlyweds showed off their matching over-the-top diamond studded wedding bands. Nick and Mariah were also dressed similarly, with Nick in a suit and Mariah wearing a matching button-front tailored dress with pockets. US Weekly notes that they were at the Time Magazine's 100 Most Influential People event also that evening.
The National Enquirer has details of their wedding reception and ceremony, which included 40 guests Mariah flew down to the Bahamas, a cake she had made in NY which she personally brought with her, and white roses and pink bows decorating her Bahamian estate. A walkway was built down to the beach for the ceremony.
Before jetting off to the island of Eleuthera in the Bahamas, where she owns a spectacular, $5-million, 3-acre compound called "Sea Lilly," the singer bought five "itsy-bitsy bikinis" from Beach Bunny Swimwear that look like lingerie, an insider told the Enquirer.

The happy couple hired two Gulfstream private jets to fly 40 of their closest pals – including rapper Da Brat – down to the island the day before the ceremony.

"Mariah was in a really happy mood, and she and her guests were popping open bottles of Dom Perignon champagne on the runway as soon as they got off the airplane," says an eyewitness…

Mariah had her cake made in New York and was so concerned about it arriving in one piece, insiders say she kept it in the seat next to her during the flight!

While guests were transported to local hotels… Mariah and Nick immediately set of to get a wedding license…

By the time they had arrived [at Mariah's estate] cars had been rented, dozens of brightly blooming tropical plants had been planted and a wooden walkway had been erected to the beach for the sunset ceremony.

"It was really beautiful – they had lined up the chairs upstairs so that guests could see down onto the beach, where the wedding would be held, and there were white roses and pink lace bows everywhere. The whole house looked like a wedding cake!" said another insider…

Later, guests dined on lobster flown in live in a tank of water on a commercial jet from Fort Lauderdale, FL, while dozens of white roses decorated the interior of her house.
[From The National Enquirer, print edition, May 19, 2008]
Best of luck to them, but if these two last longer than 9 months I will be surprised. You really need to know someone for more than a few weeks before you rush into marriage. You hear those stories about old married couples who met and married haven't spent a day apart in 50 years but I think those are the very few exceptions. When two celebrities are involved the odds are definitely stacked against them.
Look at how Mariah is eating up the attention as usual while Nick looks kind of dazed and unsure. They're not on the same page at all.
Thanks to Splash News for these photos.
Written by Celebitchy

Posted in Mariah Carey, Nick Cannon, Weddings

- Harry Styles & Kimberly Stewart going strong [Lainey]
- Demi Moore's new man is gross [D-Listed]
- Fug or fab: Emma Stone [Go Fug Yourself]
- Arrest warrant issued for Jenelle Evans [Reality Tea]
- Only God Forgives review [Pajiba]
- Hugh Jackman, scooter master [Buzzfeed]
- Who does Drew Barrymore call her sister? [Evil Beet]
- Cannes couples past and present [Popsugar]
- Arrested Development supercut [CDAN]
- Lea Michele's see through skirt [Celebslam]
- Cheating wife's lover escapes out of window [Movin925]
- Joe Francis is crazy [Starcasm]
12 Responses to "Details of Mariah Carey's wedding – white roses, pink bows, lobster & champagne"