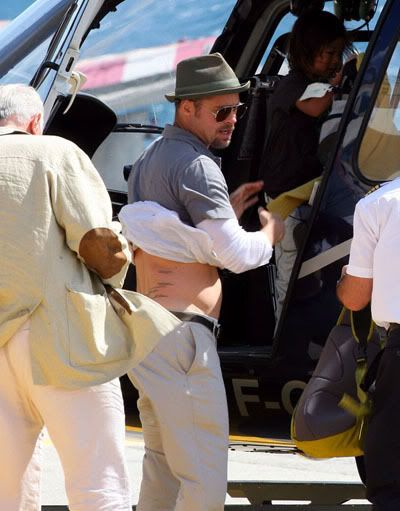 Update: The Daily Mail published this story well after we did. They completely jacked our idea, which probably isn't even accurate, used the exact same map we found, and never even mentioned our site. Guess it's a win for them since they didn't have to point out someone's cellulite or saggy knees that day.
---
Brad Pitt has a line drawn tattoo on his back that could depict the streets in the French Quarter of New Orleans.
New Orleans levee system which failed during Hurricane Katrina
. This is likely to occur to others when they see the tattoo, but it took some deductive reasoning for me to figure it out. At first I thought it might be a pared-down architectural drawing, because Pitt is known to love modern architecture. I looked up sketches by Pitt's
favorite architects
and nothing really matched.
Then I tried to think what's Pitt might consider incredibly important and remembered his "Make it Right" project building green homes for New Orleans residents displaced by Hurricane Katrina.
I found an illustration of the New Orleans levees streets on Wikipedia, and when you turn it on the side and control for how far out the levees streets were, the tattoo on Pitt's back matches exactly.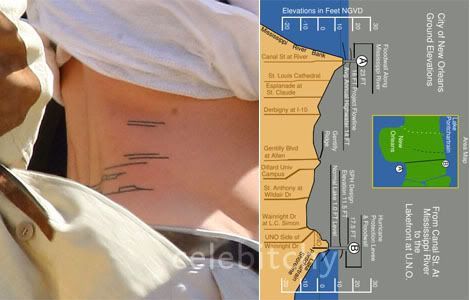 Pitt has a tattoo of Europe's oldest natural human mummy, Ötzi, on his left forearm. He also has Angelina Jolie's birthday in Khmer on his lower stomach.
Brad Pitt was seen taking his boys Pax and Maddox on a helicopter with an older gentleman in the South of France yesterday. Their pregnant mom Angelina and sisters Zahara and Shiloh stayed home. At one point his shirt blew up to show the tattoo on his back which has not yet been seen by the public.
Angelina Jolie and Brad Pitt are also show in faraway photos on the deck of the villa where they're staying in the South of France.
Update: Pitt also has a sanskrit blessing on his lower left back, which is similar to a tattoo that Angelina has. It is thought to be a protection prayer for his son Maddox. [Thanks Meredith!]
Update 2: Thanks to commenter Ceenitall for pointing out that those are the streets of New Orleans in that illustration, not the levees. If you count the number of the streets, their positions and the way the streets curve, they are remarkably similar to his tattoo. It could be a coincidence though and the verdict is still out as to what exactly it is. I looked up higher res satellite photos of the flooding in New Orleans as well as charts of where the levees broke, and it doesn't seem to explain Pitt's tattoo.
Update 3: Here's a tattoo that Angelina used to have on her right arm that's similar to Brad's. It's an abstract line design she did with Billy Bob Thornton and is now covered up with the Arabic phrase "strength of will." [Thanks to anonymous commentor and freetattoodesigns.org. Now I will quit trying to figure this out.]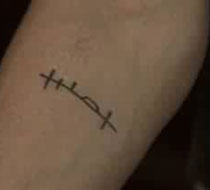 Thanks to Splash News for these photos.