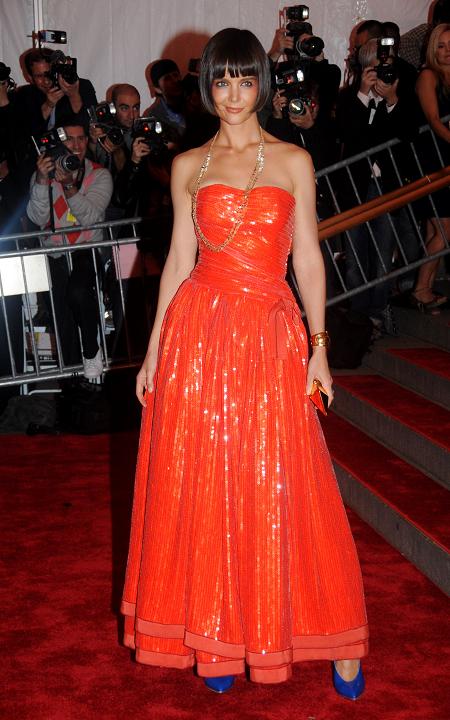 We all thought Tom would never let her out of her cage – but somehow Katie Holmes has managed to escape long enough to actually do something to salvage her career. Holmesbot will be playing the role of Ann Deever in Arthur Miller's play All My Sons. Which means she'll be heading to the Big Apple – presumably with Tom in tow. It has been widely reported that Katie wanted to go to New York as a sort of trial separation from Tom. Not surprisingly, he put the kibosh on that pretty quickly.
Discussions to bring the actress to Broadway were confirmed back in March, and now a deal seems inevitable. Producer Eric Falkenstein tells OK! he thinks Katie is perfect for the part. "Katie is very well suited for the role of Ann," he says. "There is an additional layer of soul to Ann and from the work I've seen of Katie, she has always impressed with multi-faceted characters. She would nail it."

Falkenstein also feels that Mrs. Cruise's star-power won't overshadow her acting ability. "Despite being in the spotlight and her celebrity status, the fact remains that she has a tremendous record of performances," he says. "I think Katie is a tremendous actor. Whenever she decides to come to the stage she'll be terrific."

All My Sons will hit Broadway with a preview in September and open a month later in October. A formal announcement is expected to take place within the next 10 days.
[From OK! Magazine]
Notice how nice OK was to sidestep the whole Tom issue? Will Tom let Katie off her leash? Will he reprogram her circuits? Will Katie cut the cord? What other ridiculous metaphors can we use to imply that Tom Cruise is a controlling nut bag?
It would really be fabulous if Katie got a little time away from the Scientology influence. But with all the minders Tom keeps around, that seems highly unlikely. If nothing else, it'll be interesting to see if she can pull off the role. I've always found her acting rather drab at best. And since Tom's groomed her, she speaks with this ridiculous faux-softness that I just can't stand. I'm not sure how that will transfer to the stage. Nonetheless: spread your wings Katie! Break out of the cage! Fly away! Okay I really am done with the metaphors now. Just leave the guy.
Here's Katie and Tom at the Fashion and Fantasy' Costume Institute Gala on May 5th. Images thanks to WENN.