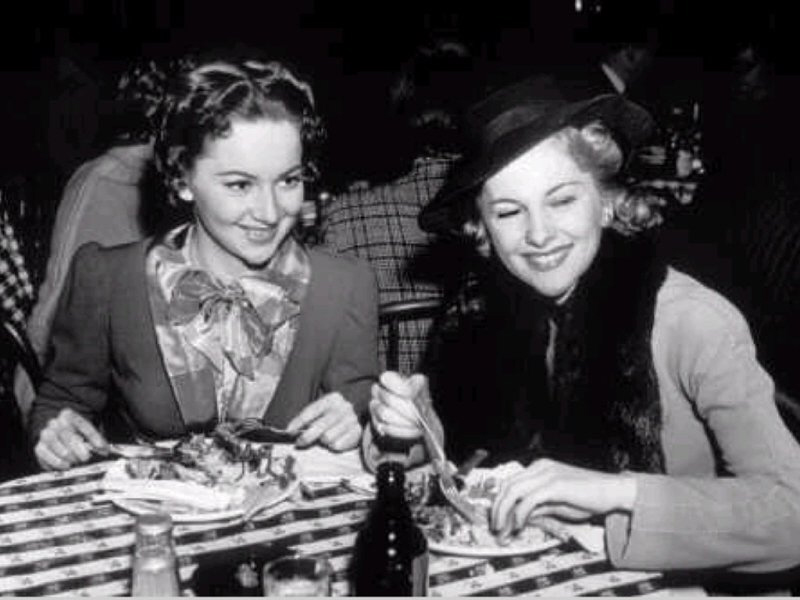 You just have got to love Old Hollywood. Those bitches knew how to fight, how to screw, how to hold a grudge, how to be a diva, how to cover up a pregnancy, how to have an affair, how to break up a marriage, and how to do it all in style. Glamour! Anyway, I hope everyone knows who Joan Fontaine and Olivia de Havilland are. Joan, 92, starred in films like Alfred Hitchcock's Rebecca, Jane Eyre (with Olivier) and Ivanhoe. Olivia, 94, was in films like Gone With the Wind (she was Melanie) and The Heiress, for which she won her second Oscar. Olivia and Joan are sisters, and they f-cking hate each other. They've been pissed at each other for literally more than half a century, and their Bitch Fight just got a new chapter when Joan refused to come to Paris for the ceremony awarding Olivia the Légion d'honneur. The Daily Mail has an epic story about their historic bitch fight, and some of the Old Hollywood gossip is just priceless:
Last Thursday, amid the formal splendour of the Élysée Palace in Paris, President Nicolas Sarkozy conferred France's most prestigious accolade, the Légion d'honneur, on a little, silver-haired lady, aged 94, with sparkling brown eyes and an impishly familiar smile. That bewitching smile and those amazing eyes once made Olivia de Havilland the queen of Hollywood and the winner of two Oscars. Today, she is the last surviving star of the most famous epic film ever brought to the screen, Gone With the Wind. Her daughter Gisele, and other members of her family, were at the Élysée to watch Miss de Havilland, a resident of Paris for almost 60 years, honoured.

But one member of her immediate family — and the one who has known her longer and better than anyone in this world — her only sibling, Joan Fontaine, 92, herself an Oscar-winner of equally illustrious status as a legend of stage and screen, was conspicuous by her absence from the ceremony.

When the President placed the blood-red ribbon and star of the Légion d'honneur around Olivia's neck, Joan was 6,000 miles away at her home in Carmel, California, studiously ignoring the occasion — just as she has ignored every aspect of her sister's existence for decades.

These two formidable grandes dames of the screen have been at loggerheads for most of their lives. Both frankly confess that, even as children, they detested one another. At times, they were in competition for the same men. One was the eccentric billionaire Howard Hughes. Sometimes they fought for the same leading roles. In the case of Gone With The Wind, it was Olivia who won the role of Melanie Hamilton Wilkes, and Joan who did not. But when it came to Alfred Hitchcock's screen version of Daphne du Maurier's novel Rebecca, it was Joan who beat her sister to the coveted role of the second Mrs de Winter. They were even once in contention for the same Best actress Oscar in 1942 — Joan won. Olivia lost.

Yet the cause of their estrangement goes far beyond professional sibling-rivalry. Its real roots lie in festering family jealousy and in the desperate battle waged by both women for the love of their mother, Lilian — who switched her affection bewilderingly from one sister to the other for more than half a century. Olivia and Joan have not spoken a word to one another for more than 35 years. It seems unlikely that they will ever meet or speak to each other again. It has become Hollywood's most bitter and longest-running feud, a source of distress to both their families, and of embarrassment and dismay to their friends and colleagues.

Olivia Mary de Havilland and Joan de Beauvoir de Havilland, both born in Tokyo — Olivia on July 1, 1916, and Joan on October 22, 1917 — are the daughters of English parents. Joan, who was born only one year and three months after her only sibling, said that Olivia 'was still too young to accept the arrival of a competitor for the affections of her parents and adoring staff. Her horoscope suggests that Olivia would have fared better as an only child. She has always been a stout believer in the rule of primogeniture'.

The sisters' father, Walter de Havilland, a parson's son born in Lewisham, South-East London, and raised in Guernsey, was a patent lawyer in Tokyo, where his use of the sexual services of geisha girls in the Yoshiwara red-light district caused their mother, Lilian Ruse, from Reading, to divorce him in 1919. On account of Joan being a rather sickly child, Lilian and her daughters relocated to California, where she married again to a department store manager George Fontaine, a stern disciplinarian who was disliked by both his new stepdaughters, who weren't any fonder of one another.

Olivia, as the editor of a school magazine, set a competition for the best last will and testament of her fellow pupils. She won her own competition with the words: 'I bequeath to my sister the ability to win boys' hearts, which she does not have at present'.

Joan, for her part, was to record: 'I regret that I remember not one act of kindness from her all through my childhood.' She recalled how, in July 1933, when she was 15, 'Olivia threw me down on the poolside flagstone border, jumped on top of me, and fractured my collarbone'.

When Olivia's Hollywood career took off, Joan, it is alleged, developed 'a Cinderella complex' and saw herself as 'a servant'. Small wonder, given that their mother forced Joan to change her name to Fontaine, to avoid trading on Olivia's fame, and forbade her to accept a contract with Warner Bros, 'because that is Olivia's studio'.

As the two girls grew into desirable young women, their rivalry grew fiercer as they competed for suitors. Errol Flynn, Olivia's co-star in a series of thirties swashbucklers, was sure she was infatuated with him – although she continues to insist that nothing happened between them. Even so, Joan was caustic about her sister's devotion to Flynn. In the words of their biographer Charles Higham: 'She saw through Flynn and realised that he was worthless. She had no respect for Olivia in the matter and made her feelings known.'

For her part, Joan was the first to get married — to the handsome and popular British movie star Brian Aherne. Once again, though, the occasion precipitated a new development in the sisterly rivalry. The night before the wedding, Olivia's boyfriend — billionaire Howard Hughes — danced with the bride-to-be Joan and tried to talk her out of the marriage, saying he wanted to marry her himself. Joan, shocked by his duplicity, told Olivia, with inevitable consequences for their own relationship.

But it was in their professional lives that their mistrust reached a crescendo. Joan, keen to win the role of Melanie in Gone With The Wind, was considered 'too chic! Melanie must be a plain southern girl'.

'What about my sister?' said Joan, a query that directly led to Olivia gaining the role, an indebtedness to Joan she would come to resent. Olivia, for her part, had been angling for the role of the second Mrs de Winter in Rebecca, but the director Alfred Hitchcock chose Joan instead. Both sisters were Oscar-nominated, Olivia for Gone With The Wind, Joan for Rebecca.

Neither won. In 1942, however, both found themselves in competition for the Best Actress Oscar, Joan for Suspicion, Olivia for Hold Back The Dawn. Joan was announced as the winner.

She later said: 'I froze. I stared across the table, where Olivia was sitting. "Get up there!" she whispered commandingly. Now what had I done? All the animus we'd felt towards each other as children, the savage wrestling matches, the time Olivia fractured my collarbone, all came rushing back in kaleidoscopic imagery. My paralysis was total. I felt Olivia would spring across the table and grab me by the hair. I felt four, being confronted by my older sister. Damn it, I'd incurred her wrath again!'

On her part, Olivia thought: '"I've lost prestige with my sister," and it was true. She was haughty to me after that.'

In 1946, the tables were turned when it was Olivia who won the Oscar for To Each His Own. Joan recalled: 'After Olivia delivered her speech and entered the wings, I went over to congratulate her as I would have done to any winner. She took one look at me, ignored my hand, clutched her Oscar and wheeled away.'

Occasionally, a rare truce was called. In 1961, the sisters even spent Christmas together at Joan's New York apartment. Would the reunion be repeated? Joan thought 'there would be a slight problem of temperament. In fact, it would be bigger than Hiroshima.'

Even long after their careers had peaked, the rivalry and petty resentments continued. In 1969, the wealthy Joan received a call for help from Olivia, now divorced and living in Paris as the wife of Paris Match editor Pierre Galante. Joan discovered Olivia ill in bed, complaining 'she was in both financial and marital difficulties and finding her current bills impossible to pay. I then left a sizable cheque, which she was soon able to repay. She signed with my lecture bureau and eventually had so many bookings that I had to find a new bureau to handle mine'.

But the final break between the sisters came in February 1975, when their mother died from cancer. 'I was not invited to her memorial service,' alleged Joan. 'Only after burning the telephone wires from coast to coast' — and threatening to 'call the Press and give them the whole story' — was the service postponed and Joan and her daughter Debbie permitted to attend. At the service, the sisters didn't speak to each other. Olivia 'scattered a handful of ashes, then silently passed the container to me. Thus I said goodbye to my mother. As for Olivia, I had no words at all.'

Olivia's daughter, Gisele, and her son, Benjamin, were remembered 'generously' in Lilian's will. But 'not even a trinket' was left to Joan's daughter, Deborah. Three years later, the publication of Joan's autobiography, No Bed Of Roses — mischievously re-titled by the second of her four husbands, film producer William Dozier, as No Word Of Truth — hardened the estrangement beyond recovery. It presented a venal portrait of Olivia, who was said to regard the book as 'poisonous'. At the 50th anniversary of the Oscars in 1979, Olivia and Joan had to be seated at opposite ends of the stage. Outside, in the corridor, the sisters passed each other without a glance. Ten years later, at the 60th anniversary of the Oscars, they found themselves booked into adjacent hotel rooms in Beverly Hills. Joan had her room changed. Joan, four times married and divorced, lives with her five dogs at her home in California. Olivia, twice divorced, lives in a Parisian townhouse. Interviewed there this year, she referred to Joan only as 'my sibling'. Asked if they would ever be reconciled, she hesitated. 'Better not,' she said, smiling through gritted teeth, 'Better not.'
[From The Daily Mail]
I mean… come on. This is awesome. Stalking Errol Flynn? Excellent. Bad-mouthing your sister to directors? Awesome. Getting nominated for Oscars in the same years? Wonderful. And they still really, really hate each other. Bless them. Just because they're related by blood doesn't mean they have to best friends – although not speaking to each other for 35 years does seem rather immature. But I love that they're both still alive and both are still filled with hate – their hatred and completive spirits is probably what's keeping them alive, honestly.
And honestly, I was always a bigger fan of Joan. She's the better actress. In the photo below, Olivia is the one of the left and Joan is on the right. Dorothy Lamour separates them.