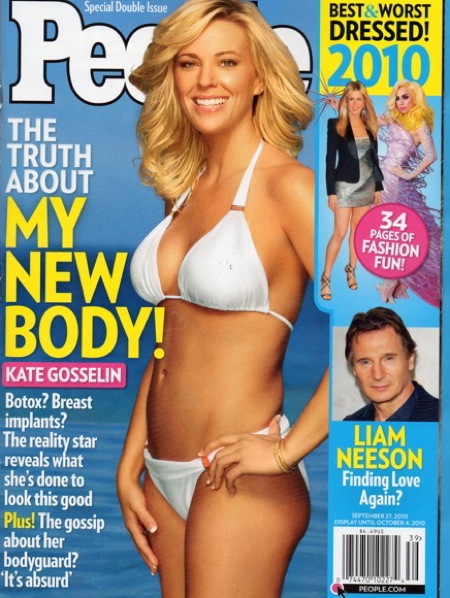 Not since People featured Heidi Montag and her 10 surgical procedures have they stooped so low. (Well maybe when they featured Kate Gosselin's new hair.) This week most of us will try to look away when confronted with Kate Gosselin's smug mug and plastic surgery and Photoshop-enhanced body on the cover of People. Kate must have been jealous when she had to share the cover with Melissa Joan Hart's bikini body last year, and at long last she has her own cover featuring her bolt-on boobs, cheap-looking weave and big veneers. In the teaser article on People's website, Kate denies nailing her kiwi bodyguard, but it's obvious she is, and they promise she'll address the rumors of botox and boob jobs. You know she's going to deny all that too despite her painful-looking wonk eye and those melon tits. Compare these recent bikini pictures of Kate to that cover.
She flaunted her body after (eight!) babies on the last season of Dancing with the Stars. But it turns out Kate Gosselin was just getting warmed up.

At 35, the reality TV mom says she is now "the most fit I've ever been." How? She credits near-daily runs outside her Wernersville, Penn., home – and she's not afraid to show off the results.

"I've worked really hard!" she tells PEOPLE in this week's cover story. "Haven't I earned the right, at this point, to look good?"

While the single mom shoots down incessant tabloid reports linking her to her bodyguard – "It's just absurd," Gosselin says – she does hope her new body will turn some heads. "I'm waiting for Mr. Right. It would be nice if somebody noticed me, sure!"

For much more with Kate – including exclusive photos and answers on those plastic surgery and Botox rumors – pick up the new issue of PEOPLE, on newsstands Friday
[From People]
She probably started exercising so much when she realized that it was yet another activity that allowed her to spend extended time away from her kids along with tanning, having her weave re-done and getting mani-pedis. Is Kate a decent seller for People? I guess she must be since this is the fourth People cover she's scored this year. People love to hate her, and for good reason. My thoughts when I read Kate's comment "Haven't I earned the right, at this point, to look good?" were "no" and "you don't look good either." You can't diet away ugly. I must be a jealous h8ter.
Isn't she lovely?
Photo below credit: WENN.com. People cover via CoverAwards