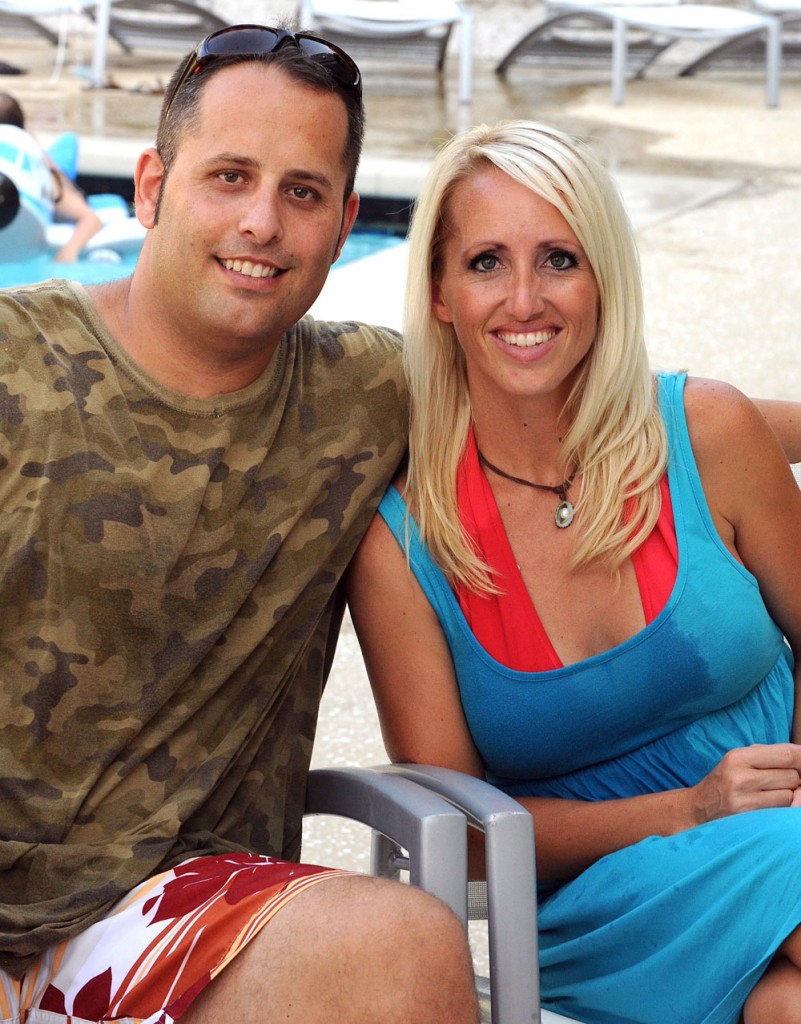 When I heard that a sextuplets reality show dad was arrested for domestic violence I thought it was that new self righteous douche from TLC who has been blogging about his haters. That guy only has quintuplets, though, so he must be feeling the pressure to add up in the competitive multiples reality show market. The multiples dad that was arrested is someone I've yet to hear of named Bryan Masche, who stars on Raising Sextuplets on WE. Apparently he got in an argument while visiting relatives and someone called the cops.
Bryan Masche, the father on the WE reality show Raising Sextuplets, was arrested while visiting relatives in Arizona and charged with resisting arrest, disorderly conduct and threatening domestic violence.

Masche, 32, was taken into custody at the Yavapi County Detention Center and released on $3,500 bond, a spokesman for Arizona's Camp Verde Marshal's Office tells PEOPLE.

The spokesman would not elaborate but confirmed published reports that Masche lost his temper, causing someone present to call 911. It is not known whether Masche's wife and TV costar, Jenny, was involved in the incident.

Masche is the father of Arizona's second-only set of sextuplets, born three years ago. The family currently lives in Florida.

According to the Camp Verde Bugle newspaper, Masche was arrested after allegedly threatening his family and beginning to yell and use profanities. When deputies arrived at the scene, Masche reportedly did not comply with authorities.

Had 'Total Brutal Fights'

In an 2009 interview with PEOPLE, Bryan and Jenny admitted that raising six young children was not easy and that the couple argued. "We have totally brutal fights," Jenny told PEOPLE.

Relying upon their faith, the religious couple sought to work through their marital problems. "When you understand that there's no way out of marriage, that forces you to work on your marriage," Bryan told PEOPLE.

"We both have an understanding in our minds that there is no out," he added. "I know personally that I'm accountable to God, and Jenny knows she's accountable to God, and we don't have any way out of this thing. So if we're going to be stuck with each other for the next 80 years, we better make it good."

Their marriage, said Jenny, "is a work in progress, and it's totally not perfect. But we believe that the stronger the couple is, the stronger the marriage is and the better it is for the children."
[From People.com]
Radar online has more details about how the guy resisted arrest. It sounds like a verbal altercation and not a physical one. Still, that's not healthy for anybody and it's a good thing their kids weren't there at the time. They'll surely witness plenty of other fights, though. What kind of ass describes his marriage by saying "we don't have any way out of this thing" and "we're going to be stuck with each other for the next 80 years"?
I haven't seen this full show, but I saw some preview clips on YouTube, below, and to put it bluntly – the dad does not strike me as straight. Of course it's hard to tell, but watch the clips below and tell me if I'm wrong. He also seems very combative with his wife and acts sarcastic and nasty. At one point he says to her "it's time to stop dorking around and put on your big girl panties and get serious." It's doubtful that any amount of counseling is going to change that guy. These are the people that are being rewarded with reality shows. All it takes is some IVF and an unnatural number of kids at once and you too can be a star.
We.TV has clips of this show, but I couldn't get them to run for me.
Photos are of the sextuplets' third birthday on 6/11/10. Credit: WENN.com