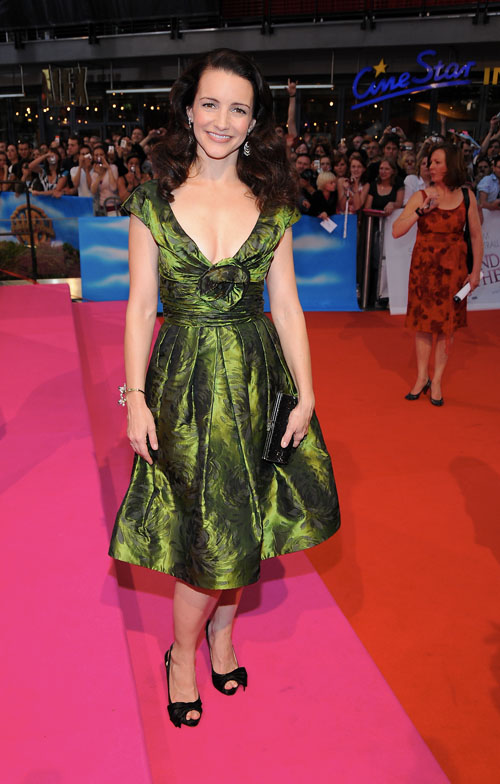 Kristin Davis plays the prim, Elizabeth Taylor-obsessed Charlotte in "Sex and the City." But in real life, Davis seems like a down-to-earth woman who cares about others. In a recent interview with Health magazine, the actress spoke about her work with Oxfam, a group of non-governmental agencies fighting to end poverty in third world countries. Davis met an Oxfam representative at one of George Clooney's Save Darfur parties, and has been an ambassador for the organization ever since.
Q. How did you go from donor to ambassador?

A: I was at a party George Clooney was throwing to help with the crisis in Darfur, and I started chatting with two women who work for Oxfam. One said, "You should go on a trip with us."

I said, "I'd love to. Where do you need me to go?" And she said, "Literally, if you name a place, we need you to go there."

Q. How did you settle on Mozambique, South Africa, and Uganda?

A: Oxfam identifies areas where people are living in extreme poverty, which means they earn less than $2 a month—a lot of people we met live on less than $1 a month. My main focus is women's issues. In a war-torn area like Uganda, the women are putting things back together. And in South Africa, there's a lot of violence against women, and, of all the countries in the world, it has the most people with AIDS.

Q. You visited Soweto in South Africa. What was your impression of the AIDS crisis there?

A: During that first trip, I kept asking, "Why aren't these people on ARVs?" (Antiretroviral drugs, the standard medications used to manage HIV and AIDS.) But that was two-and-a-half years ago, and, at that time, those types of drugs were too expensive.

Q. They're more affordable now, right?

A: Yes, they are. But part of the problem is getting people to want to take ARVs. If they don't have hot meals to eat, taking ARVs is not going to matter. These people don't have food. They don't have doctors. I met women taking care of people with AIDS, and they didn't even have gloves. On my first trip I felt just shocked, the whole time.

Q. You're tearing up as you talk about this. Did you cry while you were there?

A: Sometimes, in my hotel room. But when I'm there I feel like the people there have the right to cry. I don't. I'm the most blessed human being in the world because I have the chance to visit. When you're there, it doesn't feel as hopeless as it does back here, reading the depressing statistics in the newspaper.
Later in the interview, Davis revealed that she has been a recovering alcoholic for many years- dating back to before she became famous on "Sex." It was kind of a surprise, especially given that she was once linked to notorious angry drinker Alec Baldwin.
Q. You're 43, and you look 30. What's your secret?

A: Thank you. I don't know. My mom looks great for her age, so I think genetics has a lot to do with it. Also, I don't drink, I don't smoke, and I love my Ahava sunscreen.

Q. You don't drink at all?

A: No, I'm a recovering alcoholic. I've never hid it, but I've been sober the whole time I've been famous, so it wasn't like I had to go to rehab publicly.

Q. So you pretend to sip Cosmos.

A: It's caused a lot of confusion out in the world. I get sent many a Cosmo! I never drink them. I believe [alcoholism] is a disease. I don't think you can mess with it. There was a time when people who didn't know me well would say, "Couldn't you just have one glass of champagne?" And I would say, "No." I'm doing well. I still have occasional bad days. Why risk it?
Kristin offhandedly mentioned her battle with alcohol in an interview back in 2002, when a reporter asked her why she wouldn't join her in a glass of wine. She said, "I just realized that drinking was counterproductive to what I was trying to do. Acting is very difficult in weird ways. You'd have to get to class by 8am, work all day, rehearse all night, and it's not really good to do when you're hung over. I'd wanted to be an actress my whole life, that was my goal, that was all I cared about. Something had to go, so I chose drinking to go." That's a pretty smart way of looking at it. Maybe Kristen should give Lindsay Lohan a call and tell her that exact same thing!