Madonna before and after Photoshop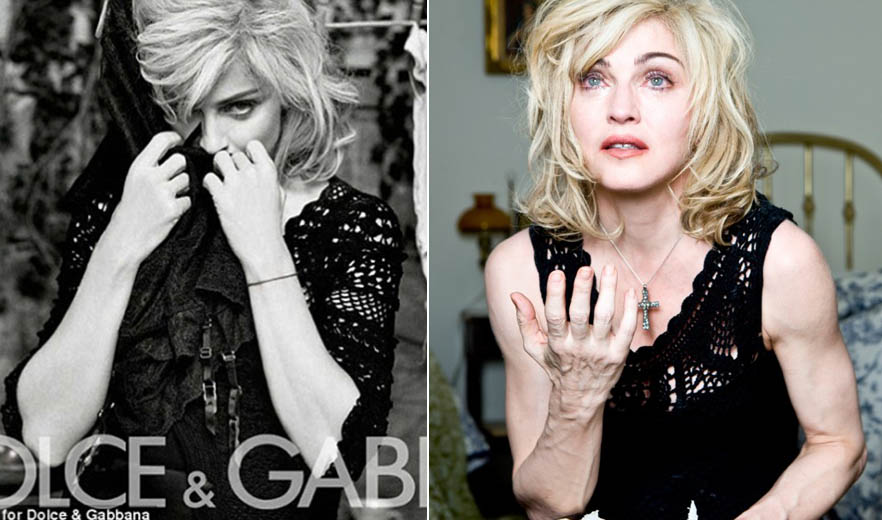 We've seen many photos of Madonna, 52, both before and after Photoshop works its magic on her 52 year-old (impressive) physique. Madonna has had plenty of work done on her face, and has looked alien-like at times, although she seems to have removed her chicken cutlet cheek implants and to have toned down her look. When you see her in advertisements for Louis Vutton or Dolce & Gabbana she seems to flawlessly represent that ageless look that the luxury brand target audience, older filthy rich showy women, will spend fortunes trying to capture and emulate. Only the real Madonna is still looking old, wrinkly and veiny everywhere but her face, as these unretouched photos for D&G show.
Madonna is a beautiful woman but she's getting older and you can't really use plastic surgery and injectables to erase veins and lines on the arms and hands like you can on the face and neck. That is, unless you do it digitally to an image. I guess it's just as unrealistic to see Madonna doing housework in an unassuming home as it is to see her looking like she's 20 years younger. These brands are in the business of selling fantasy. They may as well use barely pubescent looking models who could never afford their clothing barring massive family wealth or rich creepy benefactors. Of course they already do that.
Photos via Yeeeah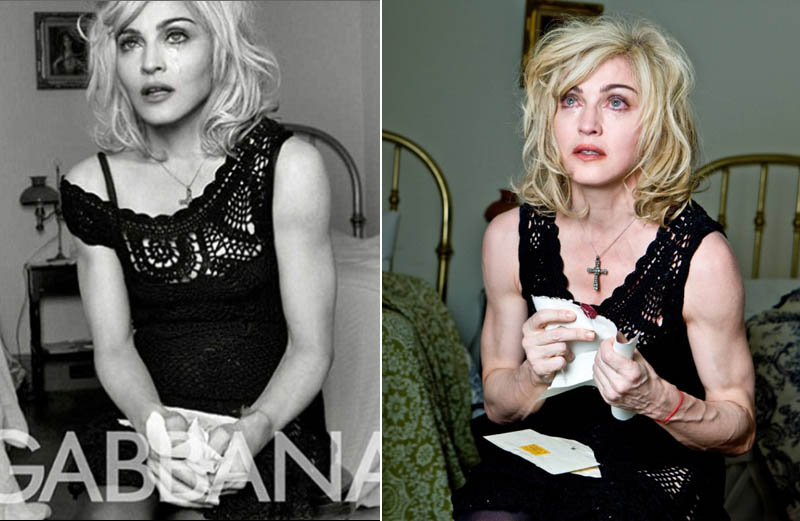 Written by Celebitchy

Posted in Madonna, Photos, Photoshop

- Who butchered the National Anthem? [D-Listed]
- Rob Lowe never ages [Lainey Gossip]
- What is Vanessa Hudgens wearing? [Go Fug Yourself]
- Summer guide to reality TV [Reality Tea]
- Game of Thrones recap [Pajiba]
- Tan Mom's music video [Buzzfeed]
- Amanda Knox is broke [Starcasm]
- Backstage at the Billboard Awards [Popsugar]
- Miley is still stuck in the 90s [Popoholic]
- Blind Items revealed: Adam Levine [CDAN]
- Hugh Hefner bought Crystal Harris a house [Celebslam]
- What happened to Aimee Teegarden? [The Blemish]
45 Responses to "Madonna before and after Photoshop"