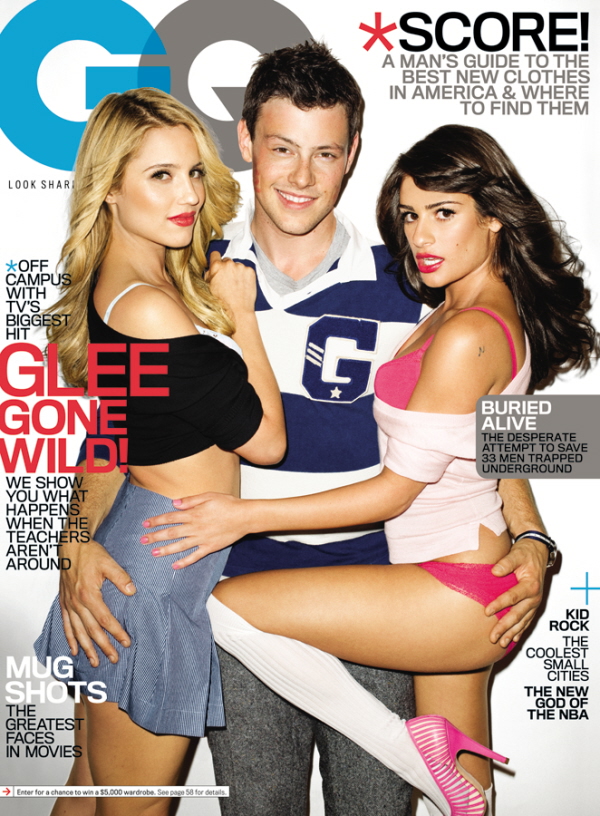 Three of the stars of Glee made the cover of November GQ. The photo shoot was done by that pervert Terry Richardson, and as with nearly all of his photo shoots, they whole thing was shot like a budget porno, complete with cheap-looking panty-shots and lots of pedophilia/jailbait imagery. I was first struck by how cheesy the cover shot was, with a full-clothed Cory Monteith putting his hands on the asses of the blonde (Dianna Agron) and the brunette (Lea Michele) – but the rest of the shoot gets so, SO much worse. Beyond the uncomfortable and flat-out gross imagery (this is a MEN'S magazine, for God's sake), the "acting" all of the stars are doing within the shots are interesting too. Lea just thinks she's the queen of all, and she's posing her ass off in every shot. Dianna looks vague and unconvinced, like she knows she's going to regret these photos. And Cory just looks like nobody cares that he's in the shots, and he knows it. The full GQ article is here (more of Lea telling the world that she's the most special person), and the full slideshow is here. Here are some excerpts:
Glee, the sing-along comedy about high school theater geeks has quickly become the most popular show on television. Now, in it's second season, the gay-positive, anti-stereotyping, song-and-dance TV sensation has spawned hit soundtrack albums, a sold-out concert tour, a Golden Globe award, and a passionate fan base of self-professed "Gleeks," propelling the cast further into stardom with every episode. GQ's Alex Pappademas sits down with stars Dianna Agron, Cory Monteith, and Lea Michele to discuss their relationships with their characters, cast mates, the racy GQ photo shoot, and the "no-trailer-sex" rule on set:

Lea Michele on people's insisting she get a nose job:
"I was one of the only girls in my high school that didn't get one. And if anybody needed it, I probably did. But my mom always told me, growing up, 'Barbra Streisand didn't get a nose job. You're not getting a nose job.' And I didn't. F-ck those people. That's why I'm proud to be on a positive show and to be a voice for girls and say, 'You don't need to look like everybody else. Love who you are.'"

…on why the camaraderie among the show's cast needs to last:
"Someone from [another] television show came up to us at an event and said that and I got offended. Our show won't still be running in season three if we're not feeling that way, because then we won't be real, and people will see it. So let's hope that everything stays that way. Because I need this. I need this family!"

...on the GQ photo shoot for this story:
"I don't know how they got me to do half the stuff I did. But I was in really good shape this summer, so…"

Dianna Agron on the shoot and rumors that she and Michele are real life lovers:
"When it was just Lea and me, I was like, 'We're in skimpy clothes, we're up against each other. This is feeding those rumors.' I've never been shot in so little clothing."

…on being the pregnant Cheerleader on Glee:
"I remember Ryan saying, 'You're about to get pregnant.' And I thought, 'Bring it on.' When they put the pregnancy pad under my cheerleading outfit, I was walking around the set, and people were like, 'Only on Glee!'"

Cory Monteith on growing up in Canada and dropping out of high school:
"You have to really look to get into trouble in Victoria, but I was industrious. Skipping school. Drinking. All that kind of crap. Things started off innocent like that. I definitely found myself in some places that I'm very fortunate I came back from…. The last thing I want to do is kind of imply to readers in high school that you too can drop out and be an actor and get on a big show and be -famous and make a shitload of money."

…on Ryan Murphy's "no-trailer-sex" rule:
"The first I heard about that was in the media. I was like, 'Oh, really? Dammit!"

…on what really goes on inside those trailers:
"They all, like, hang out. 'This sounds really cliché, but it's true—it's the high school experience I always wanted. Where we're all growing into this new life together and figuring it all out as we go. I remember I'd come home from fifth, sixth grade, and I'd watch Saved by the Bell and be like, 'I hope my high school experience is like that.' And it totally wasn't. It sucked.'"
[From GQ]
Yes, Lea is such a positive role model she dropped twenty pounds doing some extreme vegan dieting and now poses in Terry Richardson's jailbait fantasies. "You don't need to look like everybody else. Love who you are." Or rather, "I love dropping so much weight that people gasp, I love thinking I'm the center of the world, and I love pretending that heterosexual men know who I am." Just check out some of these gross shots: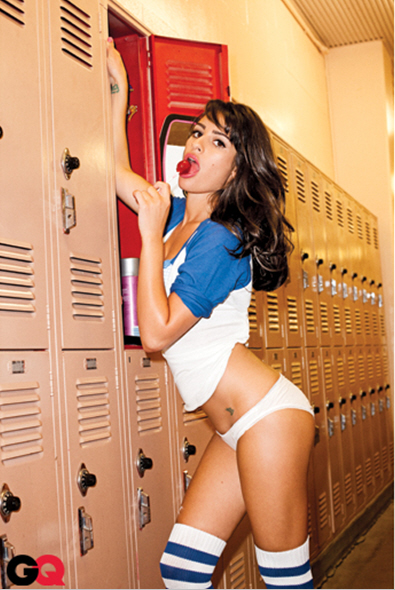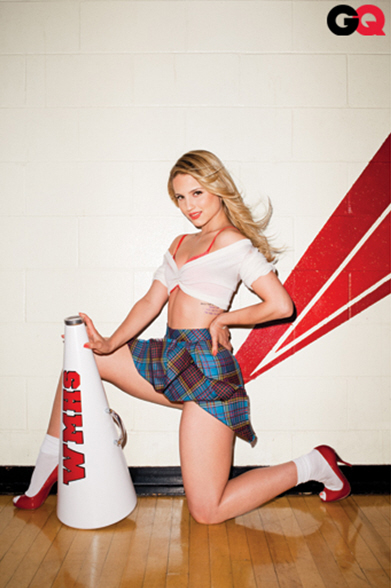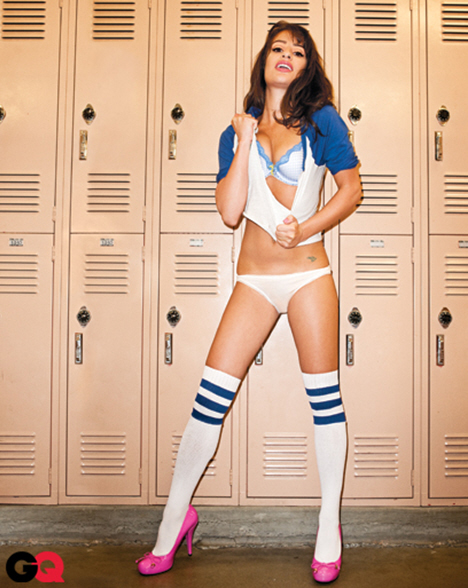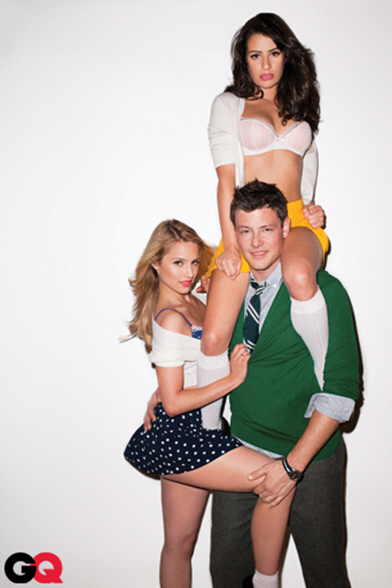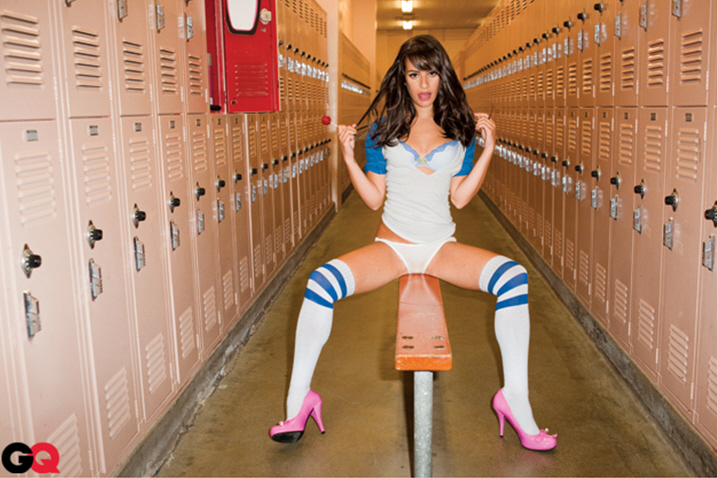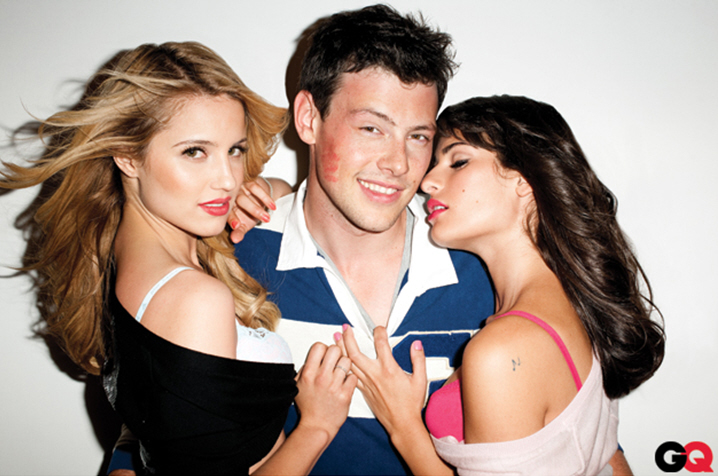 Photos courtesy of GQ, photos by Terry Richardson.