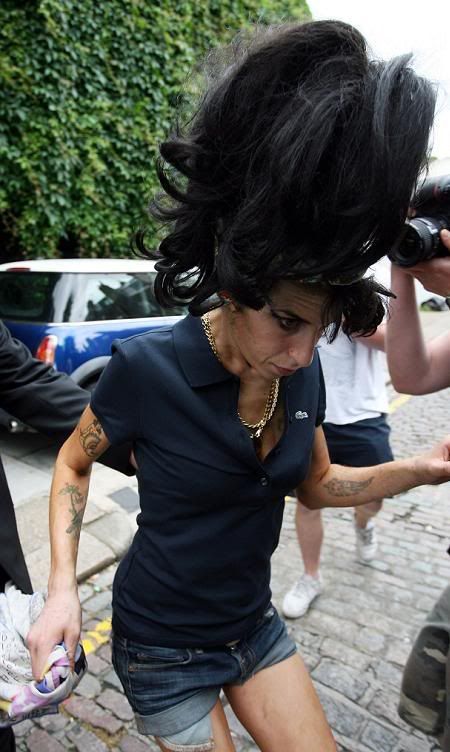 Amy Winehouse must be going through some serious shit. Even for her. No, she's not stoned out of her mind – or at least not to the point that it's obvious just by looking at photos of her – but Amy's beehive has reached legendary proportions. And Amy herself once said that when the beehive grows that tall, shit is going down.
Amy Winehouse has spoken out about her recent troubles – and blames her meltdown on having no confidence about her looks.

'I'm quite an insecure person,' she says. 'I'm very insecure about the way I look. I mean, I'm a musician I'm not a model. The more insecure I felt, the more I'd drink.

'And to Tracey Trash, who does my hair, I'd be like, "Bigger! Bigger!" – like the more insecure I feel, the bigger my hair has to be.'
[From Now Magazine]
Amy said this in an interview last fall, after she and husband Blake were arrested in Norway for pot possession. I'm guessing she's either feeling super unattractive right now, or the beehive height can correlate to any kind of insecurity. Though logically, I've got to wonder how a higher beehive would make a girl feel better about herself. Perhaps she thinks it distracts from the rest of her. Which – to be fair – when it's really big, it sorta does.
Amy has a lot to stress about right now. Her husband Blake has pleaded guilty to assault and perverting the course of justice (witness tampering) in London, and is scheduled to be sentenced next month.
Images thanks to Splash.