Samantha Ronson's bro says she and Lohan are a cute couple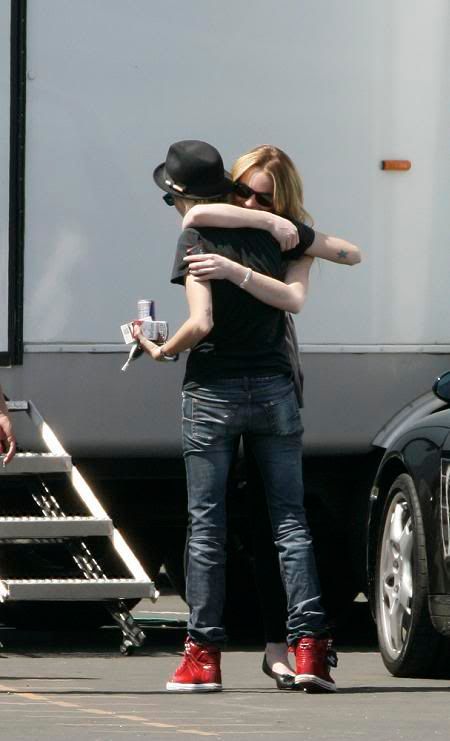 I don't know why, but I find Lindsay Lohan's relationship with Samantha Ronson absolutely fascinating. I think anytime you assume someone is one thing, and then find out they might be another, it's kind of interesting. But what really intrigues me is that we just don't know what's going on there. Lohan was all kinds of a skank with men. Has she turned to women permanently? Is she bi? Is she just going through that "I experimented in college" phase, without bothering with actually going to college?
Well no matter why she's in to Samantha, Sam's brother, producer Mark Ronson, seems to have confirmed that the pair are indeed a couple.
Mark Ronson has fuelled rumors that his younger sister Samantha is dating Lindsay Lohan. The pair were spotted kissing and cuddling at the Cannes Film Festival in France last month.

And Mark, 32, reckons they're a great pairing. 'My sister and Lindsay make a cute couple, don't they?' he tells the Sunday Mirror.

Neither Lindsay, 21, or Sam, 30, have confirmed they're an item. Earlier this week they were spotted partying with singer Lily Allen in LA.
[From NOW Magazine]
There were rumors floating around that Lohan, Ronson, and Lily Allen were engaged in some kind of lesbian three-way… but that's obviously complete speculation. The Enquirer also has a story about Pink flirting with Ronson at a party on June 4th. Supposedly Lindsay bugged Samantha in her DJ booth until Pink eventually gave up and walked away.
The story doesn't sound all that true – simply because Lohan is known more for freaking out and screaming at the top of her lungs when someone tries to even talk to Samantha. Pestering her for attention doesn't seem like Lohan's style. At least she's still got some drama – the most important ingredient for a Lohan relationship.
Here's Lindsay and Samantha on the set of her new movie "Labor Pains" on Tuesday. Images thanks to Splash.
Written by JayBird

Posted in Gay Issues, Lindsay Lohan, Mark Ronson, Relationships, Samantha Ronson

- Zach Galifianakis is awesome [Buzzfeed]
- Prince at the Billboard Music Awards [D-Listed]
- Bieber's Billboard look [Go Fug Yourself]
- Married to Medicine recap [Reality Tea]
- Celebrity first marriages [Pajiba]
- The last Mad Men baffled a lot of people [Lainey]
- Karolina Kurkova's crazy hot dress [Moe Jackson]
- Jennifer Garner on set [Popsugar]
- Kitten vs. Lizard [CDAN]
- Doetzen Kroes' great butt [Celebslam]
- Shameless star Jeremy Allen White [OMG Blog]
- RIP Ray Manzarek [Bossip]
29 Responses to "Samantha Ronson's bro says she and Lohan are a cute couple"