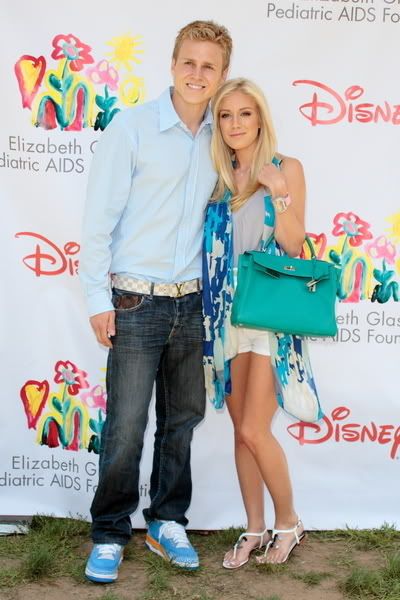 Spencer Pratt and Heidi Montag might have a better idea of what the world thinks of them than we thought. Or they have even more of an unearned sense of self-importance than previously believed. Now that they're all "famous" (read: hated) Spencer has made some enemies (shocking!) and is supposedly fearful for his and Heidi's safety. So they decided to do the smart, rational thing. Hire security? Nope. Why do that when you can spend ten grand on guns!
Spencer Pratt and Heidi Montag are the couple that America loves to hate. But while that playful animosity has bought Spencer and Heidi their own 15 minutes of fame and made them a fortune, it has also brought them some negative attention. "Spencer does have a few enemies," one pal explains. "He's alienated a lot of people now that he's rich and famous."

As Perez Hilton reported on his blog, Spencer, 24, and Heidi, 21, have been concerned about their protection. So the couple visited the Martin B. Retting store in Culver City, Calif., on June 7 and spent more than $10,000 on guns to arm themselves. They purchased two Benelli semiautomatic M4 tactical shotguns, two Wilson close quarter combat .45-caliber pistols and one Scout semiautomatic rifle. "They wanted the exact guns that the U.S. Delta Force uses," a friend explains. Spencer wants to be prepared for anything," says the friend.
[From In Touch]
I don't claim to be a gun expert, but in my experience if you want the "exact guns that the U.S. Delta Force uses" you're trying to look cool. Unsuccessfully, by the way. If your motivation is protection, that's one thing. But I'm guessing Spencer is just suffering from a classic case of "my penis is too small, I better buy a gun to prove I'm a man." And if your penis is so small that you require five guns… well that's a lot to make up for. Might want to get a muscle car, too.
Here's Heidi and Spencer at the 19th Annual "A Time For Heroes" Celebrity Carnival in Los Angeles on June 8th. Images thanks to PR Photos.