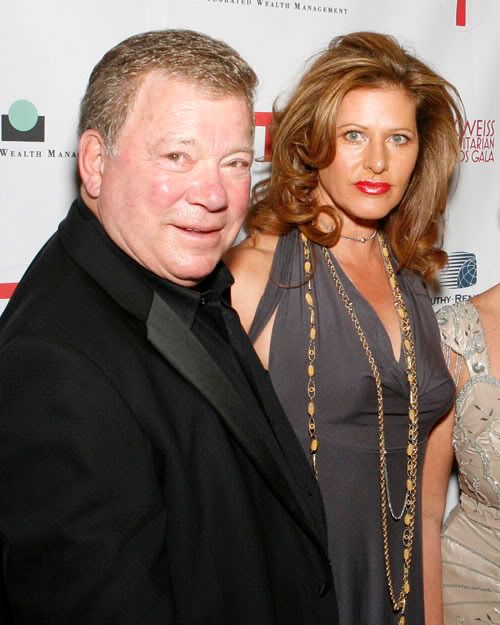 William Shatner and his current wife, Elizabeth, on 4/14/07, thanks to WENN
The day after MSat covered the new book planned by William Shatner's brother in law, an article came out in the print edition of the New Zealand Herald where William talks about that day and the allegations that he didn't attempt to rescue his wife. His former brother-in-law claims that William did not attempt to rescue his wife Nerine from a pool where she had drowned, because of his $25,000 toupee.
While William doesn't directly address the claims, he talks a lot about the day his wife died, and what his life was like with her.
On her death and the aftermath:
'Can you imagine what it was like?' he asks, his face twisted in anguish. "After the OJ Simpson debacle, I suppose I should have known what was going to happen. The media was asking, 'Did Shatner kill his wife?'"

"I remember diving into the pool," he says. "I had enough breath for one deep dive. One of her arms was floating above her and I grabbed her by that arm and lifted her, pulling her towards the shallow end. I laid her by the pool. Her skin was blue. I remember every second. For someone to suspect I killed her? I gave my life to my wife because I loved her. I devoted myself to her until the day she died. And believe me, alcoholism had Nerine by the throat."

"Sometimes I berate her for not having stopped drinking. Sometimes I tell her it's okay, that I am thinking about her, that she is alive in my mind. But you never get over it."

Nerine almost killed his daughter:
"She (Nerine) had picked her up from a spa in Palm Springs and, apparently, as she drove home, she would stop at gas stations, go into the ladies' room and down a small bottle of whatever she was drinking. She was exiting the freeway and for no reason slammed on the brakes. If there had been a car behind her it would have slammed into her at freeway speed. What kind of insanity is that? To drive drunk with a young person in the car."

On their wedding day and marriage:
"Our wedding day was beautiful. Nerine was sober and we went to bed that night ecstatic. I woke up the next morning at eight and she was drunk. Later, I found she had hidden bottles of vodka all over the house."

"Nerine would ask, after a drunken, rowing evening 'What's wrong Bill? Why are you crying?' She would have forgotten the whole episode."

Shatner also makes a point of addressing a couple of rumors that have followed him for years:
"I wasn't wearing a corset (while filming Star Trek). I had fallen off a horse and broken some ribs. I had to be strapped up and some kind soul told the tabloids I'd got so beefy that I needed a corset to get into Kirk's costume."

"And no, it isn't a toupee" he says, tugging his hair.
New Zealand Herald print edition 14 June 2008
Whatever happened on the day of Nerine's death, it is obvious that she was quite a handful – too much for one person – and that it was a horrible accident. Police later found that Nerine had valium and a blood alcohol reading of 0.28, as well as a broken neck from the pool impact. Thanks to KitKat for the link.
Some commenters have noted that everyone should learn what to do in an emergency, and courses are available to teach you first aid through your local branch of the Red Cross.