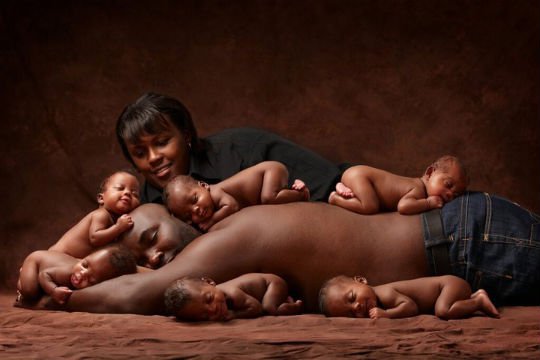 The McGee family of Columbus, Ohio, welcomed sextuplets this June. They gave birth to multiples after mom Mia had fertility treatments and opted out of selective reduction. They call their babies a "a dream come true" and say they're getting hope locally from several churches, companies and organizations. It's hard to make ends meet after Michelle left her job to care for the babies, and they're soliciting donations. It sounds like they're doing ok with it and have chosen not to go the reality show route. Here's more, from NecoleBitchie.com:
Mia and Rozonno McGhee and their newborn sextuplets were featured on Good Morning America recently and they need your help. According to reports, the Ohio couple had a hard time conceiving kids so they turned to fertility drugs which resulted in 6 unexpected beautiful babies. However, with one bedroom and a need for six cribs, food, doctors bills, etc the expenses may be too much for the family to handle. Via Their Facebook Page

Mr. and Mrs. McGhee were high-school sweethearts at Linden-McKinley who relied on each other to navigate a difficult adolescence in a tough neighborhood. He was 20 and she was 18 when they married 11 years ago, their only dream to stay together and raise a family.After unsuccessful attempts to have children, the North Side couple turned to fertility drugs. Mrs. McGhee gave birth to twins prematurely last year, and both infants died.When an ultrasound during her next pregnancy revealed multiple heartbeats, she felt devastated again. "They advised us to do the selective reduction," she said. "We couldn't."The McGhees knew they would struggle to afford an instant family of eight. He is a carpet- and upholstery-cleaner; she is leaving her job at JPMorgan Chase to care for the babies.

To donate to a fund for the McGhee sextuplets, visit any Chase Bank location. The account can be found under "The McGhee Trust Fund"" or Rozonno and Mia McGhee. Additional donations in the forms of toys, food, diapers, etc can be sent to IMPACT Attn: Tracy Taylor 700 Bryden Road, Columbus OH 43205.
[From NecoleBitchie.com]
I was ready to roll my eyes at yet another family that had way too many kids without the means to care for them. They live in a one bedroom apartment. Even with fertility treatments though, no one expects six at once! That's incredibly rare, and the McGees seem very nice in the clip I saw on Good Morning America. (below) The babies are just adorable too.