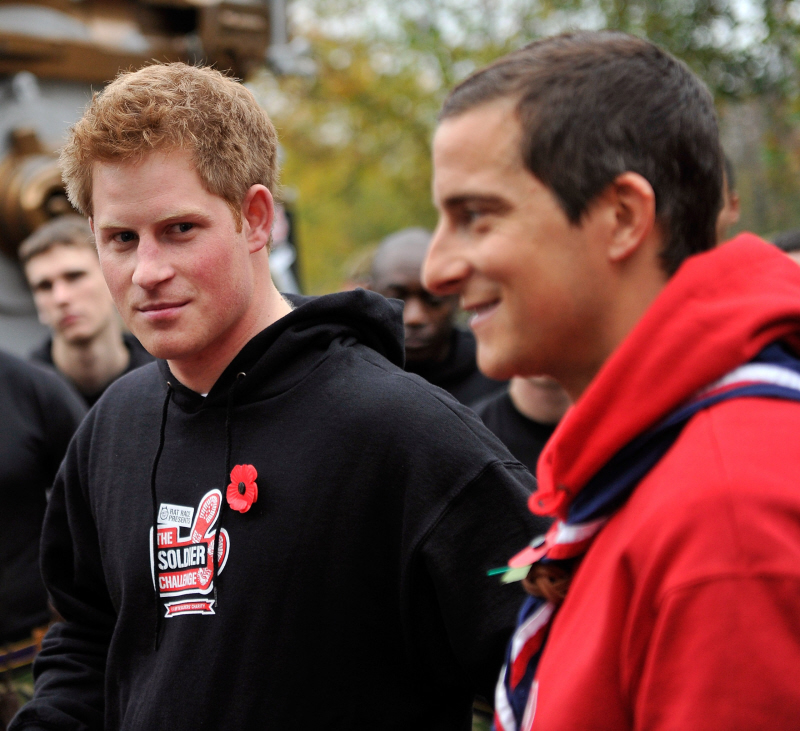 These are new photos of Prince Harry from this weekend – he participated in something called "The Soldier Challenge" with Bear Grylls at The Imperial War Museum. Those photos are the ones with Harry in a black sweatshirt. Harry also went to a rugby match, and wore a suit. But you want the money shots, don't you? The ginger happy trail, and the ass shot. Here you go: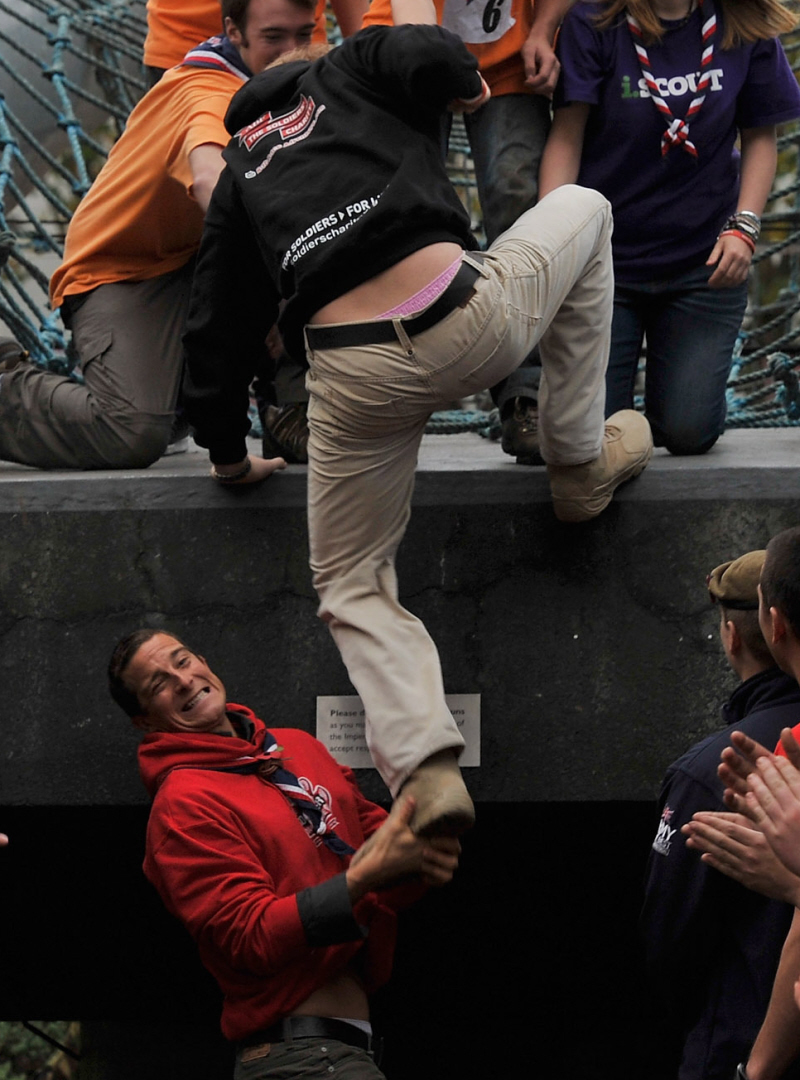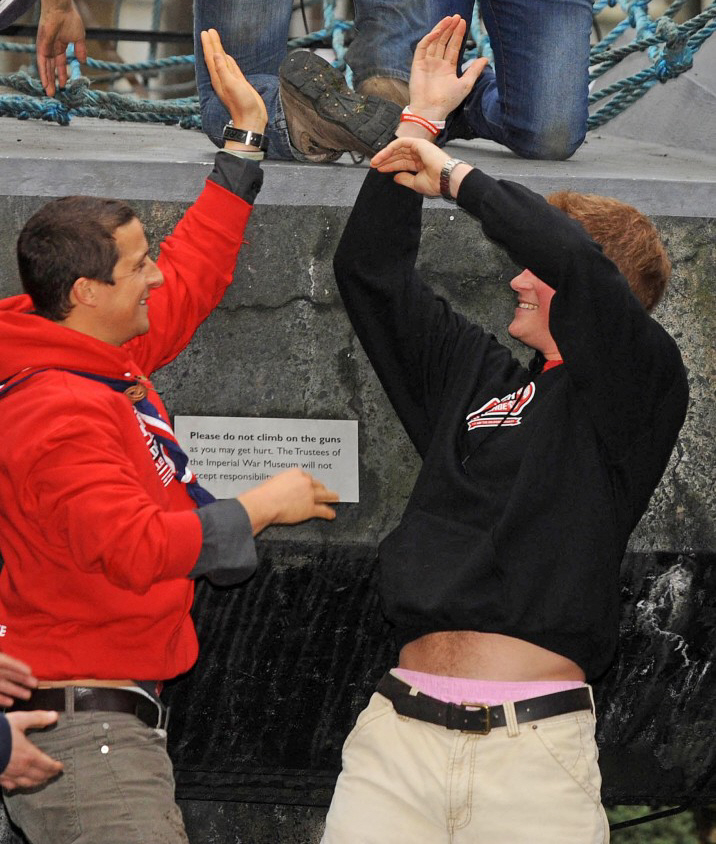 Happy? Harry has a really sexy ginger trail, and he wears pink boxers. Sweet Jesus, this boy. And he's funny too! A new book about Harry and William is coming out soon – it's called Behind the Palace Walls, and it was written by one of my favorite gossip queens, Katie Nicholl at The Daily Mail (UK). Nicholl gets great exclusives (that often pan out) about celebrities, and I've always felt that she has some sources very close to Kate Middleton, if not a member of the Middleton family (perhaps even Waity Katy herself). Anyway, Nicholl's book looks really interesting… USA Today has a few excerpts, and just wait until the part about the Queen's cellphone:
They might be the most famous brothers in the world, easily recognized by just their first names: William and Harry. Sons of Diana and Charles. Grandsons of Elizabeth. Paparazzi's catnip.

Katie Nicholl, a royal watcher and columnist at the Mail on Sunday in London, uncovers what makes the two young Windsors tick in William and Harry: Behind the Palace Walls (Weinstein Books, $24.95).

As rumors swirl around an imminent royal wedding, Nicholl gives her own take on the romance between Prince William, 28, and his longtime but sometimes off-and-on-again girlfriend, Kate Middleton, also 28. Or "Waity Katie," as she's called by the British press.

There was a pact made in 2007, according to Nicholl.

"He promised her his commitment and said he would not let her down, and she in turn agreed to wait for him," Nicholl quotes a member of their inner circle.

Possible wedding dates now are next summer or 2012.

"Royal weddings may seem like fairy tales to the public, but they are in fact all about timing and coordinating schedules," Nicholl writes. The queen's upcoming Diamond Jubilee celebrations in 2012, for instance, and the London Olympic Games, also in 2012, need to be taken into account.

More royal tidbits from the book:

•Harry, 26, an infamous prankster, was asked by his grandmother to activate her new cellphone voicemail greeting. The message: "Hey, wassup? This is Liz. Sorry I'm away from the throne. For a hotline to Philip press one, for Charles press two, for the corgis press three." It was quickly removed after the queen's private secretary, Robin Janvrin, called and "got the shock of his life," according to an aide.

•Camilla Parker Bowles was so stressed before her 2005 marriage to Prince Charles, and meeting his two sons, that she took up yoga.

•Harry's turbulent relationship with Chelsy Davy included her breaking up with him on Facebook by simply changing her relationship "status" to "not in one." He quickly moved on to a number of other young women and has been linked to Norwegian rock star Camilla Romestrand.

•William's constant struggle with a life already planned out for him.

•William's arguments with Camilla's daughter, Laura Parker Bowles, over who was to fault for the collapse of their parents' marriages. "Your father has ruined my life," she once yelled at William.
[From USA Today]
I would press "3" for the corgi hotline. Wouldn't you? In any case, the book should be a good read (hint, hint, Weinstein Books, I'd like a copy!). Also, New York Magazine points out that since the book is being published by the Weinsteins, a possible film adaptation might be possible. When they spoke to Harvey Weinstein months ago, he said: "Katie and I talked about her book out in Cannes this year. We were at a party, and Jennifer Lopez got involved and said how much she loved the British royal family. There was a pretty fierce bidding war with Simon & Schuster, and we were delighted Katie chose Weinstein Books. Who knows, maybe we'll do a movie about the princes next." Who could possibly play Harry?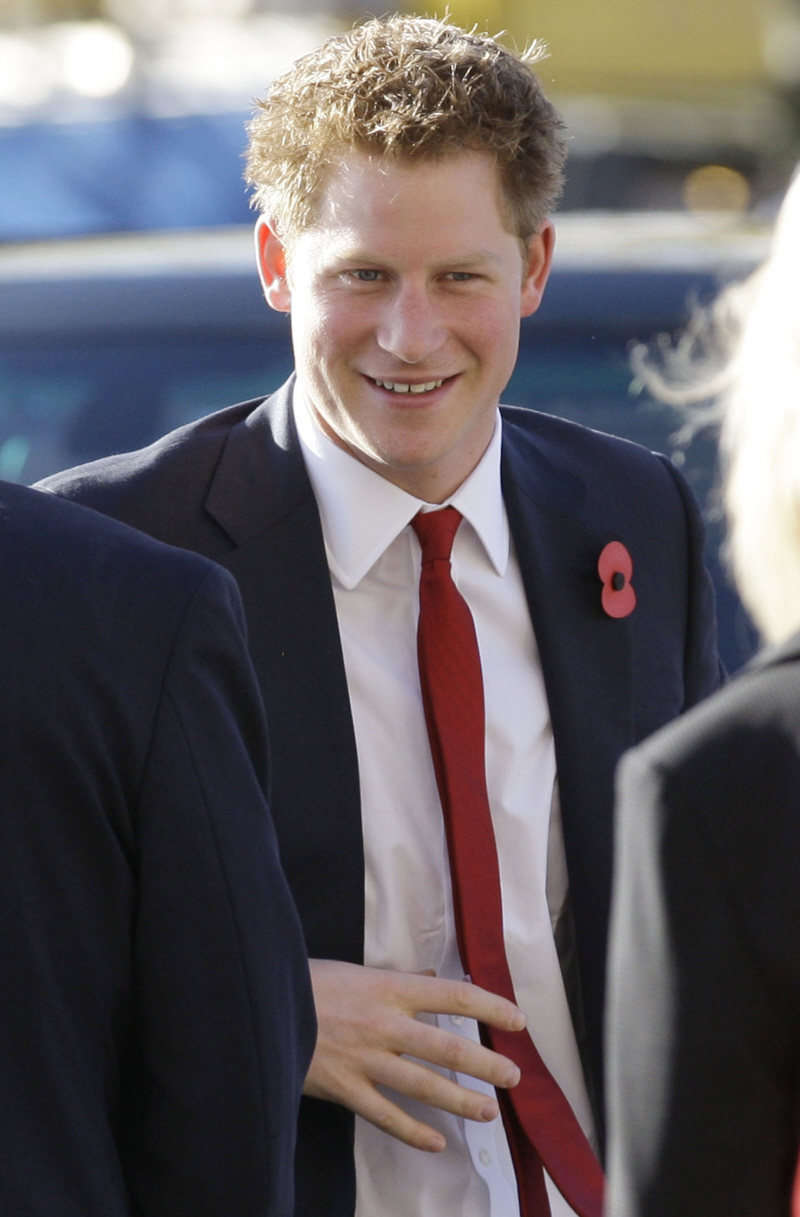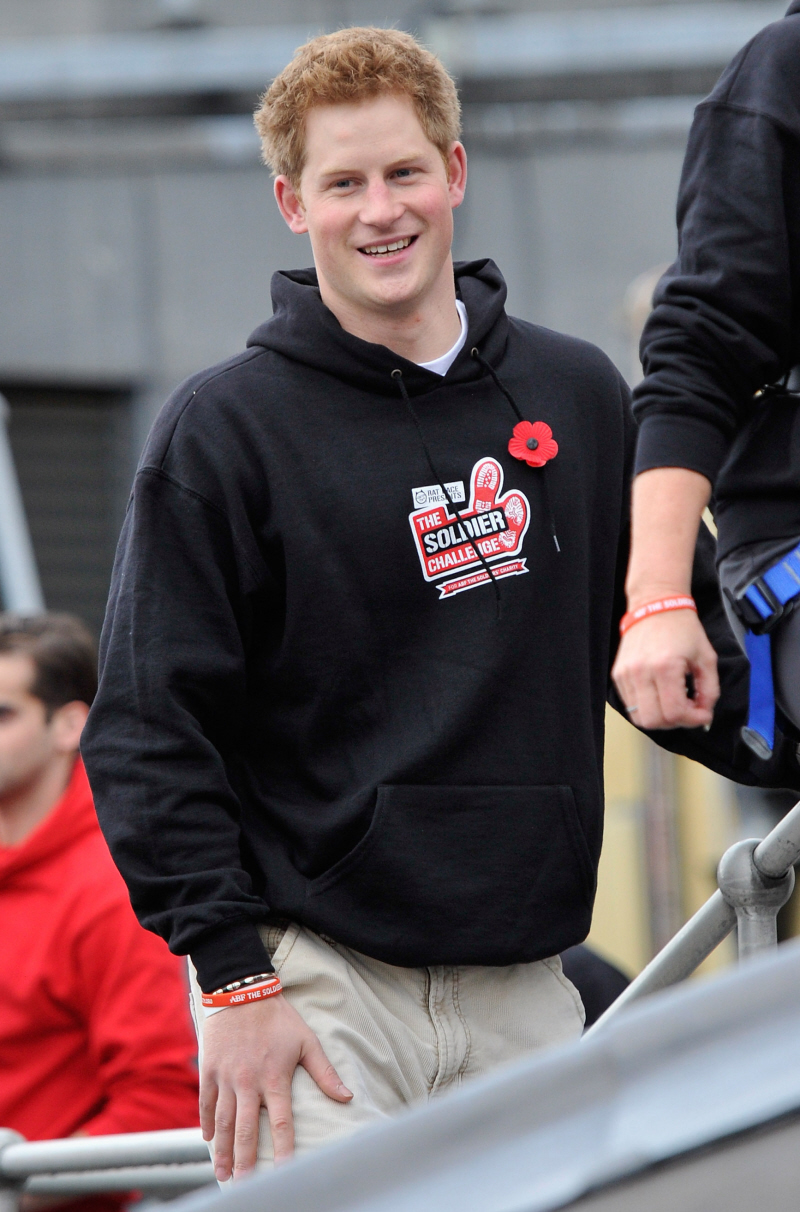 Photos courtesy of WENN & Bauer-Griffin.