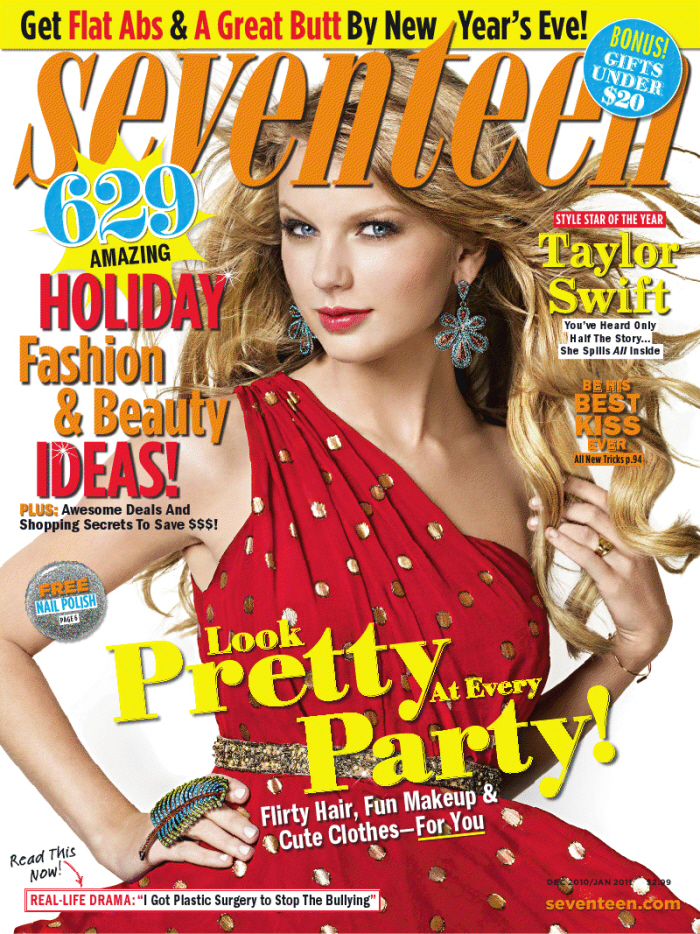 Taylor Swift is the cover girl for the Dec/Jan issue, and she's been named Seventeen's "Style Star of the Year". Because no one ever gets tired of tutus, prom dresses and Lands' End sweaters! No, that's mean. At least Swifty keeps her business covered and CB isn't constantly yelling at me for using photos featuring Swifty vadge (coughcoughMileycough). So, I don't hate Swifty as the Style Star of the Year. Honestly, her style is better than Blake Lively's, so Seventeen has a leg up on Anna Wintour, at the very least. Anyway, Seventeen's interview excerpts are slim pickings but here's what I could find (note: some of these quotes might be from Swifty's Allure interview too)
17 – Do you always have a guy in your life?
TS- "I know it seems like I do, but I don't. My friends aren't used to me introducing them to a lot of guys. I'm not the girl who always has a boyfriend. I'm the girl who rarely has a boyfriend. But when something is a relationship I feel it, and when something is just a spark I feel it. For me all those feelings are equally important."

17 – Do you still believe love can be like a fairy-tale?
TS- "I will always have a fairy-tale complex. And I know that I'm never going to live on top of a tower and his name won't be Prince Charming, but he's going to make me laugh and he's going to be self-deprecating and endearing and he'll be fun to hang out with. I think that's what my idea of Prince Charming has evolved into."

On her history with perfumes and cologne: "Different smells bring different relationships to mind for me…I'd put on Abercrombie 8 to remember when I was in ninth grade and had my first boyfriend, because he gave me that," Swift explains. Then there was the scent that helped boost her popularity. "The coolest girl in school wore Britney Spears Fantasy, and I had to copy her." On the downside, fragrances can bring back bad memories, as in the case of a certain unnamed ex who wore a particular cologne. "Dolce & Gabbana Light Blue is still a difficult one for me to smell," reveals Swift. And while she doesn't reveal her former boyfriends' signature scents, we can't help but wonder which colognes some of her famous exes, including Taylor Lautner and John Mayer, wore.
Lordy, she's such a girly-girl. And this sweet act is so strong, I've got a toothache. Maybe she really is that sweet in real life – sure. Maybe. But I tend to think if she was nailin' John Mayer for months, the girl isn't as princessy and fairy-tale as she would have you believe.
Seventeen photos courtesy of Seventeen.