Here are the attention-grabbing covers of the upcoming tabloids, soon to be out in stores and made into obsolete recycling and last choice dentist office reading material. Let me know if there's anything you would like me to cover. It may be a few days before I have access but I'll try and get to it. The Paul Newman story is off limits, though. I've read supposed details of his medical condition and will not report on that. We don't usually take the high road with medical stories, but in this case it seems only right when the man is a living legend and puts out such tasty salad dressing. (We also can't cover pictorial features like beach bodies and no makeup because we don't have the rights to all those photos. We could do something similar here with pictures we have access to, but it does take a while to write those type of stories and gather all the pictures.)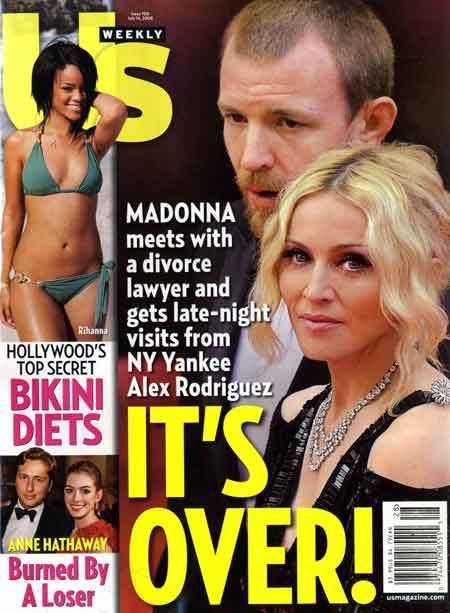 Most of these don't interest me except for The Us Weekly cover story about Madonna's affair with A-Rod. I want to know the details and they did a great job at coming out of left field with that story, which seems believable.

I think People screwed up putting Anne Hathaway and her con man as the main story on the cover. There's not a lot of interest in that story even though it's salacious. Raffaello Follieri bilked his main investor (presumably Ron Burkle, although the FBI report doesn't specify) out of millions in a scam in which he claimed to have the ability to purchase land from the Catholic Church at rock bottom insider prices. He passed himself off as the official treasurer for the Vatican despite having no connection to the Church. He was just putting in bids along with other interested parties, but bribed Vatican officials to make it seem like he worked there. He hired monsignors to come to business meetings with him, and made them wear higher-ranking Catholic robes. In the mean time he was splurging on a luxurious lifestyle for himself and Hathaway that included a penthouse at Trump Tower and Caribbean vacations at five star resorts. The story is interesting, but for some reason Hathaway doesn't have a lot of clout and people aren't that drawn to the details. She is thought to have provided information to the FBI in advance of Follieri's arrest.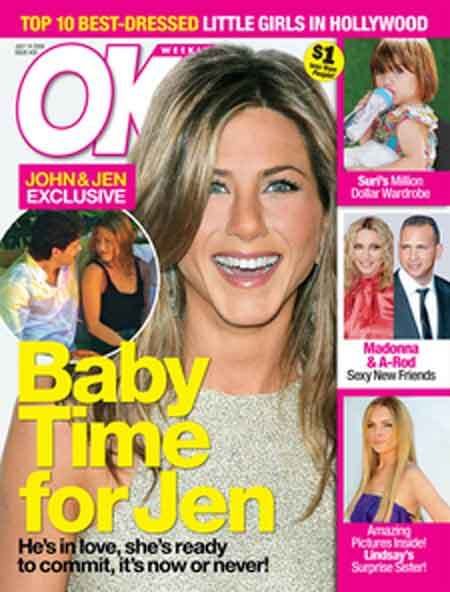 Jennifer Aniston's OK! Cover also seems like a misstep. It's an old and tired story that we've heard countless times before: "Jen wants a baby! She's getting old though!" They're probably just speculating based on her age, her new relationship with John Mayer, and the fact that she's said in the past that she wants to have children at some point.

No one gives a shit about the Hogan family even if they gave Life & Style an interview with tidbits about their sad self-absorbed lives.

I love the Stars without Makeup issues and think they're a lot of fun. It helps me feel normal to see what they look like bare-faced. Beach Bodies aren't my favorite because I don't think it's fair to pick on people for their sizes unless they're hypocrites about it, like Kirstie Alley. That doesn't mean I don't look, though.

As for who is really pregnant: who really cares unless it's Britney? We know Paris isn't knocked up, but she got included in here because she wore that unflattering dress. She's since been photographed out with a flat stomach, and anyone who follows gossip will know that. If Gwyneth and/or Eva is pregnant that's great and all and it will be a good boost to their respective careers, but people don't have a huge interest in them and are starting to tire at all these pregnancy stories. We still haven't seen Halle Berry or Jessica Alba's babies. Either of those two cuties would surely sell magazines.
Thanks to Cover Awards via Oh No They Didn't for these photos.