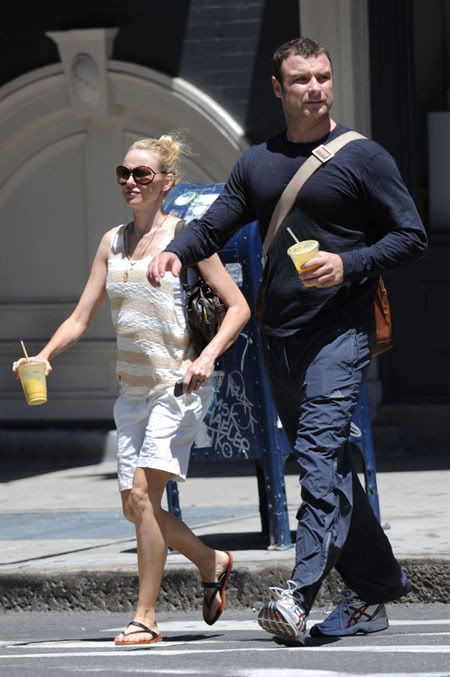 US Weekly is reporting that Naomi Watts is pregnant and that she's in her second trimester. They just say she's expecting but that her rep didn't confirm it, and they don't even mention a source. It's possible they're judging based on recent pictures, it's hard to tell:
Naomi Watts, 39, has entered her second trimester with her second baby, Us Weekly reports in its newest issue, on newsstands now.

But don't expect a huge announcement: When she was pregnant last year with her first child, her beau, Liev Schreiber, 40, didn't confirm it until he casually told Conan O'Brien, "Yes, I'm going to be a dad."

The couple — who met on the set of the 2006 drama The Painted Veil and have homes in NYC and L.A. — welcomed son Alexander in July 2007…

Watts' rep tells Us she doesn't comment on her client's personal life.
[From US Weekly]
Over the weekend Watts was photographed wearing what looked like an engagement ring. Right before her first child, Alexander, now one, was born, Her boyfriend Liev Schreiber told the press that they were engaged. He later claimed that he was joking and many people thought it was cruel that he said it in the first place. It sounded to me like he really wanted to be engaged but that they made a decision to either wait or keep it private.
If this is true, congratulations to Watts and Schreiber. They've very admirably tried to keep their personal life private. Naomi let the paparazzi take the first photos of Alexander and chose not to cash in with a valuable magazine spread. These two are sure to try and keep their wedding quiet if this is true and I wonder if they're planning to marry before the maybe-baby arrives.
Naomi Watts is shown on 6/27/08 in the belted dress and on 6/25/08 out with Liev and Alexander. She is also shown with Alexander on 6/28/08, and you can clearly see her gorgeous ring. She does look like she's pregnant but it's hard to tell with what she's wearing.