Star: Britney Spears claims Jason Trawick abused her (update: audio?)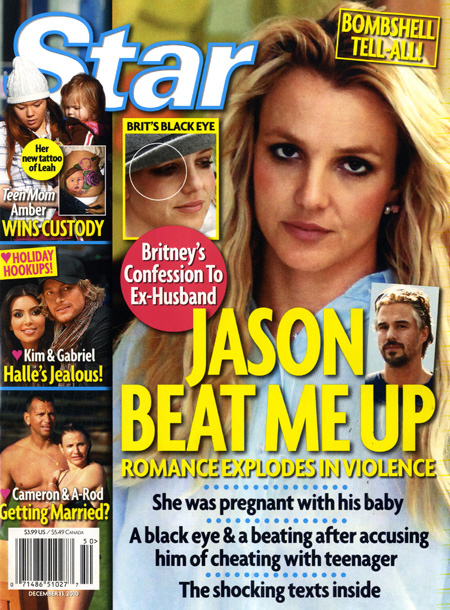 Star Magazine has an uncomfortable story about Britney Spears on their cover this week. According to Britney's first husband Jason Alexander, who gives Star an "exclusive interview", Britney told Jason Alexander that Jason Trawick has been beating her up. The cover photo allegedly shows Britney with a black eye – which, it could be, or it could just be that Britney has screwed up makeup. Oh, and Britney was pregnant…? Jesus. I hope none of this is true:
After her very public breakdown and a string of failed romances, Britney Spears made a tremendous comeback — professionally and personally — largely because of her agent-turned-boyfriend Jason Trawick, who helped her rebuild her career and life. But in a blockbuster world exclusive, Star has learned that the relationship has turned violent!

In our Dec. 13 issue, on sale today, Britney's former husband Jason Alexander tells Star that the pop princess confided to him that Trawick beat her — on multiple occasions.

"Britney is in an abusive relationship," the entertainer's first husband says in a detailed interview with Star. "She told me her life had turned into a nightmare."

Childhood friends Britney and Alexander stayed in touch after their 55-hour marriage was annulled in 2004. But their casual texts, phone calls and emails took a dark turn when she recently confided that Trawick "hit her so hard it gave her a black eye," Alexander says.

And the abuse wasn't a solitary incident, Alexander tells Star in our issue. Nor was it the only jaw-dropping secret the megastar told her ex! She also revealed that she had been pregnant with Trawick's child earlier this year, Alexander says.

Alexander says he's telling this story because he's "really concerned" for Britney who he feels is "telling me these secrets as a way of getting out of this."

For the entire shocking story — including photos of a battered and bruised Britney, the messages she sent her ex and the details about her secret pregnancy — pick up Star today.
[From Star Magazine]
The fact that Jason Alexander is giving the interview and that he has no qualms about being a named source does give me pause. I also think it's possible that Britney did tell him some of this stuff, but that doesn't mean it's actually true. If it is true, however, I hope that her daddy steps in and straightens this mess out. Britney is still under her conservatorship, and it was just extended into next year:
Britney Spears will ring in the new year under her long-standing conservatorship …. sources tell TMZ. We're told there are no plans to end the conservatorship, which was created in February 2008.

And, it's not bad news for Britney. We're told she's "content" with the current arrangement and is no longer antsy to end it.

Britney is actually under two conservatorships — one to care for her, and another to take care of her business affairs. As for the latter, it will probably remain in place for a long time, because Britney Spears, Inc. has never run more smoothly.

As for the personal conservatorship … we're told no one involved — Britney included — wants to end it.
[From TMZ]
In my opinion, I think the fact that Britney is still under conservatorship makes any possible accusation of abuse that much more serious – it's like a mental patient or a child is being abused. That being said, it's totally possible that Jason Alexander is making the whole thing up. We'll see… there could be denials about this story soon.
UPDATE: Radar (which is basically the same company as Star) has more on this situation here. Apparently, Jason Alexander taped this conversation with Britney, and you can go to Radar to hear the audio. Honestly, I don't think it sounds like Britney, but the sound quality isn't awesome, so maybe it is, maybe not. Britney says stuff like "Before or after he beat on me?" and "My dad has a shotgun and he's just waiting to use it." Radar also claims that they've gotten Britney and Jamie Spears' denials of all of this.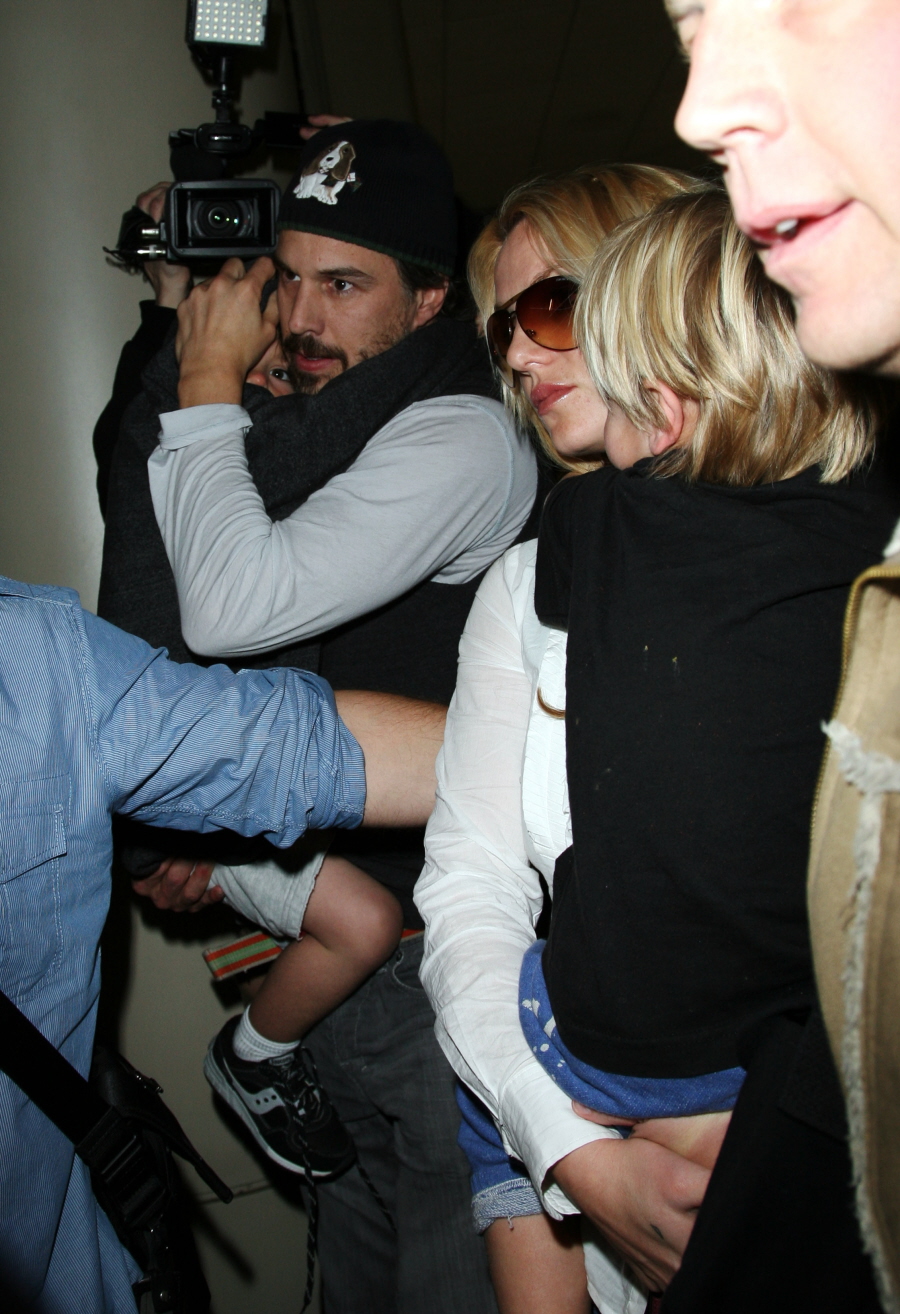 Star cover courtesy of CoverAwards. Additional pics courtesy of Fame.

Written by Kaiser

Posted in Abusive, Britney Spears, Jason Alexander, Jason Trawick

- Friends reunion on Ellen [Popsugar]
- Lindsey Vonn watches Tigers kids [Lainey Gossip]
- George Michael fell out of a car going 70mph [D-Listed]
- Real Housewives of Orange County recap [Reality Tea]
- New Man of Steel trailer [Pajiba]
- Jared Padalecki's hot bod [Buzzfeed]
- Doctors confirm Taylor Swift's new boobs [Evil Beet]
- Catherine Zeta-Jones finished treatment [CDAN]
- Anna Paquin hates the paps [Celebslam]
- Lance Armstrong is gross [The Blemish]
- What is Barbara Palvin wearing? [Moe Jackson]
- This is Petra Nemcova? [SVC]
75 Responses to "Star: Britney Spears claims Jason Trawick abused her (update: audio?)"