Halle Berry worries that Gabriel Aubry will bring Nahla around the Kardashians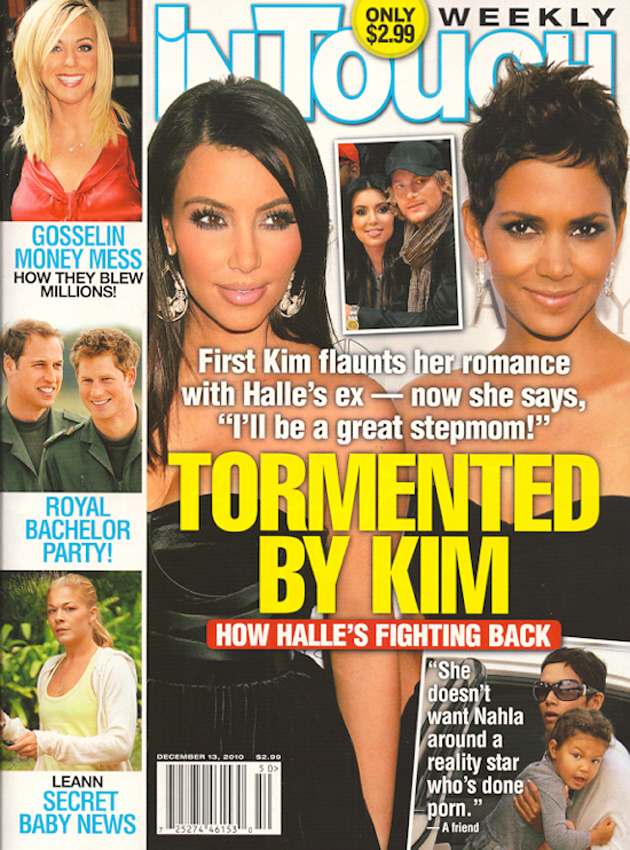 In Touch Weekly's cover story this week seems like a rather sad attempt to make Halle Berry and Kim Kardashian have some kind of nasty girl-fight. The cover lines are all about how Halle is being "tormented" by Kim, and Kim taunting (?) Halle with "I'll be a great stepmom!" Which doesn't really seem like a taunt, but whatever. Also, Halle has concerns that Nahla will be spending time "around a reality star who's done porn." Which is oddly Kim Kardashian-specific, right? Like, would Halle mind if Gabriel dated a full-on porn star who was NOT a reality star? Anyway, there are few excerpts from the story – according to Jezebel's tabloid round-up, "Halle is "worried" that Gabriel will talk about his relationship with her on camera. Halle is really private, and she doesn't want her business — or her daughter — part of any Kardashian reality show." Well… eh. I mean, it's Gabriel's life, and if he's serious about Kim, he's probably going to be in the show. Now, I seriously doubt Gabriel would be all "let me bring Nahla to the Kardashian-Jenner house for a visit, in front of the cameras." He just doesn't seem that dumb. Plus, I don't think this Kim-Gabe thing is going to last, I really don't. I give it another two months, tops.
By the way, Radar is reporting that Gabe got into some kind of accident today or yesterday – and instead of calling a Kardashian for help, he phoned Halle Berry and her assistant came and picked him up. So… I really doubt he and Halle are having problems. Halle probably doesn't know what's going on past Olivier Martinez's dong.
Written by Kaiser

Posted in Gabriel Aubry, Halle Berry, Kim Kardashian

- Friends reunion on Ellen [Popsugar]
- Lindsey Vonn watches Tigers kids [Lainey Gossip]
- George Michael fell out of a car going 70mph [D-Listed]
- Real Housewives of Orange County recap [Reality Tea]
- New Man of Steel trailer [Pajiba]
- Jared Padalecki's hot bod [Buzzfeed]
- Doctors confirm Taylor Swift's new boobs [Evil Beet]
- Catherine Zeta-Jones finished treatment [CDAN]
- Anna Paquin hates the paps [Celebslam]
- Lance Armstrong is gross [The Blemish]
- What is Barbara Palvin wearing? [Moe Jackson]
- This is Petra Nemcova? [SVC]
85 Responses to "Halle Berry worries that Gabriel Aubry will bring Nahla around the Kardashians"