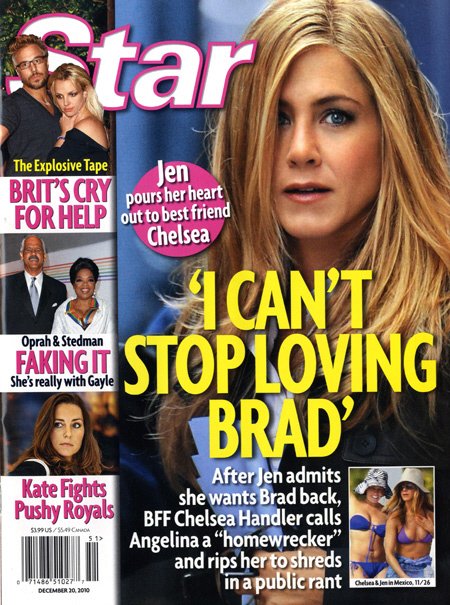 It's 2005, y'all! Jennifer Aniston made the cover of this week's Star Magazine, all because she (allegedly) can't stop talking and obsessing over Brad Pitt. To the point where she "poured out her heart" to Chelsea Handler when they were vacationing together in Cabo. Allegedly, Jennifer told Chelsea "I can't stop loving Brad" and Chelsea has swooped in to go on an anti-Jolie rampage in the hopes of FINALLY making Brad realize that the mother of his six children is a horrible person and that he should FINALLY leave her for Aniston. Of course.
Now, for those Jen-lovers who are going to start yelling at me immediately, let me say this for the record: I don't think this went down. I think Star Magazine is running this cover because Uncool Bermuda Triangle covers are their bread and butter, and because Chelsea Handler's coked-out rage and senile "jokes" have give the tabloids a new angle to play with. That being said, what did you Jennifer fans expect? Aniston's new butt-buddy Chelsea goes on an explosive (and dated) tirade against Jolie just days after a sandy, Mojito-soaked vacay with Aniston? Of course this is the story. Of course people are going to go with the "Aniston can't get over her ex" angle – because the whole incident makes Aniston look like SHE'S NOT OVER IT. That she's still talking about it. That she's still obsessing about it, going on six years later. How do we know she's not obsessing over Brad and Angelina? Her friend is still obsessing about it, after all.
Star cover courtesy of CoverAwards.