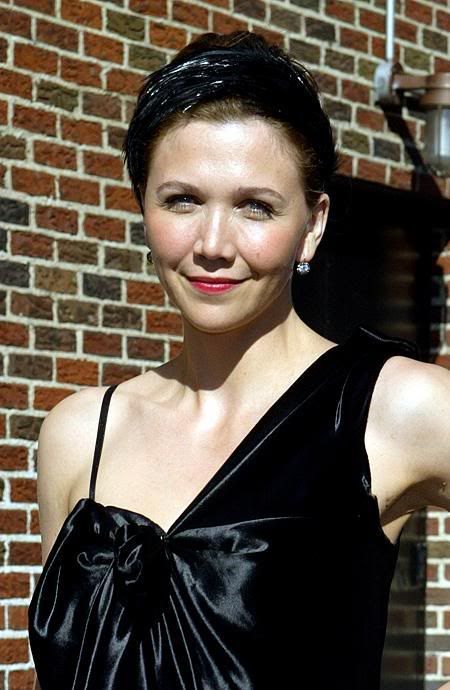 After over a year at this job, I really shouldn't be surprised by much of anything I hear about the paparazzi. Yet they always manage to outdo themselves when it comes to skeezy behavior. Maggie Gyllenhaal told the L.A. Times about a terrible encounter she had with the paparazzi. They called in a fake fire to get her to run out of her building at five in the morning, just so they could get snaps of her five day old daughter. Hearing about the encounter made me absolutely livid.
Gyllenhaal still can't believe the lengths some people will go to just to get a photograph, but the early morning fire alarm was the lowest blow for her.

She says, "The paparazzi were just really awful to us. I mean, they called the fire department and told them there was a fire in our little, tiny building in the West Village (New York) so that we would have to come outside with a five-day-old baby."

The bogus fire alert almost led Gyllenhaal to turn down the role of Rachel Dawes in the new Batman movie, "The Dark Knight."

She tells the Los Angeles Times newspaper, "I was trying to navigate my way through that (media intrusion) when this offer came. I thought, `It's going to push that stuff further probably.' But what am I going to do? I'm going to hide and not do things that are appealing to me? I'm an actress."
[From the San Francisco Gate]
That is just enraging. If I were Maggie I would have gone absolutely ballistic on those guys. That is just lower than low. I would have had my lawyers all over their photo agencies. If I were calm enough. I can think of few things that would cause me to want to physically attack someone, but that sure would. This story is a little old – Celebitchy heard it a while ago – but worth sharing now that Maggie's mentioned it again. They could have endangered people rushing to get out of the building – and for something so small and stupid. I don't blame Maggie for wanting to quit the business after that. But I also wouldn't blame her for clubbing the paparazzi either.
Here's Maggie Gyllenhaal outside the Ed Sullivan Theatre for the 'Late Show With David Letterman' on Wednesday. Images thanks to WENN.