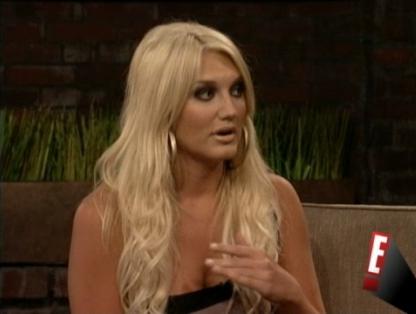 Brooke Hogan really is a daddy's girl. Even though both of her parents are dating massively younger people since their split, Brooke is pretty much alright with the Hulk but isn't even on speaking terms with her mom. Yesterday Brooke confirmed to Chelsea Handler that she and mom Linda aren't talking anymore. Which you can't really blame Brooke for – it's super weird to have your mother dating your younger brother's friend.
Brooke Hogan's been pretty vocal about her mom's much younger lover. (Linda Hogan, 48, is dating someone 29 years her junior.) But now the Hulkster's daughter says the two are no longer even speaking.

Not at all, she tells Chelsea Handler, host of E!'s Chelsea Lately. "The more time that goes on now that she doesn't call, she doesn't confront me, she doesn't tell me the truth, I'm like, all right, it's just time that's pulling us apart."

But what about dad's young twinkie, why doesn't that bother Brooke? "She's not even that young…she's grown."

The girl in question, she is all of 34 years old. Meanwhile, pop celebrates his 55th birthday next month.
[From E! News]
Brooke gave an interview two weeks ago to the Associated Press in which she went into a bit more detail about the awkwardness and frustration of her relationship with her mom.
AP: How did you and your mother get so far apart?

Hogan: My mother and I naturally have a tremendous bond, there's like a bond that you just can't break with us. … Right now I'm just really disappointed with her and I feel like I wish I could talk to her, but you just can't. It's one of those kind of things where, I am a very straight-laced person and maybe that makes it even harder for me to see the path that she's going down as being right, but I look at her now and I'm like, "You were my hero at one point. Why are you making these weird choices?" I don't understand it. I definitely don't condone what's going on. I definitely don't think it's cool who she's dating. I think it's ridiculous but at the end of the day she's my mother and I will still respect her and love her but right now … I just have to love her from a distance for now.
[From FOX News]
Brooke admits that she had a spat with the Hulk earlier this year, but that they were able to work past it because she ultimately respects her dad and believes he's a good person. Her phrasing implies that she doesn't think the same of her mother.
Here's Brooke on Chelsea Lately.