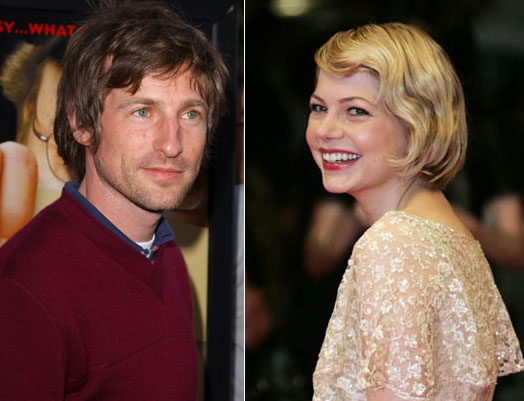 Michelle Williams, Heath Ledger's ex-fiancé and mother of his child, is dating again, according to the Daily Mail. Michelle and Heath broke up last September, and he passed away four months later in January.
Michelle didn't seem to date publicly after the breakup, and definitely hasn't been seen dating since Heath's death. Which makes perfect sense. Most people would need a good deal of time to get over the ending of an engagement, especially when the couple has a child together. I cannot even imagine what it must take to move on after your former fiancé dies tragically.
But it seems Michelle may finally be finding some happiness in life again, in the form of director Spike Jonze. The pair have known each other since 2006, and seem to have become an item recently.
Seven months after the sudden death of her ex-fiancé Heath Ledger, Michelle Williams appears to have found happiness again. A U.S. magazine reports the former Dawson's Creek actress, 27, has started dating film director Spike Jonze, ex-husband of Lost In Translation director Sofia Coppola.

Williams and Jonze, 38, have been spotted together several times near the film-maker's £1.5million New York apartment in recent weeks. … now it appears she finally has something to smile about again, thanks to a burgeoning romance with Jonze. American magazine Star reports Williams was seen kissing Jonze outside his Lower East Side Manhattan apartment on July 2nd.

An onlooker told the publication: 'Michelle kissed Spike with a closed mouth on the corner of his lips. There was definitely a bit of caressing going on. She was clutching his arm. The body language was very romantic.'

Williams first met Jonze in 2006 when she auditioned for his film adaptation of the Maurice Sendak children's book Where The Wild Things Are. She was offered a part, but later withdrew from the film. But last year, the pair finally worked together on Synecdoche, New York in summer 2007 and struck up a friendship.
[From the Daily Mail]
It's good Michelle is moving forward with her life. I don't think you can ever really get past what she's gone through, but she certainly deserves happiness. It seems like she's done a good job of focusing on Matilda and creating a supportive, stable environment in which she'll grow up. It's heartbreaking to think it won't happen with Heath around, but it seems like he'd probably be proud of how everyone in his life is handling it.
Here's Michelle at the photocall for the 'Synedoche, New York' Premiere in Cannes on May 23rd, along with Samantha Morton, Philip Seymour Hoffman and Catherine Keener. Images thanks to WENN. Spike Jonze is shown at a Fahrenheit 9/11 screening in 2004. Credit: Lee Roth / RothStock / PR Photos