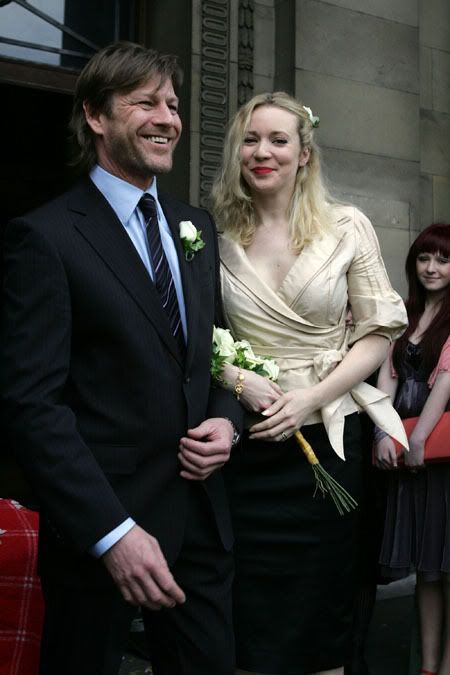 It looks like Lord of the Rings cutie Sean Bean could be headed for divorce court for the fourth time – he's just been arrested for assaulting his wife Georgina.
The 49-year-old star of Lord of the Rings was taken to a police station after his wife, Georgina, called police during a late night argument, it is believed.

She is said to have told officers that Mr Bean grabbed and assaulted her during a row at their £2m home in Belsize Park, North London.

The actor, currently on a break from filming the television series, Sharpe in India, was held for around six hours.

He was released on Friday, and told that no further action would be taken against him.

A spokesman for Scotland Yard said officers investigated an allegation of domestic assault and that a man was arrested and taken to a London police station where he was bailed and released without further action.

Speaking at the couple's home on Friday, Mrs Bean played down the incident, saying: "Everything is OK… There's no problem between us."

It seems like no serious assault has taken place, but it is obviously more than the verbal assault that led to Christian Bale's arrest in the same country.
Sean married his wife at a registry office on February 19th of this year, a month after canceling a wedding only 24 hours before the event was to take place. The reasons given was personal issues and work commitments. He has been married three times previously, one of which only lasted a few months.
The Daily Mail also reports that they had a 'bust up' that left them both 'bruised and bleeding' in July 2006.
This is Sean's forth marriage but I can't find any reports of domestic violence with his other wives, so perhaps Georgette and Sean have a volatile relationship. Ever since his canceled wedding I've thought this relationship was heading for divorce.
Sean Bean and Georgina Sutcliffe are shown at their wedding on 2/19/08. Credit: WENN