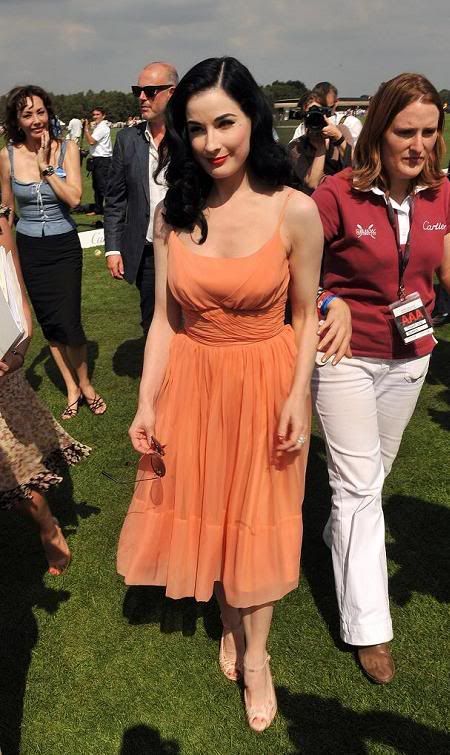 Prince Charles committed quite the royal accident recently when he invited Dita Von Teese to perform at Prince Harry's upcoming birthday party in September. Charles met her at a Cartier event, and had no idea who she was – other than a "dancer" as she put it. Thinking she was pretty – and she does appear very classy – he said Harry loved dancers and suggested she perform. Once he'd been informed by his aids about exactly what kind of dancing Dita does, he "his fist to within an inch of its knuckle."
The generously-eared royal [Prince Charles] met the gothic flasher at the toff-infested Cartier International Polo Tournament at the Guards Club in Windsor, London. Charmed by her alabaster assets, he asked what she did for a living and Dita, 35, replied: "I'm a dancer." This vague job description failed to convey that her act involves giving a rhythmic biology lesson in a giant martini glass and doing the sort of things to a massive olive which are illegal in most countries.

Perhaps buoyed by the sun and Pimms and presuming her performance involved a cheeky Charleston, Chazza invited her to perform at Prince Harry's 24th birthday. Our man said: "Poor Charles was so embarrassed when he realised what he'd done. He genuinely had no idea about her raunchy stage act. She was stunned when he suggested the idea, explaining that his son loved a good dance.

"But he gnawed his fist to within an inch of its knuckle when his aides explained what sort of dancing she did for a living." We're sure Prince Harry will forgive his old man when the burlesque performer toasts his big day with a giant glass of champagne garnished with her own breasties.
[From the Daily Star]
It's hard to tell just how accurate this story is, but it certainly seems like the kind of mishap that could legitimately take place. Prince Charles doesn't exactly strike me as someone who is super up-to-date and current on the hot celebrities. Though one would think he would have someone apologize to Dita Von Teese and cancel her performance. As interesting as that would be, I think it could make for quite the royal scandal. And they really don't need any more of those.
Here's Dita Von Teese and Prince Charles (with his wine powered Aston Martin – coolest thing ever) at the Cartier International Polo tournament in London on Sunday. Images thanks to WENN.